He's a traveler, with his guitar and a song. Tender images of outsiders compose a narrative of exile – songs of the lost, the lonely and the fallen. His voice conjures images out of the darkness: wanderers, people who live just outside of time and territory; those brave enough to love and try, even as winter is coming.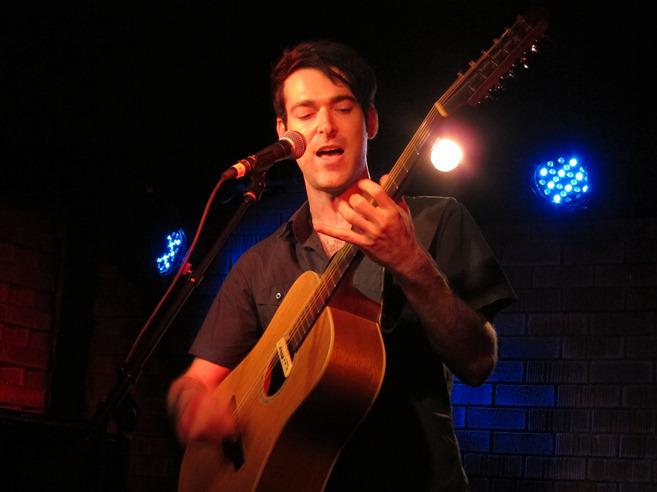 Sun Tailor (Arnon Naor) released his debut album, Like the Tide, in February 2012, and he has become a strong presence on the Israeli indie scene, performing with Udi Naor (drums, percussion), Daniel Sapir (bass, vocals) Omri Barel (lap steel and electric guitars), and Jackie Fay (cello, vocals). The first time I saw him onstage, a guy with a guitar, he just began to play, and then started singing, in a quiet warm voice that was almost a whisper; the kind of whisper that draws you in close to listen to what he has to say. In a world where everyone is shouting, clamoring to be heard, a whisper can be the most powerful sound.
I've heard Sun Tailor on several stages in the past few months and  become acquainted with the musician and his music. The songs on Like the Tide were written in London over a period of five years, and on his return to Israel, Sun Tailor secluded himself with the music for a couple of more years, putting together an album that sings with precision and pain. He's a guy who knows something about isolation, he knows something about integrity, and he has what it takes to transform raw emotion into songs that cut in deep with an enduring beauty and uncompromising honesty.
Talking to Sun Tailor on a sunny morning in South Tel Aviv, he told me, "I feel like I'm beginning now…but to call something a beginning is very complex.  You determine where the start line is, but how do you do something like that? I could determine the start line as that time I sat in an army base as a 19 year old kid and picked up a guitar – it wasn't even my guitar and I started playing, and 20 minutes later I had a song. Or I could think of the time when I moved to London as a 22 year old and moved into this old house in Finchley and sat there by myself for almost 6 months, except for working in a sleazy bar, and wrote songs almost every day. Those were the first songs I ever finished, some of those songs are on the album." The album was co-produced with his brother, Udi Naor, of whom Sun Tailor says, "he knows almost every song I've ever made," contributing to the intimate feel.
His songs reveal the fire that burns with intensity within the soft-spoken, reflective musician.  Perhaps this intensity is what led him to choose a stage name – Sun Tailor – to create some space between the private man and his music. The story behind the name is revealing as well. "It's a dream that I had, while I was working on the mixes for the album" he said, "I was thinking about the project name and I had a series of apocalyptic dreams. I usually don't remember my dreams, but there was one dream – I'm on the surface of the sun and the sun is like a giant football made out of patches, hexagonal patches. The lava is coming out through the patches, tearing them at the seams and I'm trying to sew the patches back together so the sun doesn't explode."
As dedicated as he was to the process of creating Like the Tide, live performances are essential to Sun Tailor.
"Every time I am onstage I'm expressing another emotion, another energy and I could be doing the same songs, or new songs, but I am somewhere else already…it's happening now and I'm embracing that as a concept. I am in a different place of course you're talking about something that happened, it's already behind you and you're talking about it in retrospect" he smiled, "this conversation is not going to affect the album that I made, it might affect the album that I will make…it feels like a product of its time – that isolation. Breaking out of that shell by doing it, making the album. Those are things that I can still connect with but I am in a different place, there is a different fire burning."
One of the differences is that Sun Tailor may sound "a little louder." Talking about Like the Tide, he said, "I really wanted to whisper, I wanted to make it as natural as possible. There's also some shouting but… I was into the soft/loud thing and I still am, but it's been amplified. Now when I'm whispering I don't want to whisper so quietly anymore."
Links: Sun Tailor bandcamp, facebook page, concert event page.