Anything is possible when science meets art – especially in the middle of the night! French videoartist Judith Darmont performs at the Bloomfield Science Museum "White Nights" which take place on three consecutive Thursdays from 21:00 to 2:00 (26.11, 3.12 & 10.12). Entrance is free and the museum offers a multitude of reasons to stay up late.
Darmont, known for creating digital visual illustrations to music, will perform "Junction" at 22:00, 23:30 and 1:00 each Thursday. The current work is inspired by images from exhibits on the brain which relate to illusion, perception, the brain's structure and processes. Darmont combines poetic video art with music and scientific images of the brain in a creative interpretation of dreams. Let the beat move your feet and the images dance before your eyes. In the clip below, Darmont performs on video keyboard with MOVIESONIC.
 Other museum highlights include a festival of French science films on topics ranging from astrophysics to Darwin, humans and their environment and the Mediterranean. There will be guided tours of the museum's exhibits: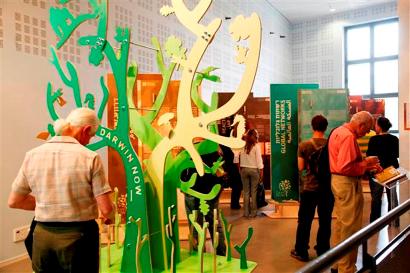 Darwin Now: an exhibit celebrating the 200th anniversary of Darwin's birth and 150 years to the publication of his famous book "The Origin of Species."
Journey Through the Brain: directions in contemporary brain research.
Exposed Nerves: color photos of the brain.
Einstein: the amazing world of the most famous scientist of our time.
There will also be activities and demonstrations on the topics of: film, photography, light, color and movement. All museum exhibits will be open to the public. The museum's "White Nights" are part of a Jerusalem-wide event in which several museums and cultural organizations will participate, and are intended for youth, students and adults. The events are sponsored by the Municipality of Jerusalem and the Ariel Company.
Kids, tell your parents it's educational.
The Bloomfield Science Museum
Museum Blvd. near the Givat Ram Campus, Hebrew University, Jerusalem
Information: www.mada.org.il, mada@mada.org.il, 02-6544888
Top image: Judith Darmont/Photo courtesy of The Bloomfield Science Museum