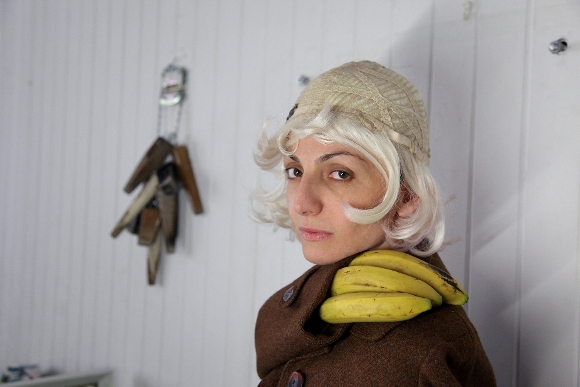 For the seventh year running, Israeli Fringe Theatre will be celebrating its largest annual celebration with Fringe Night, culminating in the presentation of the Kipod Zahav (Golden Hedgehog) Fringe Theatre Awards. Fridge Night festivities will take place on October 31 & November 1 at various Fringe centers around Tel Aviv-Yafo and Israel, with over 25 original productions, premiers and special events. The Kipod Zahav Ceremony will take place on Friday, November 2nd, at 12:00 at the Simta Theatre in Jaffa. Finalists will be chosen out of 45 plays based on various categories, including awards for best actor/actress, design, choreography, music, team work, stage presence and more.
Participating theatres include Acco Center for Theatre, Beer Sheva Fringe Theatre, Negev Theatre, Shlomi Center for Alterative Theatre, Nazarath Fringe Center, Simta Theatre and Tmuna Theatre. Prices for each performance are 25 NIS per ticket.
For a glimpse into the philosophical, quirky and always thought provoking works in store, check out the following.
My Yaffo by Orna Akad: The story about Bajer, a woman who left her home in Yafo in 1948 for Amman and returns to her hometown. In search of her and her family's past, Bajer uncovered secrets, weaves new stories and imagines her life in the resurrected particles of her youth.
For tickets and information: 03-5185563
www.arab-hebrew-theatre.org.il
Boker Shel Shotim by Itzhak Ben Ner.
Uza sits on the border between genius and mental patient, blessed with an exceptional capacity for human perception. Uza's story focuses on the difficulties he faces integrating into society, being accepted by his father, and understanding love in a world that sometimes looks different to him.
For tickets and information: 03-6812126
www.hasimta.com or www.negev.index.co.il
Le Petit Alain by Alan Kozinsky
This piece portrays the life of multidisciplinary artist Kosinsky, and the many milestones that shaped his path through curiosity, inquiry, and pushing the limits between life and death.
Shlomi Center of Alternative Theatre
www.schlomicr.co.il or www.t-karov.co.il
My Mancala by Neta Plonsky
This play is a mosaic of events from the lives of Plonsky and Pablo Saltzman, two of the country's leading artists in alternative theatre.
www.shlomicr.co.il
Moving Away From by Nava Frankel and Nevo Rombo
A work focuses on body language and the way we communicate without words. With an array of movement and images this piece evokes a dialogue that is created, developed and sustained using the body alone.
Tmuna Theatre
The Neighbour's Grass is Deeper by Emmanuel Amihi
A dark, comedic fantasy, this piece similarly uses no verbal language to communicate but rather does so through dance. Set in the 1950s, four woman and one man are hanging out in a studio kitchen. Their dynamic relationship ensues.
Tickets and information: 03-5629462.
www.tmu-na.org.il