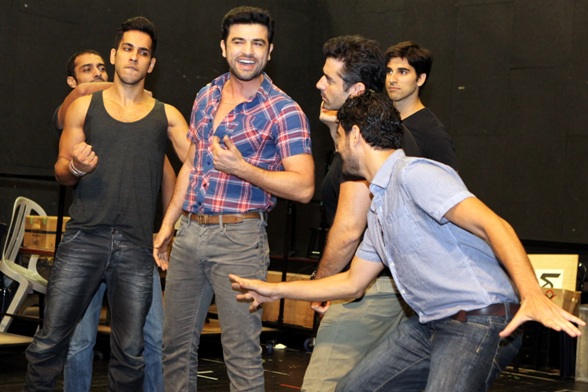 It's Yaffo in the 1950s. Jews from all over the world are pouring into Israel, beginning to paint the canvas of the young country with a myriad of different colors. Many of the newcomers are housed in ramshackle neighborhoods. Ashkenazi Jews, Mizrahi Jews and Sephardic Jews live together in crowded, dilapidated apartment buildings, trying to coexist despite their differences. This is Israel's melting-pot, where the essence of Israeli culture must be forged. The different people coming together create a colorful tapestry that, unsurprisingly, tears at some places.
This world is recreated in Kazablan, one of Israel's most popular musicals, which will be performed at the Cameri Theater this season. The musical has an interesting history of its own: Kazablan was originally a play by Yigal Mossinsohn that premiered at the Cameri in 1954, and was adapted into a musical by the playwright when the genre was at the height of its popularity in Israel. (Mossinsohn is familiar to Israelis as the author of children's book series Hasamba.) The songs were written by Amos Ettinger, Haim Hefer, and Dan Almagor, and the music was composed by Dov Seltzer. The musical premiered in 1966 at the Alhambra Theater in Yaffo, not far from the neighborhood where the story is set; it was a great success and was performed 606 times. The musical was made into a movie in 1974, which was shot in Hebrew and in English and nominated for two Golden Globe awards.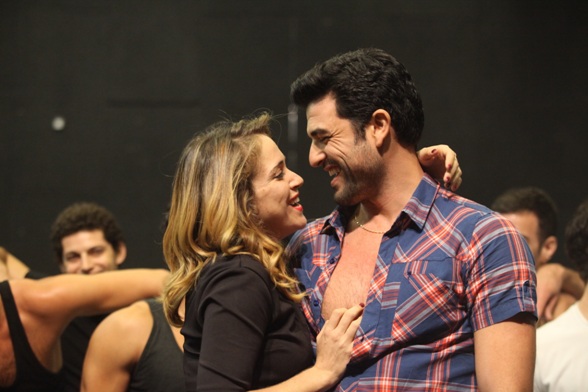 Kazablan has been described as a Jewish version of Romeo and Juliet and West Side Story, and while its two main characters are, in a sense, "star-crossed lovers", their story ends on a happy note. A young troublemaker named Yosef Simantov, nicknamed Kazablan, is a Moroccan Jew living in a rundown neighborhood in Yaffo, and the ringleader of a gang of ruffians who spend their time drinking and acting up. He falls in love with Rachel Feldman, whose father is a Polish immigrant and the head of the neighborhood council. When the municipality threatens to demolish the run-down neighborhood, its residents try to work together to save it. Kazablan is accused of stealing money raised to rebuild the neighborhood, but after his past as an army hero is revealed, he is able to clear his name. The rival suitor in this is story is Janos, who thinks himself more deserving of Rachel due to his Ashkenazi roots. He is ultimately revealed to be the real culprit behind the theft.
Kazablan was the first Israeli play to feature a hero of Mizrahi origins. The story is set during a period of discrimination against Jewish immigrants from Islamic countries, and this discrimination was felt throughout the 1950s, spawning anger that escalated into the 1959 Wadi Salib riots in Haifa. Until Kazablan came along, the Mizrahi was portrayed on the stage as a supporting character, in order to add comic relief or a folkloric touch; in Mossinsohn's play and musical, he is given, for the first time, a song of his own. In the musical, this song is "There is a Place", sung by Kazablan as he remembers his home and family left behind when he came to Israel, presumably alone.
This production of Kazablan will be directed by Tsedi Tsarfati, who has been a part of the Cameri Theater since the age of thirteen. For him, directing Kazablan at the Cameri is a return to his roots, just as the revival of the musical itself is a return to the Cameri's roots. Amos Tamam, well-known for his work in television as well as his theater work, will star as Kazablan. He will be joined by Tamar Shem Or as Rachel, and singer and actress Mei Finegold as Rosa, the owner of the club. Veteran actor Shlomo Vishinsky will portray Mr. Feldman, Rachel's father, and Itzik Cohen will play the part of Moshiko, whose character also serves as chorus or storyteller.
How does one recreate a city that is at once familiar and mythological? Set designer Roni Toren focused on certain elements of the city that make Yaffo what she is. The set design was created with the historical and political setting in mind, and aims to depict the atmosphere of 1950s Yaffo, when food was rationed and the entire country was undergoing a period of poverty and austerity. Historical newspaper clippings are a part of the set design, and they reflect the issues that concerned Israelis at the time: aliyah, housing for immigrants, and discrimination. The sets consist of six buildings, which can be turned around and moved across the stage according to the requirements of each scene: they come together to form Rosa's club and they are pushed to the side to reveal the beachfront. Actors can open and close windows and doors. This gives Yaffo's ancient stone buildings certain mobility, which is mandatory in a musical.
It isn't hard for the modern audience to imagine the story of Kazablan unfolding in today's world. Besides being a timeless tale of love across social boundaries, it is a portrayal of the development of Israel and Israeli culture, both the good moments and the bad. The Cameri's production of Kazablan promises to be both energetic and heartfelt, with lively dance numbers (choreographed by Oz Morag), excellent actors and singers and an exciting new vibe. The audience will be introduced once again to the musical's most vibrant character, which we are already familiar with: the city of Yaffo itself.
Kazablan will premiere at the Cameri on November 21, 2012. Tickets can be ordered through the Cameri's website.
Kazablan
The musical was adapted by Yoel Zilberg and Yigal Mossinsohn, from Mossinsohn's original play performed in 1954. The musical was first performed in 1966, directed by Yoel Zilberg.
Songs: Dan Almagor, Amos Ettinger, Haim Hefer
Music: Dov Seltzer
Director: Tsedi Tsarfati
Editing: Shlomi Moskovitz
Musical Direction: Yossi Bin Nun
Set Design: Roni Toren
Choreography: Oz Morag
Costumes: Ofra Confino
Lighting: Amir Brenner
Voice Coach: Hedva Meller, Haim Pniri
Producer: Haim Sela
.