Between Heaven and Earth, a festival of dance, will take place from October 30 – November 1, 2012 at the Gerard Behar Centre, 11 Bezalel Street, Jerusalem.  The festival explores Jewish themes and features dance premieres, music, video and guest dance performances; and is a joint venture of Kol Atzmotai Tomarna, Beit Avi Chai, and the Israel Choreographers' Association, with support by the Jerusalem Foundation and the Jerusalem municipality, under the artistic direction of Ronen Izhaki.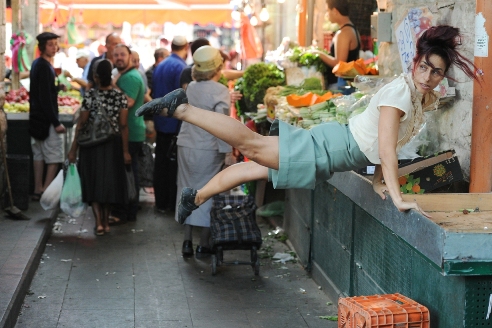 Three dance premieres at the festival were developed in the context of "The Body in Judaism," a choreographer's workshop at Beit Avi Chai:
Galit Liss and Iris Nais Hadar look at the hidden world of a woman, in the context of preparations for Shabbat dinner.
Maya Levy and Aharon Manor explore the sins of the body.
Elad Schecter researches the Biblical word "hineni" through movement.
Noa Wertheim, Dafi Altebeb, Aviv Ivgy, Tami and Ronen Izhaki are among the choreographers whose work will be presented at the festival.
The full festival program may be found on the website www.docdance.com. Tickets may be ordered via E-Tickets: 03-5620255.