Though he was born in the Ukraine and grew up in San Francisco, violinist Isaac Stern (1920-2001) was an important figure in the Jewish and Israeli musical world. Today, over a decade after his death, he is loved and remembered not only as a great musician, but also as a dedicated patron and fearless defender of Israel. Now, the city of Tel Aviv will honor Isaac Stern by naming a street after him.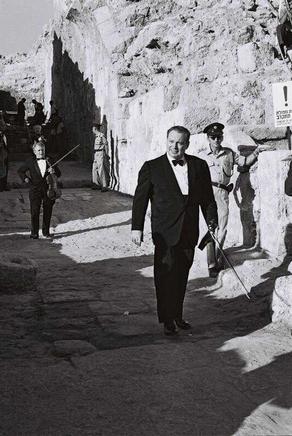 On Tuesday, October 30, the Tel Aviv municipality will hold a ceremony to honor the occasion. The ceremony will be held at 17:00 in the newly-renovated Israel Conservatory of Music on 25 Louis Marshal Street. The speakers will be Yitzhak Navon, fifth president of Israel, attorney Haviva Avi-Guy, Ruth Cheshin, president of the Jerusalem Foundation, and the representative of the Israel Philharmonic Orchestra, Yaacov Mishori. The Jerusalem Trio will be there to play several pieces. Isaac Stern Street is situated off Hausner and Levi Eshkol Streets in Tel Aviv. An unveiling will take place there at 16:30.
Closely tied to his own Jewish roots, Stern was one of Israel's strongest allies, even during tough times. An oft-told anecdote takes place during the Gulf War in 1991, when Stern came to Israel to show his support. He was playing Mozart's 3rd violin concerto in Jerusalem with the Israel Philharmonic when the music was interrupted by an air raid siren, warning the population of a SCUD missile attack. The orchestra calmly exited the stage as the audience members who remained in their seats donned gas masks. Without batting an eyelid, Stern remained onstage and began playing the Sarabande from Bach's Partita in D minor. Earlier, in 1973 he came to Israel and played for soldiers during the Yom Kippur War, and gave a concert on Mount Scopus after Jerusalem was captured during the Six Day War in 1967. With that same lack of fear he toured the Soviet Union in 1951 – the first American violinist to do so – and later China in 1979.
Stern's musical legacy lives on in his son, David Stern, the Israel Opera's music director. It is only fitting that an Israeli street be named for this man who embodied the traits often attributed to Israelis – chutzpah, staunch loyalty and a kind of nonchalant courage.
Link to the event on the Tel Aviv Municipality website:
http://www.tel-aviv.gov.il/Pages/Article.aspx?List=48221491-7974-46cb-8fa7-acb804f1b8dc&ID=644