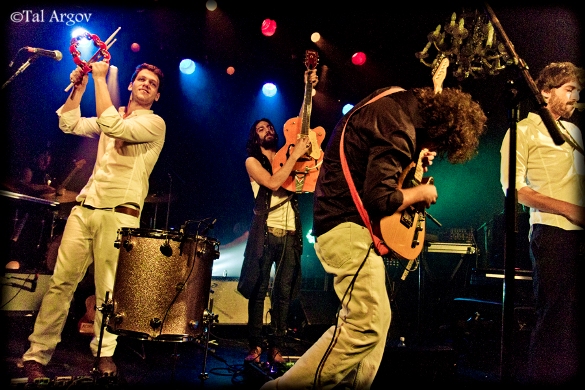 Acollective defined the edge in their performance at the Piano Festival, then took a flying leap beyond and took the audience with them!
The eclectic Israeli rock band and its outrageously talented cohort of musicians – Idan Rabinovici, Roy Rieck, Daniel Shoham, Joseph E-Shine, Roy Rabinovici, Emanuel Slonim, Nadav Luzia – gave an outstanding performance, deconstructing and celebrating the piano with a mad, hallucinatory concert, a party for the thinking person with dancing feet.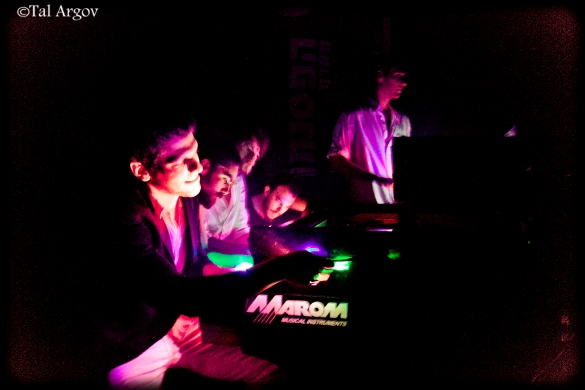 Acollective met the piano full force, from the first melodic notes of Mozart played on the grand piano by Idan Rabinovici to the percussion madness and rave lights of the closing numbers, it was an unpredictable, extraordinary performance. I was mesmerized, energized, and full of respect for the band's vision; it was a true encounter between Acollective as a band, and their songs with the piano.
Acollective is a dark carnival, words and music tearing through the late night streets of the mind, a riot of rhythm and sound racing through the body.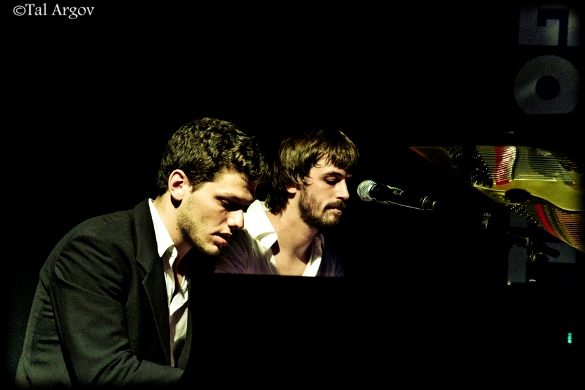 The performance at the Piano Festival began with a spotlight on Idan at the grand piano, and a nod to Mozart that swirled into a lyric duet of Idiom Autumn with Roy Rieck at the upright on the other end of the stage and opening up to the sound of several keyboards. The dress code was elegant black and white, with Joseph E-Shine in a long, glittering vest foreshadowing the subversion to come. The signature array of instruments crowded the stage of the Yerushalmi Hall at Suzanne Dellal, this time with 2 pianos and several keyboards in addition to the guitars, drums, assorted percussion, paraphernalia and sax.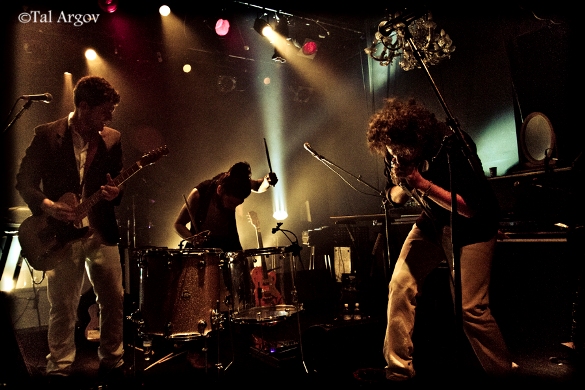 Exploring the songs through the piano, the concert was a journey that began in the depths, in almost complete darkness. The audience was mesmerized from the start, drawn into songs that began as a melancholy ballad, and swelled to a thundering rock crescendo. Known for their versatility and musicianship, yesterday's concert was an exciting display with every band member playing several piano/keyboards at different times in creative combinations, an orgy of percussion.
It was only a matter of time before they had the audience on their feet, clapping, dancing and singing along, and when Idan plucked a handful of knives from inside the grand, it was clear that total madness and mayhem would ensue. It was a mind-expanding exploration of the piano, and an intimate meeting with the songs. Last night's interpretation of A Better Man was powerful and compelling, tearing through the ravages of the soul with rock intensity.
Acollective's collective talents are matched only by their fantastic sense of play, for their final number they put on rave lights – tiny flashlights that fit on the fingers – for some terrific and wonderfully silly piano playing in the dark. Now that's what I call a festival!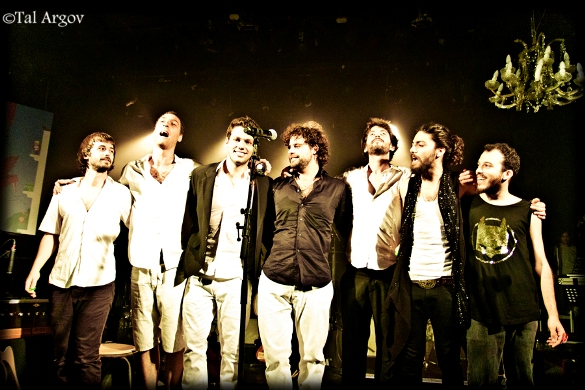 Acollective's next performance will take place at The Barby in Tel Aviv on December 22, 2012.
Links:
Midnight East interview with Acollective.