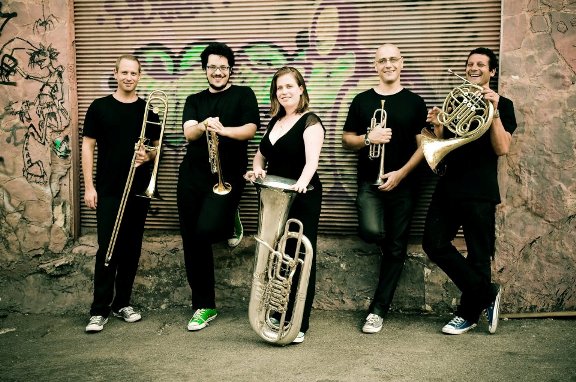 Classical music lovers are in for a treat this Thursday at the Open University Campus in Ra'anana: a special concert featuring the Israel Brass Quintet, performing a diverse program of music from yesterday and today, and the world premiere of a new work by celebrated Israeli composer Yehezkel Braun.
The concert, titled "Art Song in the Brightness of Brass", will feature the Israel Brass Quintet, an unusual ensemble of two trumpets, a trombone, a tuba and a French horn (Guy Sarig – Trumpet, Yuval Shapiro – Trumpet, Barak Yeivin – French Horn, Yaron Hering – Trombone, Avital Handler – Tuba, with Dudu Buch playing Tuba at this concert). The members of this esteemed ensemble are all accomplished musicians, and have been guest performers with many of Israel's orchestras and musical groups. The Quintet was founded in 1998 and has performed at various venues both in Israel and abroad.
The evening's program will explore a vast range of musical genres, from the early Baroque period, through the Romantic period and twentieth-century music, to jazz and traditional songs. The brass sound provides a unique, novel way of perceiving even well-known music, with compositions for voice, adapted for brass quintet taking center stage. The works performed will range from the classical – Monteverdi, Bach, Debussy and Rachmaninoff – to hymns and traditional songs such as "Amazing Grace" and the Sephardic song "La Rosa". Jewish and Israeli composers also feature in the program, from Renaissance composer Salamone Rossi to Russian composer and songwriter Mark Warshavsky. The Quintet will also play popular Israeli songs by Naomi Shemer and Yoni Rechter.
The highlight of the evening will be the premiere performance of Yehezkel Braun's Brass Quintet, composed during the summer of 2012 for radio station Kol Hamusica's "Etnachta Concert" program. Yehezkel Braun was born in 1922 and is one of Israel's most beloved composers, receiving the Israel Prize for music in 2001.
The concert will take place on Thursday, November 29 at 20:30 at the Chais Auditorium on the Open University campus (1 University Road, Ra'anana).
Tickets cost 49 NIS and can be ordered by phone at 1-700-700-169, or purchased at the entrance to the auditorium on the evening of the concert.
The brochure for the concert (in Hebrew) may be viewed here.
This is the first concert in this year's "Tzlilim" concert series. The next concert will be a celebration of French music, on December 27.