They come to us in dreams, in story and song, sometimes we wrestle with them, emerging altered from the encounter, we who dream of angels and walk the ground, wandering in that breadth of time between heaven and hell. It's a powerful symbol, use it at your own risk.
Like any fallen angel worth his stuff, Rotem Bar Or takes it far, crashing the gates and defying the powers that be with reggae rhythms, strong and simple lyrics, a dangerous smile and the audacity to call a band The Angelcy.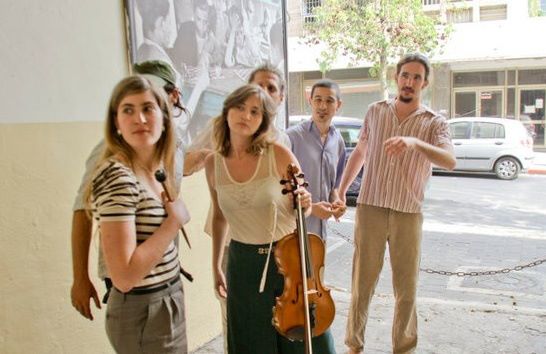 The Angelcy are: Dov Rosen – percussion; Maya Lee Roman – viola; Aner Paker – double bass; Maayan Zimry – percussion; Uri Marom – clarinet, flutes; Rotem Bar Or – vocals, guitar; and Gilad Piker – sound and production. I first heard the band at InDNegev 2011, when they had only been playing together for three months. I'm glad I've given it time, before writing about the band, to let those songs flow through my bloodstream, become a part of me.
When I first saw The Angelcy, they performed on the smaller, more intimate stage at InDNegev, a three day festival of independent music and culture that takes place in the fall, at Mitzpeh Gvulot. They looked more like a group of friends playing music together than a band, and their connection to the audience was just as immediate, simple and direct. Not too far along into their set, they not only invited the audience to sing, but dared to divide the assembled listeners into two groups, giving each their own part and cue – a death-defying act for a new band. And the people sang.
Well, who could resist a song with a romantic 50s rock wail and the recurring refrain: "I've lost my love in a pile of compost."

A year and many, many concerts later, The Angelcy performed on the main stage at InDNegev 2012, and I sang, danced and was mesmerized along with an audience of thousands. The band has played just about everywhere over the past year and a half, and it shows. Their distinctive sound has become more cohesive, and the songs are more fully embodied, without sacrificing any of their rough integrity or intimacy with the audience. The Angelcy acquired a loyal following very early on, and it's growing. If there were 20 or 50 people singing along to all the songs on those first gigs a year ago, at their last concert this past November at the Barby in Tel Aviv, the place was full to overflowing, and the singing was 400+ strong.
There is an alluring symbolism to the songs, all written by Rotem Bar Or. Describing himself as "a regular neurotic Israeli guy, went to high school in Kiryat Gat,  began playing guitar to get girls, it didn't help much in the short run," Bar Or has an understated demeanor and burning intensity. Onstage he's not afraid to talk to the audience, look them in the eye, ask them to be quiet for a  moment, or even stop the music to be sure that everyone will hear what he has to say: "Nobody's soldiers in nobody's land." (Freedom Fighters)
The songs speak of angels, yet these angels are elusive, erotic, rebellious, lost, full of ambiguity and allure:  "Some folks, they call you angels and some say you are the beast." These are angels to contend with, and the Angelcy mix of rhythms, voices soft and strong, from a poignant plaint to incantatory chorus, the wild percussion, the lift of the flute and the dance of the strings gives it all a groove that is undeniable.
There is a romanticism to the songs as well, but they speak of a love that does not pretend it does not hurt; pleasure and pain are as intimately connected as the divine and the profane. It's the voice of wanderers and dreamers in a surreal world that is often cruel, and the pain of the knowledge that we are of this world, creating the cruelty and chaos.

To my ears, so many of the songs – My Baby Boy, Freedom Fighters, Mother Lover, Rebel Angel – speak so directly to the Israeli experience, yet the perspective is so personal, that it invites the listener in, any and every listener.  The intimacy of this voice, touching the bone of pain and every raw nerve, shouting out taboos, becomes universal: "Wish me love, my beautiful fucked up family/Wish me love all you strange people, I wanna wish you love." (Exit Inside)
The Angelcy have recorded a demo, aptly titled Beginner's Love, yet it is far from reflecting their full repertoire. Someday (soon, I hope) there will be an album, but even once they record the songs, there's nothing like hearing them live, and happily, this is a band that performs often.