"When the visit is over, the experience remains." This is the motto of the Israel Children's Museum in Holon, which aims to give children a fun and memorable experience while instilling them with educational values. The museum has recently opened two new exhibits, each touching on significant aspects of life to which children can relate. The museum's exhibits appeal to many different age groups: adults can join preteens and teens for some, while others are directed at children as young as 4 or 5. Visitors are divided into small groups of up to 12 or 14 for guided tours, each about 90 minutes long.
These exhibits are not merely galleries of images and explanatory note cards. Each exhibit is an engaging, palpable experience, which engages the visitor in different activities that educate and inspire. Children and adults alike might remember the museum's exhibits "Dialogue in the Dark" or "Invitation to Silence". These offer visitors a short but compelling look into the daily lives of people affected by blindness or hearing loss. The new exhibits are very different from one another, but their effect is equally powerful. The first, "Dialogue with Time", educates teens and preteens about getting older and aims to reconnect them with their grandparents. The second, "At Eye Level", helps younger children develop an active interest in art, theater and music.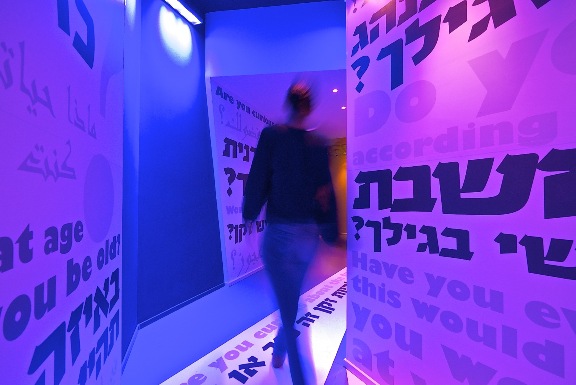 "Dialogue with Time"
"Dialogue with Time" touches on the various physical and emotional aspects of aging. Aimed at children ages 12 and older (who can be accompanied by adults and family members), this exhibit takes visitors on a journey into their future – and their grandparents' past. By gently leading young adults into the world of senior citizens, the exhibit gives them the tools to comprehend what it means to grow older. The effect achieves two goals: children are encouraged to deepen the bonds they have with their grandparents and family members, and they are given a chance to begin developing a positive, constructive mindset towards their own adulthood, early on. "Dialogue with Time", therefore, can be seen as a kind of bridge across the generation gap.
How does it work? The members of the group gather at the entrance to the exhibit and fill in a short questionnaire about themselves, and each member has his or her picture taken for a "passport" to the journey they are about to embark on. They then enter the exhibit, one by one, through the Hall of Questions, a narrow passage where questions pertaining to one's past, present and future are written on the walls. "How old are you?" "How old do you think you look?" This is not meant to dishearten but to evoke healthy questions, and it manages to put the visitor in a proper pensive mood without being threatening. You hear a clock ticking as you pass through and come out on the other side, arriving in the first room of the exhibit. In this room, young people can experience first-hand, if only for a few moments, the physical hardships many of their grandparents contend with every day. They can walk up and down a flight of stairs in weight-laden shoes, try to send a text message while wearing thick gloves that simulate sensory loss, or unlock a door with a trembling hand. Now that the audience has been properly introduced into the world of the elderly, the next part of the tour can begin.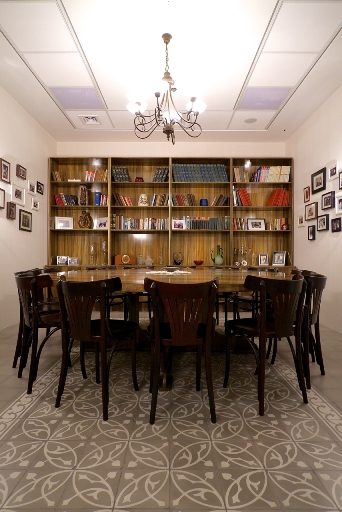 In the next room, the tour group meets their guide: a person of 70 years or more, who greets them as friends and shows them their "passport pictures". Each picture is then made to look older – now every person in the room is of the same age. He then shows them his own picture, and flips through an album of his own pictures, going back to photos of himself as a child. Simultaneously, he tells the audience his own life story. After this introduction, the group has a chance to discuss and share their own stories, and those of their families. Following this, the guide announces, "Now let's go play!" and leads the group onwards, accompanying them throughout the rest of the tour.
The next room is large, spacious and decorated to resemble a scene in nature. The effect is immediately calming. Here the group takes part in several activities, which are aimed at educating them about the facts and misconceptions of aging. This is done via conversation starters in the form of card games and trivia games. The room is beautifully designed and the games stimulating and thought-provoking. All the while, the group's guide provides clarifications and encourages group participation. At some point during the games, two or three participants are randomly pulled out of the game, in order to illustrate the experience of retirement.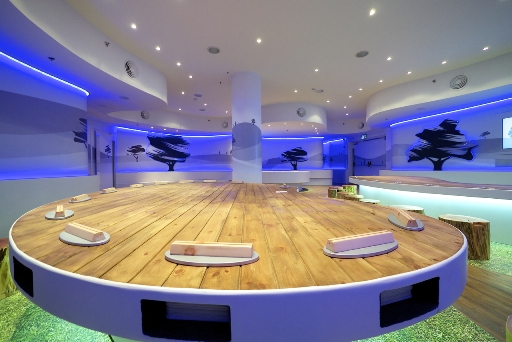 Upon leaving this room, the group members are faced with a dilemma: they must choose between two doors, "Looking Back" and "Looking Forward". In each of these rooms the visitors will encounter different lifelike characters that tell them stories of their lives, past or present. These characters are not mere pictures or statues: they are incredibly believable three-dimensional figures. In the "Looking Back" room, an elderly woman sits in a dimly-lit room, wrapped in a blanket. She talks about her memories of her father and of growing older, and the importance of spending time with your loved ones while you have the chance. Meanwhile, the woman who inhabits the "Looking Forward" room recounts her latest trip abroad and she shares photos on Facebook and chats with her granddaughter on Skype. The granddaughter uses the photos in a geography report. The spectator might wonder: Are these two versions of the same woman?
Finally, the group members enter an ornate, inviting room with a large table, where they share their experience of the tour and draw conclusions from what they've learned. They leave this room and enter the last room in the exhibit, where they are given a personalized questionnaire to "profile" themselves as adults. On the wall over their heads is a message calling them to pick up the phone and call their loved ones for a chat – there's no time like the present.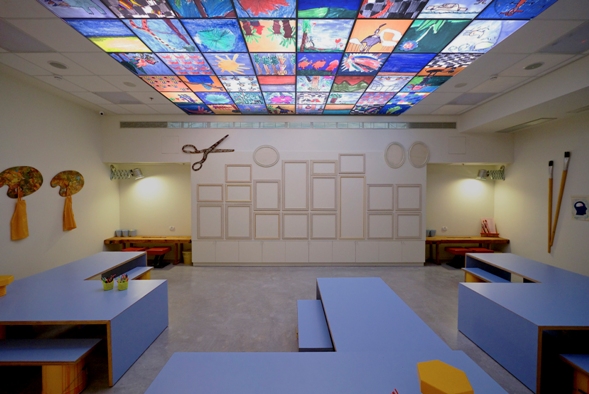 "At Eye Level"
"At Eye Level" is not simply art gallery for young children – it is a living museum for children and by children. Everything is child-sized – even tiny yellow aprons hung on paintbrushes. Children create their own art and observe their creations and those of their peers, and the rooms are designed to give the visitors space to create and explore without intrusion. Instead of looking at images while listening to adults talk about art, they get to experience art for themselves, in a miniscule version of the real-life museums and theaters they might grow to appreciate and enjoy.
For many of its young visitors, this gallery is their first museum experience. This is a challenge and an honor the exhibit's creators are well aware of, and they have put together an experience that is bound to stir young children's imagination, while giving them a fun, safe place to express themselves artistically. Moreover, the next time the child visits a museum or sees a play, he or she will feel more confident and enjoy the visit more, being already familiar with the experience.
The gallery is made up of separate rooms, each devoted to a certain aspect of art. These rooms are tailor-made to give the children space to create freely, without hindrance and without stress. Subtle, unobtrusive elements guide the young artists in expressing themselves: colorful sculptures and images that inspire the imagination and hint at the creative principles the exhibit conveys. Children might take notice of them if they look up at the ceiling or at the walls, or listen carefully to the sounds played in the background, but they are not so loud as to interfere with their creativity.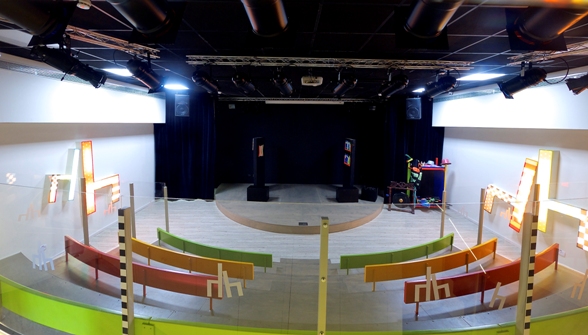 In the Theater Room, the children see a short performance and are then taken backstage to a child-sized dressing room. There they can dress up and put on makeup, and they are filmed for a short video, which is later screened for them. The room is built to resemble a small performance hall, and give the young audience a taste of their first theater play.
Another room is devoted to music and dance, and here the visitors can discover and explore their sense of rhythm and sound out their musical instincts. The space itself is mostly empty, to give the children room to move about, and its warm quality gives them freedom to express themselves in an anxiety-free environment. Large screens hung on the walls display films and images that link to the children's musical and rhythmical sensitivities, and gently guide them in expressing themselves through sound and movement.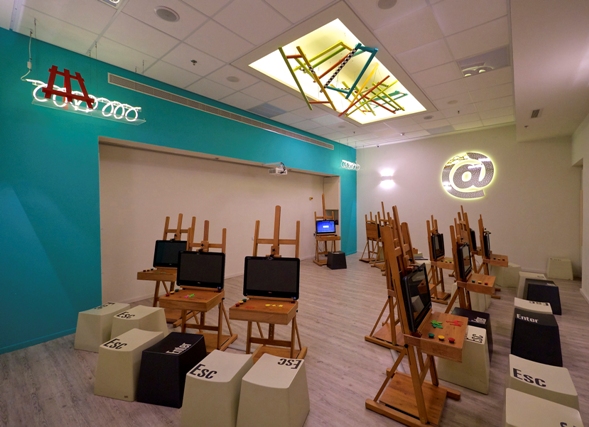 The visual arts are explored in several activities involve both familiar projects, such as paper cut-outs, and new ideas for kids to explore. One room is real art gallery, designed to appeal to children and featuring creations of well-known artists. Children are free to walk around and observe the pieces in their own time. In another room they take part in an animation class, and create their own animations using cut-out figures and a computer program. They find their own rhythm and pace, examine the different cut-out characters, and by using movement and color, breathe life into their creations. Another visual arts activity takes place in a beautifully-designed room, where the children are seated at large tables and given a chance to paint and draw to their hearts' content. Their drawings are displayed on the walls, so that each creation and each artist is given respect and praise. In order to avoid a feeling of chaos, art supplies are cleverly hidden in supply closets behind the wall.
Children leave the exhibit having gained not only a fun afternoon, but an introduction into the world of art and theater. This leaves a lasting effect not only on their artistic imagination but also their self-assurance: they have enjoyed the experience of museum-going and will be confident and eager to repeat it. In terms of art and culture, it is the first day of the rest of their lives.