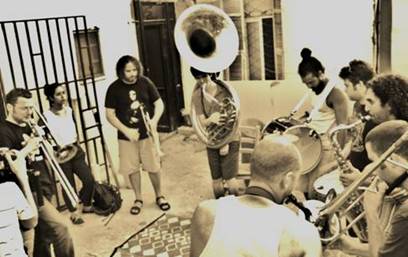 The best of brass will be lighting up the night at Beit Avi Chai on Saturday, December 8th at 22:00! Come dance with the Ohana Brass Band!

Some of the best Israeli musicians (from ensembles such as HaDag Nachash, MarshDonurma, Funk'NStein) come together to play as the Ohana Brass Band. OBB Members are: Udi Raz, Sefi Zisling, Yair Slutzki, Shlomi Alon, Tomer George Cohen, Ongy Zisling, Matan Maman, Matan Gov Ari, Arthur Keasnobaev, Yaron Ozana, Tal Tamari, Ophir Kutiel, Elran Dekel, Tamar Matalon, Dana Laskow, Chaka Moon AKA ShUkY BaLuKi AKA shacham Ohana. Check out their facebook page here, and concert event page here.
Beit Avi Chai's Saturday Night Party Line Concerts, under the artistic direction of Monocrave, present original Israeli music with a dancing beat every Saturday night all winter long. Concerts take place on Saturdays at 22:00, at Beit Avi Chai, 44 King George Street, Jerusalem, 02-621-5900. All concerts are standing room only – this is a dance party! Tickets for each performance are a friendly 50 NIS (40 NIS Jerusalem residents/30 NIS for students), and include a free drink. Very friendly.