Ah, Jerusalem! a new musical – in English – produced and directed by Bernie Kukoff, will premiere this month in Jerusalem, with performances every Sunday and Thursday evening at Beit Shmuel, beginning February 21, 2013.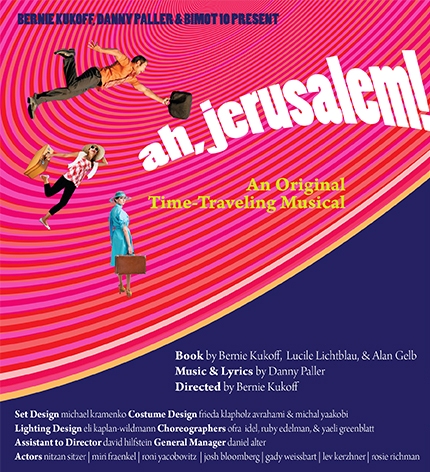 Kukoff, whose past credits include The Cosby Show and the delightful I Love You, You're Perfect, Now Change, has turned his attention to Jerusalem, and the comic/romantic potentials of its history.
A short description of the plot from the creators:
Charlie and Madeline Axelrod and their teen-age daughter Robin are packed to go on vacation to Mexico when Charlie gets a nighttime "vision" from his ancestral Uncle Mordechai imploring Charlie to go on a mission to Jerusalem to retrieve a family treasure.  And so begins the adventures of the Axelrods of Indianapolis, as they travel through centuries – encountering love in the time of King Solomon, danger in the time of the Crusades, and a "ticket to history" in the Jerusalem bus station circa 1920.  The show is full of humor and twists, as the Axelrods experience a high-energy, transformational journey through Jerusalem.
Ah, Jerusalem!
Sundays & Thursdays at 20:00, Beit Shmuel, 6 Shama Street, Jerusalem.
Tickets may be ordered online, or call: 02-6237000.
Original play by: Bernie Kukoff, Lucille Lichtblau & Alan Gelb
Director: Bernie Kukoff
Original score & lyrics and musical director: Danny Paller
Set design: Michael Kramenko
Costume design: Frieda Klapholtz Avrahami & Michal Yaakobi
Lighting: Eli Kaplan-Wildmann
Choreography: Ofra Idel Ruby Edelman,; and Yaeli Greenblatt
Producers: Bernie Kukoff, Danny Paller & Bimot 10
General manager: Daniel Alter
Featuring: Nitzan Sitzer, Roni Yacobovitz, Miri Fraenkel, Josh Bloomberg, Lev Kerzhner, Gady Weissbart, Rosie Richman