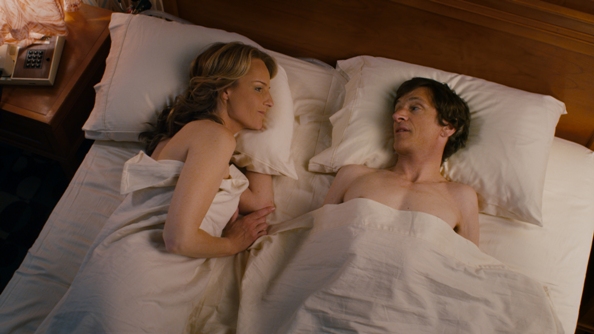 Sex and disability both struggle to find realistic interpretation in film. The former frequently flounders amidst efforts to evoke a meaningful synthesis of emotion, desire and good old fashioned carnality; the latter is oft overwhelmed by well-intentioned but reductive constructs of the lesser-abled lacking autonomy, somehow deserving the audience's sympathy just because of their challenges. The Sessions, an intelligent, funny and largely unsentimental film written and directed by Ben Levin, does well to find space within the cliche for a narrational depth often apparent only in its absence.
Disabled by polio, Mark O'Brien defies physical confinement to build a career as a poet and journalist. He spends much of his time in an iron lung or strapped to a gurney, and is dependent on carers for most of his physical needs. It would be easy to feel sorry for him, but we're never permitted this dubious gratification. He's grouchy, somewhat self-absorbed and occasionally self-pitying, albeit with enough self awareness as to accept that this is his problem rather than anyone else's.
There is something else besides, which he is prompted to confront when he is commissioned to write a feature about sex and the disabled. Granted, this is liberal Berkeley, but it is the 1980s: there is still a certain prudishness attached to frank discussions about that most basic of human needs.
It's a prudishness that extends to Mark: betwixt his Roman Catholicism ("I need someone to blame for all this", he ejaculates when someone expresses surprise about his faith) and the hovering spectre of absent parents, it is understandably easy to elide closer consideration of his own sexual development.
Prudishness is perhaps unfair. When Mark – played with a convincing physicality by John Hawkes – remarks wryly that he probably hasn't seen his penis for 30 years, we appreciate that of necessity, he has wrapped himself within a cocoon of asexuality; all the more so to protect himself against the vulnerability of his physical condition. Mark has the urges and anxieties of all men, but lacks the opportunity to explore these. But when his therapist suggests the services of a sexual surrogate, new possibilities emerge…
The dominant tone of The Sessions is awkwardness. Once Mark finds the language of sexuality, it's pretty hard for him – quite understandably – to stop blabbering on about it. But it's a new language for him, steeped in the contradictions of the wider world. There's his faith, for one thing; his priest, Father Brendan (played with an amusing lack of guile by William H. Macy), is flustered by Mark's new found candour.
On the other hand, there's the knotty intersection of sex and emotions. Surrogate Cheryl  is brisk and businesslike, not lacking empathy but not defined by it either. That Mark finds in her the receptacle for a tangled rush of emotions – love, lust, optimism, guilt – is unsurprising. But it might well be that Cheryl will need to check the vocabulary of her profession too…
There are unsatisfying aspects to The Sessions. A rich mine of psychological engagement remains frustratingly untapped, all the more so because it is hinted at in the crossover between the clinical and emotional relationship between Mark and Cheryl. On the other hand, the script (The Sessions, inspired by true events, relies heavily on an autobiographical essay written by the real-life Mark O'Brien about his experiences with his sexuality) strikes the right tone between humour and pathos more often than not. And in Cheryl, Helen Hunt – Oscar nominated for this role – puts the depth of her character to good use, convincingly evoking the uncertainties that her professional services must embrace.
Because The Sessions never extends beyond the remit that it sets for itself, it works very well; personal, poignant, funny and just about uncomfortable enough to make sure than one leaves the cinema with a bit more to think about than when they arrived.
A small aside: Along with sex and disability, Hollywood has never been quite sure about what to do with actresses of a certain age, and with on-screen nudity. It might very well be that the two are connected; it's certainly telling that Helen Hunt's Cheryl is an unusual coup in that it is both a meaty, nuanced role for a middle-aged woman, and one that uses female nudity as a legitimate plot device rather than as gratuitous titillation. But I can't help but be puzzled at the film-maker's demurral when working with the male principal's own nudity. They key is contextual, of course;  nudity only needed and so on and so forth. But it's unfortunate that a certain hesitancy to work with male members on screen spoils the most meaningful moment of the film.
The Sessions (US, 95 min., 2012, English with Hebrew subtitles), written and directed by Ben Levin, will be released in Israeli theatres on Thursday, February 14, 2013.