Fat Cows Lean Cows (Israel, 2011, 55 min), a documentary by Meni Elias, will be the second film in the "Cinema Meets Reality" series of free screenings of films at the First International Bank of Israel, as part their "Culture and Community" program. The series focuses on films made in the periphery, five films will be shown in the series, all open to the public free of charge.Fat Cows Lean Cows will be shown on Thursday, March 14, 2013 at 20:00, in the auditorium on 42 Rothschild Avenue, Tel Aviv. Admission is free, but reservations are recommended. To reserve a place, call 03-5130001.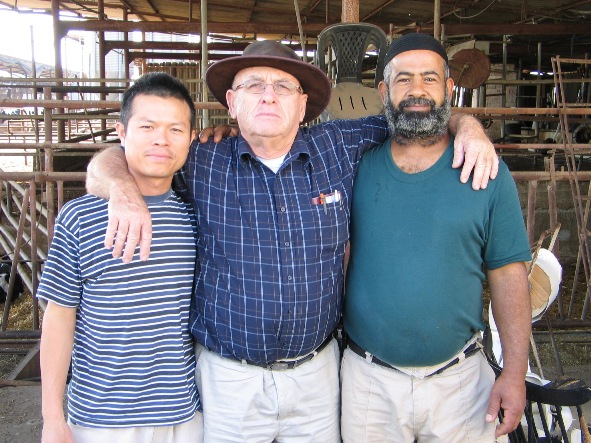 Fat Cows Lean Cows did not receive much exposure in Israel, but participated in several international film festivals including: Woodstock International Film Festival NY, Hamburg International Film Festival and Gotham Film Festival NY, where it was awarded an Honorable Mention.
The film's synopsis:
A small and simple family farm exists in the shadow of the modern western industrialized world, which seems the total opposite of their own world. For 13 years they have been living a normal, calm and independent life and have done their best to ignore the political and social realities around them.
There is no blood relationship between them, and they come from different religious backgrounds and age groups – three very different people, but yet so similar. Destiny, or maybe their everyday need to make a living, brings them together in a small old barn in Moshav Nir-Israel, at the outskirts of western Negev, where they run a farm that is a micro cosmos of the outside world.
Every morning it seems that their common love of the earth and the animals succeeds in overcoming everything. In their devoted care of the cows, geese, dogs, and fruit trees, the three of them know that the days of the barn are numbered, due to the influences of globalization and the turning of agriculture into "Industrial Agriculture", where the small and independent farms like theirs will slowly but inevitably disappear.