Theatronetto, the monodrama festival, will take place this year from March 28 – 30, 2013 in the Old City of Jaffa. The 23nd edition of the festival is produced by the Jaffa Theatre in collaboration with Bimot 2000, and sponsored by the Culture Authority of the Ministry of Culture and Sport, the Tel Aviv-Yafo Municipality, the Old Jaffa Development Company, the Marc Rich Fund and Discount Bank. Eight monodramas for adults have been selected from among 75 submissions to premiere at the festival, and three plays for children. This year's artistic committee members are: Yaakov Agmon (Chair), Daniela Michaeli, Goren Agmon and Hava Ortman.
The Theatronetto Hyde Park tradition of outspoken outdoor performances and installations created by students of the Kibbutz College will continue this year, taking children's songs as their inspiration. Performances take place every festival evening in the plaza outside the Jaffa Theatre. Students in the theatre program at Ironi Aleph High School will present a special outdoor performance on the theme of "Leaders of the Future," directed by Eran Toubul.
Tickets are 70 NIS/50 NIS advance purchase, and may be ordered online, or call 09-8945957. Find Theatronetto on facebook too! More photos in Midnight East's album: A First Look at Theatronetto.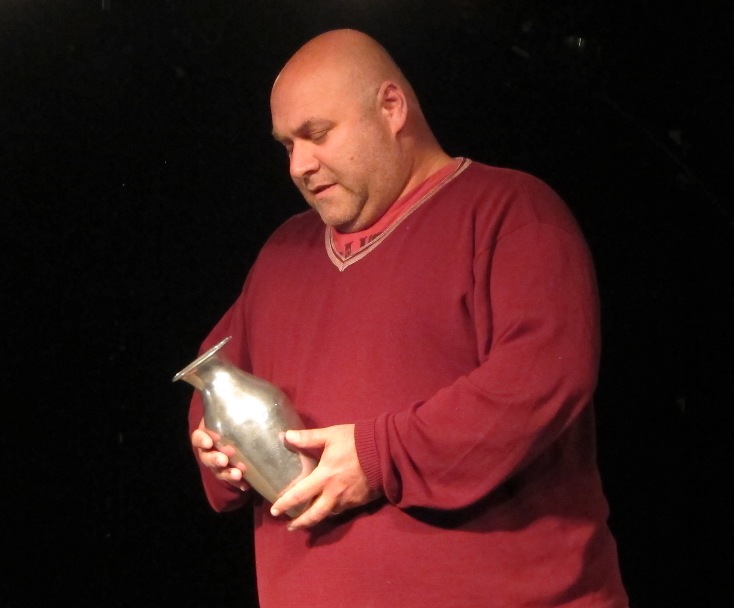 Theatronetto will feature a preview presentation of Bahazara Leisrael (Back to IsraIsland) by Nava Semel, based on her novel IsraIsland (Yediot Ahronot 2005). Director: Eldad Ziv; Performer: Dvir Bendak; Music: Avi Benyamin; Production: Itim Ensemble.
IsraIsland is the state we could have had. The play is founded on historical fact: the first Jewish State was established on a Native American island near Niagra Falls at the end of the 19th century. It's visionary was Mordechai Manuel Noah, an American  playwright, journalist and diplomat who called the new state "Ararat." But his call to the Jews of the world to come and settle there was not answered.
The play takes place in an alternate reality, one in which Jews settled on the island. IsraIsland is their official state, while the Israel we know never existed. The play's hero is Simon, a black news photographer, who is travelling to IsraIsland on the eve of its 188th Independence Day, to scatter the ashes of his lover, the young musician Jake. Simon lands at "Ararat Niagra" airport with an urn of ashes and searches the island for an appropriate burial site for his dead partner. A surprise awaits Simon and the audience, for Jake had planned to be buried somewhere entirely different…
Monodramas in Competition*: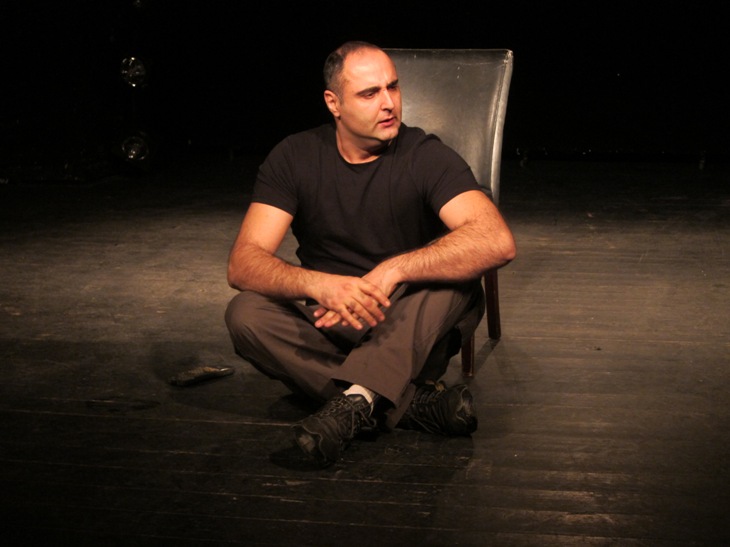 Tik Tik, adapted, edited and directed by Eliran Caspi, based on a text by Nir Yosefi. Performer: Nir Yosefi.
The autobiographical story of Nir Yosefi's struggles with Tourette Syndrome.
"One day in class everyone suddenly started to laugh, I turned and began laughing with them until I realized that they were laughing at me." Since that day, for the past twenty years, Nir Yosefi has been trying to lead a normal life. He is an actor, a young man who wants to get married and start a family, but in every encounter appear the tics, twitches and strange noises of Tourette Syndrome. Heroic, funny, sad, and even ridiculous at times, the story of a young man who has to deal with society's rejection of anyone who is different.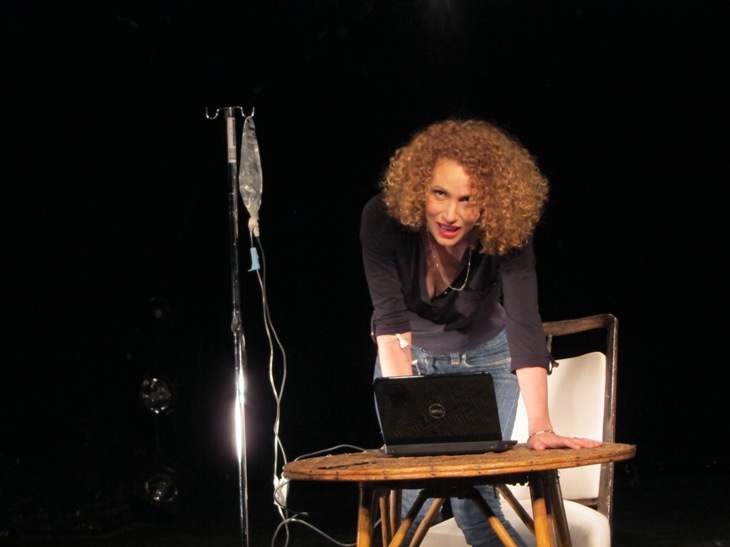 100% Rating by Ilanit Swissa. Director – Sarit Vino Elad; Performer and co-creator – Yael Arad Tzafrir.
Michal Shahaf, a TV star who has fallen from her greatness and become persona non grata in show business, broadcasts her final plan in an intimate internet blog:
"This is my final show. Not the end of a season, not an open-ended vacation, not a change of hosts, not a refreshing break – just a final show. I am sure that it sounds strange, but by the end of the show you will understand everything…"
Michal's regular blog followers and fans from her television days try at first to dissuade her, but Michal ignores them, while random viewers continue to enter the blog one after another, helping Michal create the final show of her life.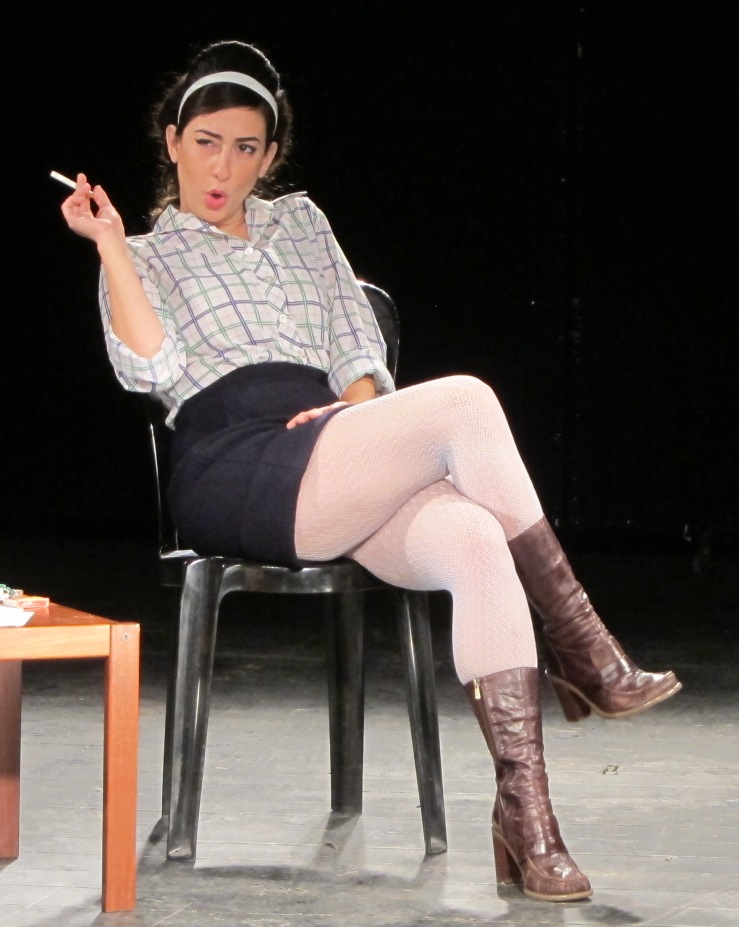 Hunger Artist, a tragi-comic monodrama from the social theatre group "Mashu-Mashu," by Amital Stern. Director – Miri Yanai; Performer – Vered Regev.
June 1967, New York. Lila Frankel, a 22 year old Jerusalem virgin, runs away from her father's home to New York of the 60s on the day that the Six Day War breaks out. She leaves behind her past, Jerusalem and all that the city symbolizes for her. Franz Kafka's story "Hunger Artist" is woven into the journey, and leads Lila to face her own vast hunger, a hunger that – no matter how hard she tries – she cannot satisfy.
Maria Kosnatsova, written and directed by Roni Feldman. Performer: Liat Akta.
Maria Kosnatsova, a virgin nun, arrived in the holy land to care for a retarded girl, here she is forced into prostitution and she takes the profession to moving and surprising places.
The play combines a life story, sadness, humor and deals with social morals from different aspects, such as how we, Israelis, look from the perspective of an Albanian nun. The play includes spiritual and physical undressing and in some parts of the play the actress will appear in the nude. Full nude? That depends on the audience…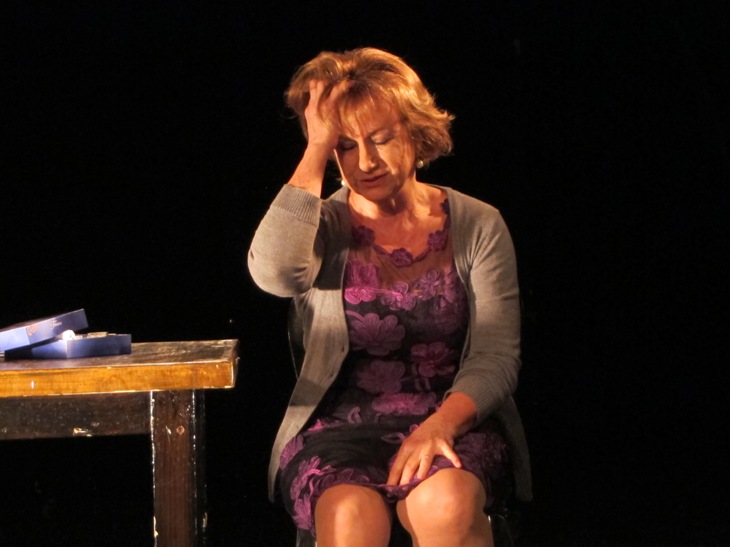 HaIsha Shel Aba (Father's Woman) by Savion Librecht. Director – Georg Darvas; Performer – Aviva Yoel.
The story of Paula, an elderly woman in a mental hospital. She has been there for over twenty years, since the tragedy in which her twin sister Ola, who lived with her, was murdered at a time when a man and his son lived with them in the apartment.
The two sisters met the man and his son in a cafe. They were singers and actresses who arrived from Vienna in the 1920s and performed for their living. The man was married to an American woman who was abroad at the time and was temporarily homeless. The sisters were charmed by the man and took him in with his boy.
The four led an idyllic life for several months. Ola was the man's lover and Paula fell in love with the little boy and cared for him. One night Ola was murdered in the bedroom. The man was accused of her murder, tried and sent to prison. The boy was flown to his mother in the States, and Paula lost her sanity and was committed to a mental hospital.
The little boy, now an American man in his 30s, comes to visit Paula in the hospital in an attempt to understand the story of his father, now dead. Because he resembles his father, and is about the same age as his father was at the time, Paula confuses the two and is swept away into a storm of emotion. She tells him the story, revealing that she was in love with the man, and raising the suspicion that the man sent to prison was not her sister's murderer.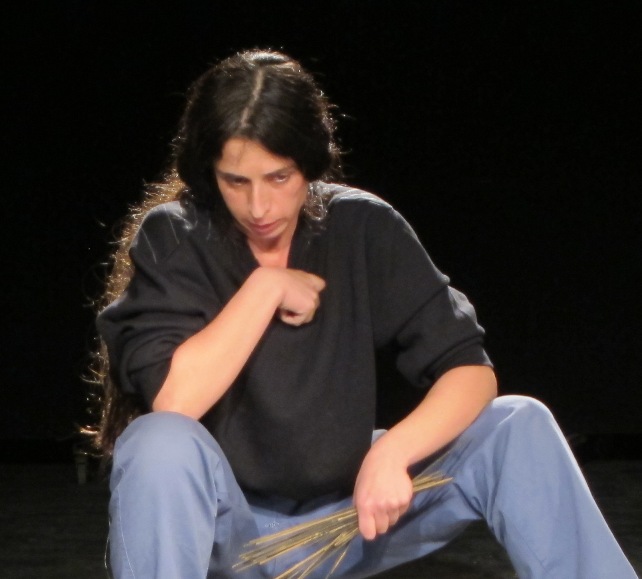 Urba Perach, written, directed and performed by Adi Horesh.
A journey of afflicted memory.
The play is composed of three short stories that deal with the unwanted memory of war. In the first story the memory leaps onto its owner and returns with him from the field of battle. The memory's owner wants to be rid of it and pushes it into the ground. In the second story a disconnected, orphaned memory, whom no one remembers,  searches for a home. In the third story, an Israeli girl wakes in fright on the main path of the camp of a famous memory in which she has trapped herself, confronted by angels of death who wish to remove her, or perhaps workers who happened to find her while on their way to fix up the camp. She tries to convince them to take her out, because she "is not from there" and explains that there has been a mistake in identification or identity – but is it a mistake?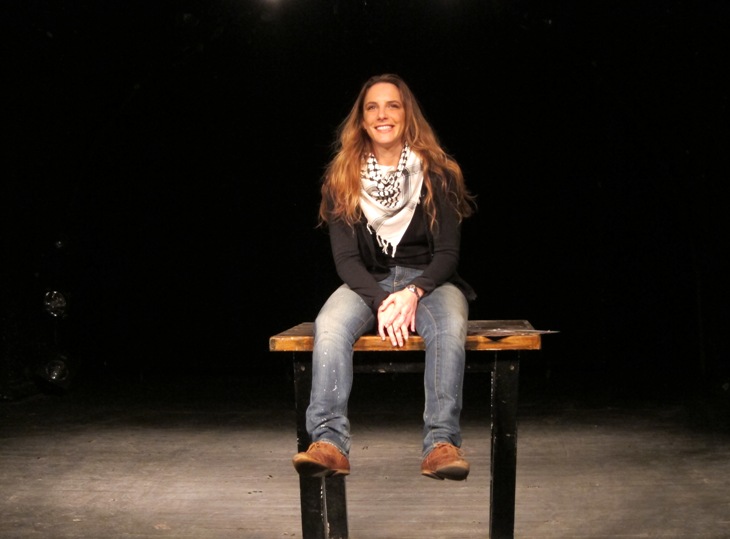 My Name is Rachel Corrie,  based on the diaries of Rachel Corrie, edited by Alan Rickman and Katherine Viner, translated by Avihud Tidhar. Director – Ari Remez; Performer – Sivan Krechner; Set – Aya Ben Asher; Music – Ran Bagno; Lighting  – Yaakov Salib.
On March 16, 2003, Rachel Corrie, a twenty four year old American student, a volunteer in ISM, was killed by an IDF bulldozer in Gaza.
Actor Alan Rickmand and journalist Katherine Viner edited her diaries and letters, and in her writings there is a moving human narrative of a girl's maturation suddenly cut off, leaving her innocence as an eternal message. What brings a girl from a good home in Washington to Gaza? Why here? When the Israeli viewer identifies with Rachel's character, it enables a fresh view of a situation that has come to be represented by empty slogans.
The play, which was first performed at the London Royal Court in 2005, is based on the diaries and emails of someone who died while acting as a human shield to prevent the destruction of Palestinian homes during the Second Intifada. Performing this play in Hebrew, in front of an Israeli audience, gives a new perspective to a play that has been criticized for being one-sided – an Israeli actress will play the role of a young American who joins the struggle against the Israeli army in which she herself served.
*All texts are my translation of the play's description by the festival.