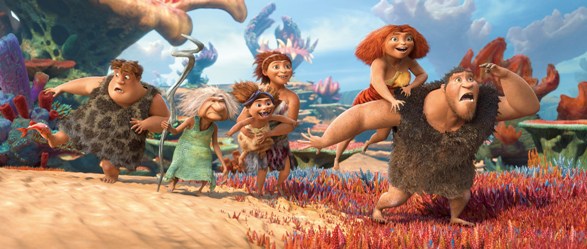 Grug Crood's credo – "Never not be afraid" is sorely challenged by EEp, his tough teen daughter in The Croods, a wonderfully crazy walk on the wild side of prehistory. The a 3D animated comedy adventure takes a look at the lighter, brighter side of risk and change, in a prehistoric time of the imagination, when getting eggs for breakfast might just be a life-threatening situation.  Over-protective Dad Grug Crood (Nicolas Cage), mild-mannered Mom Ugga Crood (Catherine Keneer), and the Crood brood Eep (Emma Stone), kid brother Thunk – yes, the name really says it all (Clark Duke), ferocious baby Sandy (Randy Thom) and outrageous Gran (Cloris Leachman) all live  in a cave. Grug always wants the family to stay inside, where it's safe; Eep wants to explore. What would Plato do?
Well, as it turns out, the times they are a changin' big time: Eep meets a guy named Guy (Ryan Reynolds) who's got fire, and the earth moves. Literally. Earthquakes and volcanoes destroy the world as they know it, the cave is no more and the family sets out on a great adventure, searching for that better place, tomorrow.
The juxtaposition of contemporary sensibility and prehistoric setting ensures a steady supply of laughter, the cast is phenomenal (you really can't go wrong pitting Emma Stone against Nicolas Cage) and the art in this film is a lot of fun! A lovely 2D intro shifts into 3D when the action begins, making a nice visual parallel to the storyline. The makers of this film chose very wisely in abstaining from any attempt at accuracy and firmly setting The Croods in the realm of imagination. It's a glorious celebration of the imagination and invention, with strange colorful creatures and anachronistic ingenuity. The Croods is fun, fun, fun.
In Israel, the film will be screened in English and Hebrew-dubbed versions, in 3D, 2D and DX4. Hebrew dubbing: Grug – Yoav Bar Lev, Guy – Liron Lev, Eep – Dikla Hadar, Thunk – Itai Gerofi.
The Croods (2013, USA, 98 min, English)
Written and directed by Kirk DeMicco and Chris Sanders
Original music by Alan Silvestri
Cinematography by Yong Duk Jhun
Editing by Eric Dapkewicz and Darren T. Holmes