All theater is political, an agent and artifact of its time. Although one might analyze the political themes, the work itself does not function in the same way as other political actions, existing as it does onstage, within a structure that has a different relationship to truth and accountability.
Shakespeare's play depicts Richard III as a "deformed" villain who murders his two young nephews. In staging the play, some directors choose to interpret this as a physical deformity, presenting Richard as a limping hunchback, others prefer to present Richard as a man whose outward appearance has no such distinguishing features, interpreting the deformity as one of character. Onstage, both are "true," each within the context of the creative artist's vision. If the actor portraying Richard strides onto the stage, back straight and supple, one doesn't jump up and shout: "Hey, where's the hump?"
We accept what we are told onstage, without asking for proof, documentation or sources. We accept  what we are shown and told, within the context of the work, if it speaks to our emotions and senses, if the theme and plot are coherent within the imaginative framework created in the piece. The reality onstage – emotional, personal, political, environmental – need not correspond to the reality outside the theatre.
As an audience member, it does not really matter to me whether the historical Richard III had a  hump, but it is crucial that the director's interpretation of Richard's form and character – whatever it may be – create an experience that engages the audience and communicates in a consistent and convincing manner. Let's say that Richard III was a murderous, hunchbacked villain, and see where that assumption takes us. It is then up to the director, actors and production team not to prove the assumption historically, but to enable the audience to envision, feel and intellectually consider it and its implications.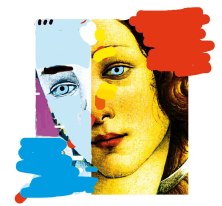 Theatronetto, a three day festival of one-person plays, took place in the Old City of Jaffa in the Jaffa Theatre (The Arab-Hebrew Theatre Center) and its plaza, Hasimta Theatre, and the Ilana Goor Museum; the surroundings generate an aesthetic, cultural and political atmosphere that exerts its influence on the viewer even before the performance begins. The intimate venues bring actors and audience together almost at eye level, with the simplest of sets. It takes courage to step out on that stage alone.
It takes even more courage to come out there with controversial material. But then, isn't that what theatre is supposed to be about? Yes, make me laugh, entertain me – I love it. Provoke me, make me angry, disturb my universe, question my beliefs and assumptions – I love that too. That is why I come to the theatre, to see and experience the world differently, within a certain time and space, through the eyes of another.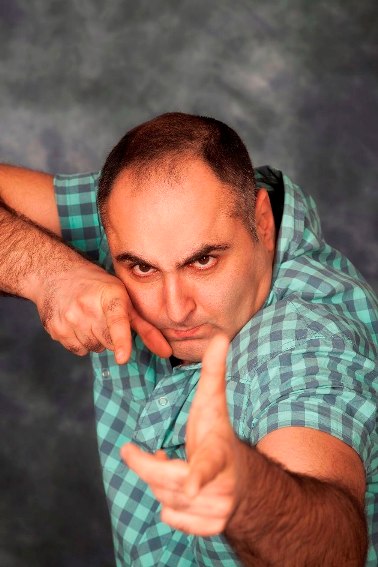 Tic Tik, by Nir Yosefi, adapted, edited and directed by Eliran Caspi, was awarded the prize for Best Play in Memory of Nissim Azikri. The title is a play on words, referring to the tics of Tourette Syndrome, and the word "tik" in Hebrew, which can mean bag or file, and has the colloquial implication of a burden thrust upon one, much like living with Tourette. Based on Yosefi's own experiences, the play was set at a crossroads in the actor's life, as he deliberated whether and how to propose to his girlfriend. The struggle with Tourette and the many other challenges of life were explored from that vantage point with warmth, humor, and a refreshingly self-critical gaze. Yosefi's lack of self-indulgence invites one's empathy, making it a pleasure to root for this guy, as he endures the ridicule of classmates, tries (not too successfully) to hide his tics while on a date, takes on the pressure and competition of acting school at the Yoram Loewenstein Studio and yes, gets his girl.
Does it make a difference whether the story is "true"? Whether Nir Yosefi has Tourette or whether he is portraying a character who has Tourette? Not to me. The truth that is successfully communicated in this appealing play is the situation of being at odds with oneself, the sense of loss of control and social ostracism experienced by a person with Tourette, and the healing properties of creativity, laughter and love.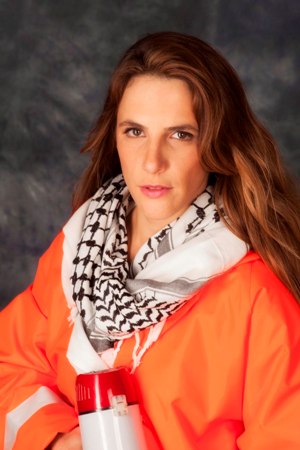 The panel of judges, Yonatan Cherchi, Miki Mevurach and Mor Frank, awarded an honorable mention to the play My Name is Rachel Corrie, based on the diaries and emails of Rachel Corrie, edited by Alan Rickman and Katharine Viner, directed by Ari Remez and performed by Sivan Krechner. Rachel Corrie was an American college student and peace activist who was killed on March 16, 2003 when she was crushed by an IDF bulldozer in Gaza. The political context of this painful incident is still mired in controversy, but that is beyond the scope and intention of this review. Despite being based on real people and events, and composed of documentary  materials, I feel that the verity, merits and accountability of the work can only be experienced and evaluated as theatre, for in the act of editing and arranging Corrie's writings, in casting and staging the play, one takes those words out of one context – documentation, and places them in another – drama.
And as theatre – it works. Sivan Krechner conveys the idealistic excitement and confusion of a sensitive, compassionate and impulsive young girl confronted by a conflict too terrible to comprehend, trying to make things right. It's an emotional, personal perspective on an enormously complicated conflict, a dramatic portrait of the internal world of a young woman of conscience and conviction. Just as I would hope that those seeking to educate themselves about the Israeli-Palestinian conflict would not rely solely on a dramatic work for their information, nor for that matter on any single source or 50 minutes of research in order to form an opinion; I would hope that even those audience members with years of hands-on experience of the conflict and deep-rooted opinions would be open to seeing the world, if only for 50 minutes, through the eyes of another.