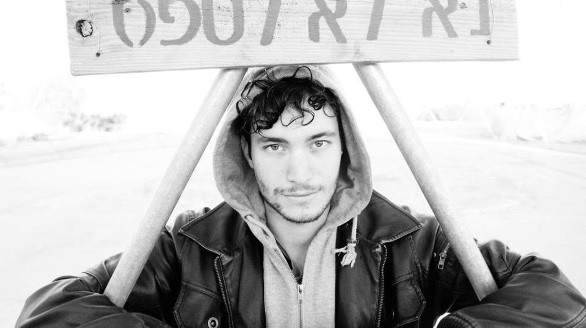 Nadav Zelner is one of four promising young choreographers selected for a special Suzanne Dellal production. His work Mushroom Z will premiere at the upcoming Tel Aviv Dance Festival in May 2013.
A former dancer of the Kibbutz Contemporary Dance Company, Zelner graduated with honors from Thelma Yellin School of the Arts and has choreographed several musicals, including an international production of Zorro in China, Chicago at Beit Zvi, Cinderella, Peter Pan and many more. Zelner has performed internationally as a dancer in different projects including one with Adi Salant in Italy and with Helena Chridolido in Cyprus, and a senior/major member of Eyal Golan and Dana International's dance troupes.
In an interview with Midnight East, Zelner described Mushroom Z as a work for five dancers who represent a group of people and their experiences in an urban environment, with its temptations, routine, low points and moments of ecstasy (sounds like Tel Aviv!), revealing the behavior of each individual and their relationships with one another.
"The music is from Yemen Blues, a band I love very much," said Nadav, "ethnic songs, music that's lively and makes you move."
"Mushroom Z has a hallucinatory feel to it, but it is also uplifting," Nadav said and recalled that the name came to him unexpectedly, "I work from instincts, and the word 'mushroom' just burst into my thoughts. Then I began to think about all the different kinds of meanings and variations of the word: hallucinogenic mushrooms, fungal foot infections…"
Nadav explained that each dancer has a subtext of different attributes relating to the mushroom theme: "Moran – she is all about hallucination, you can see it in her face and movement; Avi – he is the only male in the group, he is the kind of mushroom that gives you an energy boost; Roni – she represents a poison mushroom, the poison keeps affecting her, she doesn't die but she has many turning points and she has a very hard time of it; Hadar – she is afflicted with an itching fungus; Dafna – is a simple mushroom, the kind you can eat, she is the most normal and responds to the others around her, she is the most sane."
Despite the theme running through the work, for Nadav "the movement is most important, the story comes after the movement is in place…the movement is what matters most. The dance is very fast and sharp, very boom-boom, but there are also softer, melting moments…it's very different…"
While Mushroom Z is Nadav's first major work, he creates a dance every year for his alma mater, Thelma Yellin. In addition to his focus on contemporary dance, he continues to work in musical theatre, and is currently working on a musical version of "Hagiga BaSnooker" with Zeev Revah and Miki Kam. He is also excited about working with actors on two new projects for which he will be doing the choreography: a musical with third year acting students of Beit Zvi, directed by Shuki Wagner and a new production for the Orna Porat Theatre.
How do the two different worlds of contemporary dance and musical theatre co-exist in his mind?
"They get along  wonderfully," said Nadav,  "I've always loved musicals and loved to sing as a child."
Although Nadav will not be dancing in Mushroom Z, he is in the work, as he says, "I can define this work as: Nadav. It's me. The joy in life, the madness, movement…"
Mushroom Z will premiere on May 16 & 17 at the Suzanne Dellal Centre, along with Kadam by Tzvika Iskias and Shiri Capuano Quantz, and At the end she dies by Idan Porges, as part of Suzanne Dellal Centre Presents: New Production 2012. Tickets may be purchased on the Suzanne Dellal website.