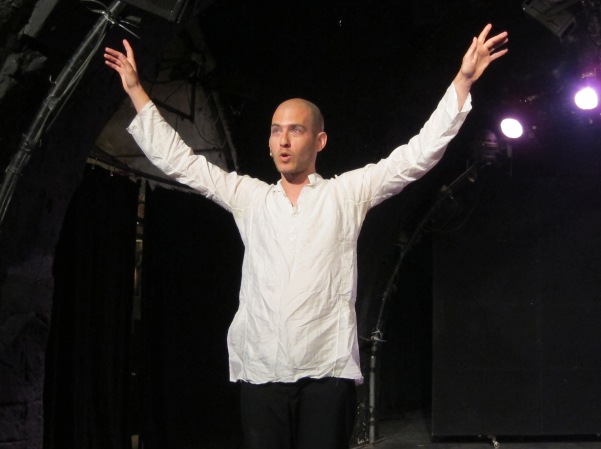 Israeli folk dance instructor Eitan Harari will be hosting an evening celebrating Yom HaAtzmaut – Israeli Independence Day, on Monday, April 15, 2013 at Tmuna Theatre.  In an interview with Midnight East, the talented Terpsichorean shared insights on his art and vocation.
Midnight East: The eve of April 15th will be a special occasion for you, hosting Yom HaAtzmaut in Tel Aviv, how do you feel? Is this a high point in your career?
Eitan Harari: It is without a doubt a high point in my career. After all, who would have believed that Eitan Harari, the same Eitan Harari whose colleagues in the folk dance world have kicked around for so long, would host a folk dance on the eve of Israel's 65th Independence Day, in Tel Aviv, in the hub of the dance scene. I am overcome with emotion, and well aware of the weight of this responsibility and the challenge that lies ahead.
ME: Folk dance has been so central to Israeli culture. How do you view the role of folk dance in Israeli culture – over time, and in the present?
EH: Folk dance has always been central, but it seems as though in recent years it has blossomed anew, and this is most exciting. A young and vigorous cohort of new dance instructors, (and some have said that I am one of the most prominent among them), have brought new blood to folk dance and new dances for all levels, attracting many new dancers.
In these times, when the Arab Spring sweeps through our own neighborhood like a storm, there are many Israelis who find comfort, strength, and encouragement in the many circles that continue to dance throughout the country.
ME: I know that in addition to dancing and teaching the traditional folk dances, you are also a creative artist and have choreographed many new dances. Do you have a favorite?
EI: They were all my sons, and I love them all. I will always love best the dance that I have not yet created, the next dance that I will invent.
ME: Many of your original dances have been inspired by your life experiences. How do you translate life into dance?
EI: An excellent question. When I experience a meaningful moment in my personal life, I see at once the dance that is hidden behind the story. In a strange way I feel that Shlomo Artzi and I are working from the same source. I am just like Shlomo, we see our personal selves within the group and the Israeli community. A certain moment must become movement, what will be the rhythm of the dance, and how shall it be set to music? These are all complex questions that cannot be fully answered in the scope of an interview such as this. Perhaps one day I will open a school for dance instructors and teach my methods there.
ME: You've worked with many different groups of people, in different venues. What kind of response do you get from the audience?
EI: The Israeli dancing community knows what it deserves; the dancers love to dance they love strong dance instructors who lead and guide the group. This is a very loyal audience. Despite the fact that I usually come in as a substitute for Oded, I am still surprised anew each time by the warm and loving embrace I receive from the group. Many people tell me that I am the greatest dance instructor they have ever danced with. At the end of the evening, people come up to me with tears in their eyes, they hug me and want to have their picture taken  with me, and of course I've had plenty of offers of all kinds from the women.
ME: Are you working on a new dance? Perhaps something special for Yom HaAtzmaut?
EI: I can only say that there will be surprises at the dance on Yom HaAtzmaut in Tmuna. A new dance? I'm not telling…
ME: Do you feel that you have received the recognition you deserve for your work as a  to
EI: Slowly, but surely, I am. Next week I am flying to Munich to lead a dance there and that is without a doubt further proof of my standing as a dance instructor. But why should I have to speak on my own behalf? On the other hand, were it not for the constant jealousy that exists here, I would have long ago been accorded my rightful place as a leader in the Israeli folk dance scene.
ME: As we approach the eve of Israel's 65th Independence Day, what are your hopes and dreams for the future – your own and that of the State of Israel?
EI: I have only good wishes for the State of Israel, that we grow in strength, that we have peace and prosperity. And I wish the same for myself. I believe that in the coming year more and more dancers in Israel and throughout the world will get to know Eitan Harari.
Come dance with Eitan Harari at Tmuna Theatre (8 Soncino Street, Tel Aviv) on April 15, 2013 at 20:00 for an unforgettable experience of dance, theatre and community! Tickets are 45 NIS, to order call: 03-5611211.
The Dance Instructor (HaMarkid) by Abigail Rubin and Yoav Bartel won the 2010 Kipod Zahav (Golden Hedghog) Awards for Best Play, Best Director, and Best Performer.