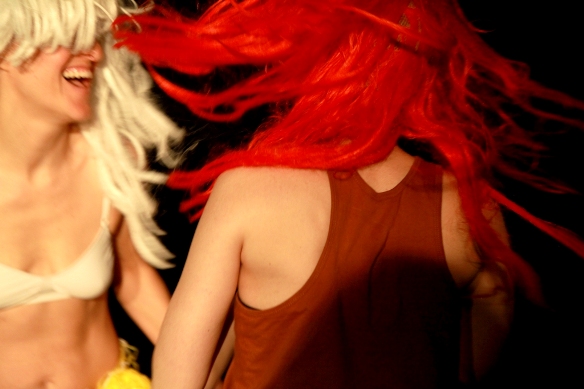 Run, don't walk, to see Yasmeen Godder's new work: See Her Change. The premiere performances will take place at Suzanne Dellal on April 22nd & 23rd, 2013 at 21:00.
Change is the operative term here, in more ways than one. I've just had the exhilarating experience of seeing a full run in the studio that made my heart race and sent a myriad of thoughts through my head in every direction. Yet I know that when I see this performance onstage at Suzanne Dellal next week that it will be a different experience, and in some way, a different work. The transition from studio to stage changes a work. The set, lighting, elevation, and distance all work to create an effect on the viewer, and I suspect many performers would agree that the stage (not to mention the audience) has a tremendous impact on the performer as well.
This change, this relationship between the personal and the public is just one of the many themes running through Godder's enticing new work. There are three women onstage: Shuli Enosh and Dalia Chaimsky, two dancers with whom Godder has a long-standing creative dialogue, and Godder herself. The differences of physique, age, and movement along with their shared traits and gender, generate shifting images of who "She" is and might be, changing and developing throughout the performance.
Godder makes use of cultural tropes and stereotypes of women in this work to create a kinetic palimpsest of images. The images and movement emerge from the lives, bodies and memories of the choreographer and the dancers, translated onto the stage, becoming universal, resonant.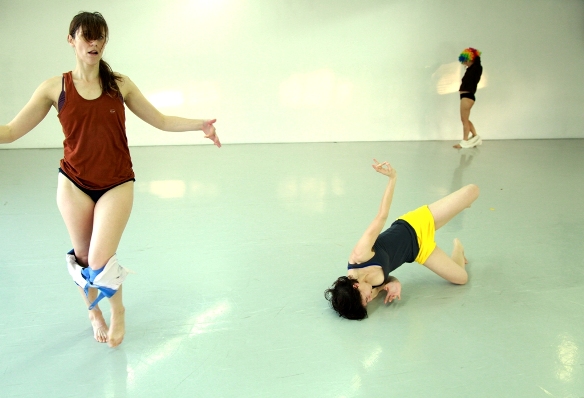 "We went a bit wild playing with stereotypes," said Godder in the studio this morning, in a conversation after the run, reflecting that "self-directed humor" was one of the elements she investigated in creating this work, asking, "what is the function of humor in relation to femininity?"
See Her Change is a fun and fascinating look at "woman" that is sexy and smart. See it.
Performances will take place at Suzanne Dellal on April 22nd & 23rd at 21:00. Tickets are 110/90 NIS, to order call: 03-5105656.
See Her Change –  Choreography: Yasmeen Godder; Co-artistic director and Dramaturgy: Itzik Giuli; Creating Performers: Dalia Chaimsky, Shuli Enosh ,Yasmeen Godder; Music: Hope Sandoval & The Warm Inventions – "On the Low"// Mu -" Chair Girl", " Hello Bored Biz Man"// Devendra Banhart – " Hey Miss Cane"///James Blake -" Wilhelm's Scream"// Cat Power-" New York"//  "Eliane Radigue-"Adnos II", "Elemental II" // Mika Vainio-"Yksinäisyys, Suru, Katkeruus", "Ahriman"// Nurse with Wound-" Stick That Chick And Feel My Steel Through Your Last Meal"," All of Me"," Juice Head Crazy Lady"," Untitled 8″," Untitled 5″// Mori-Nauseef-Parker-Laswell-" Majuu"; Lighting Designer: Andreas Harder; Costumes and Props: Tom Krasny; Stage and Video: Yochai Matos; Sound Designer: Tomer Rosenthal, Yasmeen Godder and Itzik Giuli; Rehearsals Direcror: Matan Zamir; Technical Director: Omer Sheizaf; Sound: Oren Cohen.