Every year, classical music aficionados from all over the country gather at the Abu Gosh Vocal Music Festival for a series of indoor and outdoor concerts, which fill the beautiful churches of the town with music. The festival this year will last for five days, beginning on Tuesday, May 14th and ending on Saturday, May 18th. It's a great opportunity to hear respected artists from all over the world performing music both familiar and uncommon, in a unique, charming setting.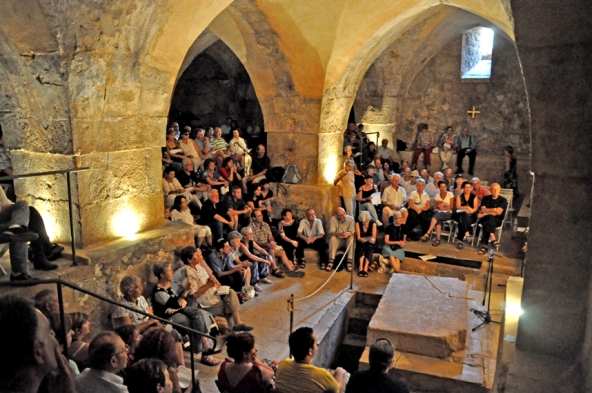 A visit to the Abu Gosh Festival is a treat for the eyes as well as the ears: you can enjoy the best view of the village from the Kiyat Ye'arim Church at the top of the hill, and see history reveal itself in the 12th-century Crusader church, where monks and nuns still tend the building and surrounding gardens.
Highlights of the festival will include concerts by countertenor Maarten Engeltjes, who will sing Vivaldi's "Stabat Mater" and "Nisi Dominus" and songs by Bach, Purcell and Dowland. More special events planned include a performance of the Profeti della Quinta Singers, an afternoon concert of Bob Dylan and Leonard Cohen songs, and a special concert in tribute to conductor Avner Itay. Another special guest of the festival is Israel Golani, world-class theorbo and lute player.
On each day of the festival, you can travel through time with Baroque and Renaissance music from all over Europe. Mezzo-soprano Ayelet Amotz-Abramson and pianist Jonathan Zak will perform Dvorak's Gypsy Songs cycle and a selection of Spanish folksongs and Renaissance music. A "Venetian Festival" will feature religious music by Vivaldi, Monteverdi and Cimarosa. Stanley Sperber will conduct the Jerusalem Academy for Music Chamber Choir in Brahm's German Requiem, arranged for two pianos.
The festival's program is a unique mix of religious and secular music. Soprano Clair Magnagi will sing Handel's "Gloria" and works by Mendelssohn, Byrd and Poulenc. A salute to Mozart will include arias and duets from his operas and the fascinating Freemasons Cantata. Hanna Tzur, the festival's Music Director, will conduct Saint-Saëns' Christmas Oratorio.
Order your tickets via the Abu Gosh Festival website.