By Angela Levine
Human Nature, newly opened at the Tel Aviv Museum of Art is a magical show. However, the name of its creator may not be familiar to everyone since Zadok Ben David (b. Yemen 1949, brought to Israel the same year) has lived in England for many years. His last solo show in this country was 12 years ago at the Herzliya Art Museum. In 1998, Ben David was a controversial choice to represent Israel (together with Motti Mizrachi) at the prestigious Art Biennale in Venice. Many people then felt that only an artist permanently resident in Israel should be given this honor. Twenty years on, when many artists are pursuing international careers outside the country, this viewpoint seems absurd.    
The exhibition is showing in two separate halls: individual sculptures on one level (it is advisable to view them first) and an installation on a lower floor. Now, as in the past, Ben Zadok, a master in metalwork, who has taught in London at St. Martin's School of Art, takes Nature as his subject matter. Nature viewed as encompassing and entwining all living things: man, plants and the animal kingdom.
 His sculptures, bi-dimensional silhouettes set upright in space, are of two types: larger than life 'sketches" of the human figure, plasma hand-cut from corten steel; and miniature trees, bushes and circles (with titles like Sunrise and Sunny Moon), crafted from thin sheets of aluminum painted black. Filling the space between their outlines – which are either continuous or need the onlooker's eye to complete, are silhouettes of the trunks, boughs and branches of trees.  All these images originated as photographs, taken either in Ben David's studio or out in the English countryside.
Ben David has also produced a variation on this theme best seen at the entrance to the Museum where his sculpture Lone Cypress is permanently installed. There, instead of branches, metal cut-outs of tiny human figures fill the interior space.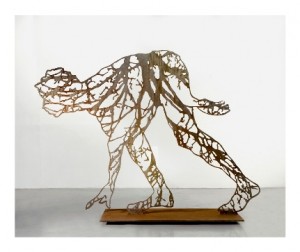 The sense of flux and metamorphosis which characterizes all these works is particularly well illustrated in a large sculpture entitled How to catch a Rabbit, although no rabbit is present, and this is not an illustration for an instructional handbook. But it does seem that Ben David's representation of the human figure, four legged and ready to pounce may represent the 'animal' within us, the aggressive side of 'human nature'.
Since illusion and surprise characterize the 140 sq. meter floor installation, Blackfield it may be relevant to note that Ben David is an enthusiastic amateur magician. The installation, as viewed from the entrance to the gallery, comprises a field of black flowers stretching into the distance. Wrought individually from painted stainless steel, there are 20,000 plants, set in orderly rows. Wafer-thin, with intricate markings, they comprise 900 different varieties, their heights ranging from 1-20 cm.  A layer of sand conceals the fact that each form is held upright by a tiny foot taped to the floor.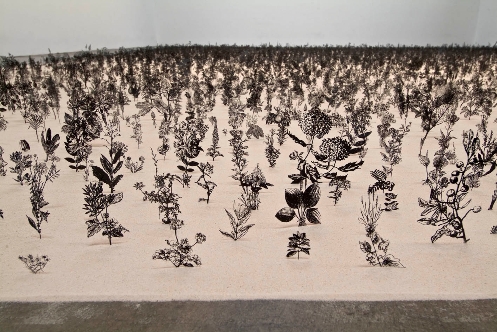 This first view of this installation evokes the image of a cemetery, or thoughts of death and destruction. (At this point, it is interesting to note that Ben David remarked that some visitors leave at this point, convinced that there is nothing more to see.) But if one ventures in and moves along the perimeter of this field, something magical happens: the black blooms are transformed into a riot of color, Ben David having painted their obverse sides in brilliant purples, reds, greens and blues.
This outstanding work, with slight variations in size, has already been shown and critically acclaimed at several international venues, including Vila Nova de Cerveira in Portugal where, in 2007, it garnered first prize at an International Art Biennale.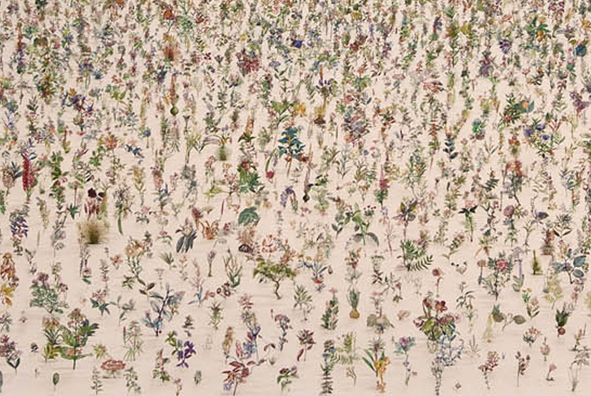 The fact that each bloom is an exact metal replication of a specific flower as illustrated in botanical journals does not mean that Ben David is involved in scientific research. His art has other aims. He wants, so it seems, to emphasis the many dichotomies that exist in our world, among them science and art, sadness and joy, destruction and renaissance. And, although there is no proof of this, Ben David may also be referring to the fact that although man has strong bonds with Nature in all its aspects, he is also, in many instances, bent on its destruction. Admittedly, there is a gimmicky aspect to Ben David's presentation, but as an optical feast and a genuine attempt to make sense of the natural world – it deserves a round of applause.     
 Meyerhoff Pavilion and Mizne Gallery, Tel Aviv Museum
The exhibit is showing through February 27, 2010
Top image: Zadok Ben David: Sunrise, 2009, painted aluminum, ht/dia 50 cm