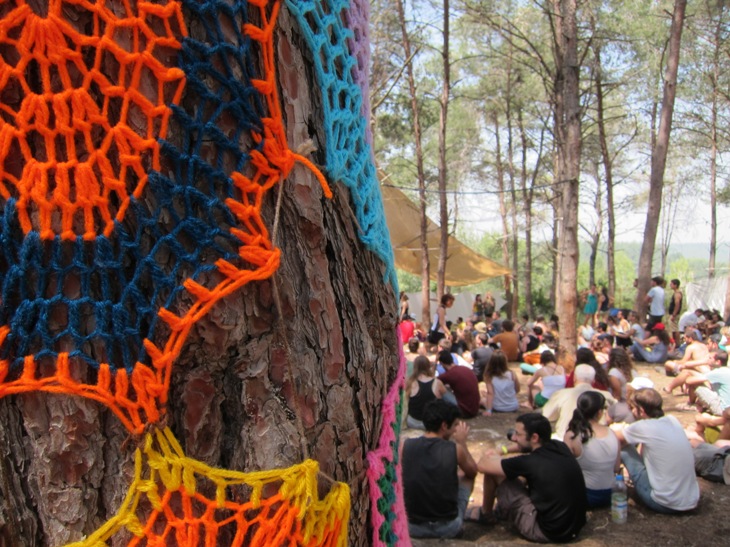 It was a trip: from Berlin to Ben Gurion and then on to the woodland of Yearot Menashe, home of Armageddon, the mythic end of times according to the Book of Revelation and the outrageous eclectic Armageddon Jam. I went straight from the Jewish Film Festival in Berlin & Potsdam to the Yearot Menashe Music Festival, worlds away, yet perhaps not so far away as one might imagine. Between Habiluim's song Hora Haslama (the "escalation" hora is from their latest album – just out!) with its cynical dance instructions "move to the right, move to the right" and bouncy rhythm, to the incantatory Berlin – "I drink every night/and all to make it go away" from Eatliz, my first night at the festival was a wild, hallucinatory experience: state of the art music documenting the state of the heart; individual and collective.
I had been away, and now I was home, in the music. Setting up camp with my music festival friends, surrounded by circles of people of all ages, all crazy about music, creating an alternative way of life, a feeling of freedom, pleasure and cooperation, if only for three days. As one of my friends said: everyone is more beautiful among the trees.
When we arrived late that first night, a friend met us near the entrance, saying, "I don't want to bum you out, but you just missed Tiny Fingers with Maria Kong. They were amazing!" Yet this festival life has its own rules, at least for me: no plans, no worries, no regrets; just flow. With three days of music on four stages, it's impossible to hear and see everything, and that understanding generates a feeling of abundance and acceptance… and I did get to hear Tiny Fingers after all, on the second day of the festival.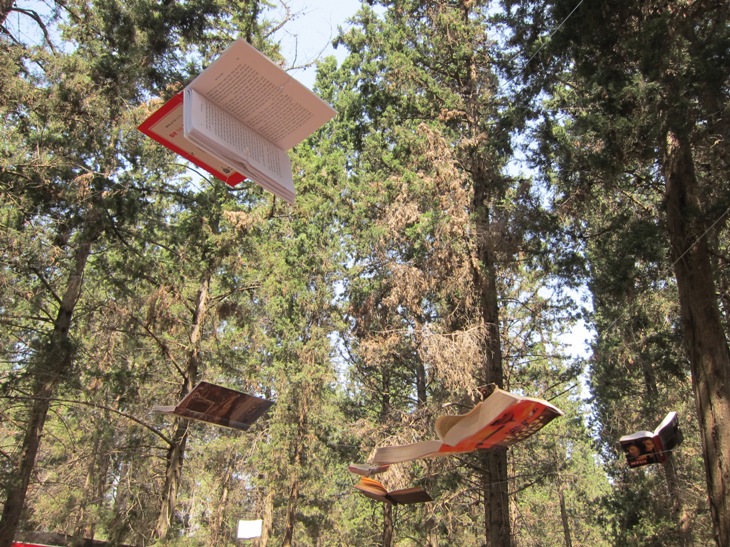 Yearot Menashe surges with creativity, with a vibrant energy that permeates every aspect of the festival. True devotees of nature could start out a week before the festival along the Ramat Menashe trail and hike in; artists gathered on the site ten days before the festival to work on the imaginative, fun and inspiring installations that filled the grounds. The festival grew this year, with more time for music, and more stages, yet without losing any of its intimacy and warmth. Drawing people from all over Israel (and beyond), Yearot Menashe comes from the community, and remains very neighborhood-friendly with local families coming to enjoy the music along with urban music fans, teenagers, aging hippies and the rest of the carnival. The connection to the community imbues the festival with a feeling of home, one always feels that the festival staff care about the festival and toil long and hard to make sure everything works.
The Shoresh (Roots) stage was the main stage, accommodating a huge audience gyrating happily; Haterrassa (the terrace) was the smaller, more intimate stage located close to the festival entrance; Kerhat HaYaar (the forest glade) was an even more intimate stage, located in the camping area; and then there was the Armageddon Stage, deep in the alcohol zone. I found myself spending a lot of time at the Armageddon Stage, but it's not what you think. Yes, the bar was long, sleek, well-stocked and very inviting, with lots of friendly baristas. Yes, the shade, seats and straw mats made this a very welcome hang-out. But I came for the music.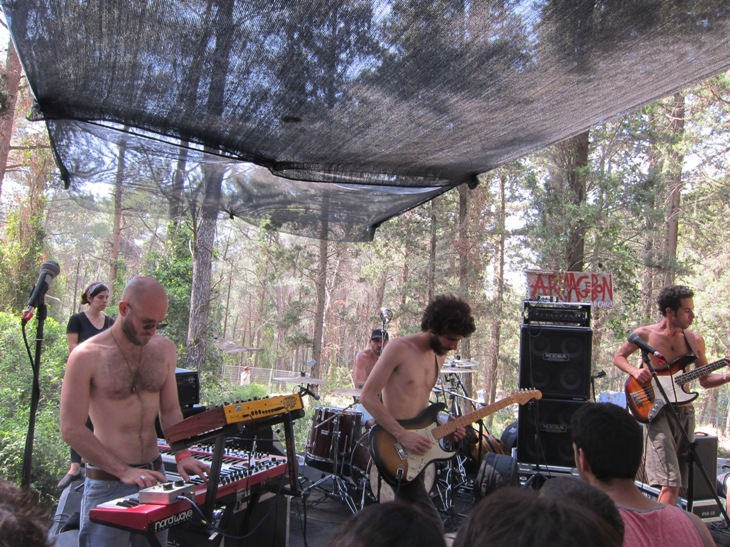 Some of my favorite festival moments are the surprises, and the Armageddon Stage was full of surprises; jams, jazz & Yiddishkeit. I thought I had missed Tiny Fingers, but then wandered into the alcohol zone (yes, another festival feature – this area is closed off and open only to 18+) and found myself drawn in to the aura of ecstasy, people dancing, shouting, jumping: an explosive performance by Tiny Fingers. No one wanted to let them leave the stage and when it was finally really over, I heard the woman behind me say in Hebrew: I'm in total shock. Yes, Tiny Fingers were that good.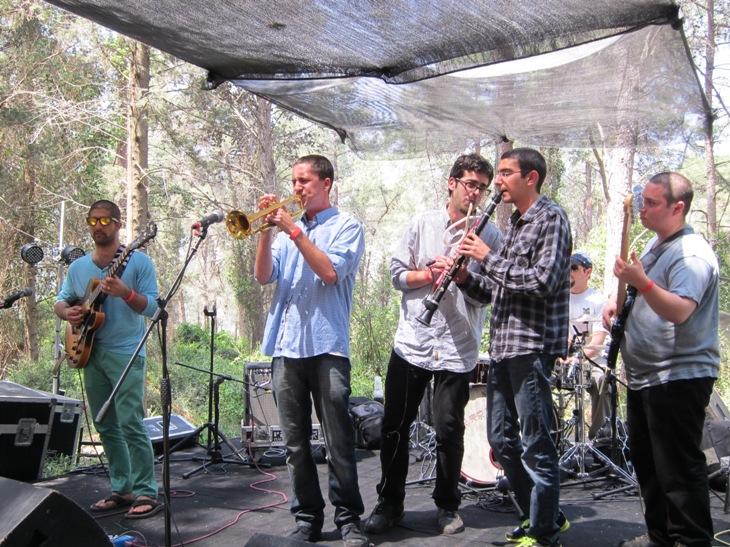 It was a place to chill, a place to let loose, a place to learn something new. The Armageddon Stage hosted workshops led by instructors from the Rimon School of Jazz and Contemporary Music – what a way to find enlightenment in the forest! Ronen Shmueli, director of the Rimon Jazz Institute, led a jazz workshop with ensemble members Ron Valberg (trumpet), Itamar Ben Zimra (clarinet), Lior Tzemach (guitar), Nadav Shapira (bass), and Yogev Gabay (drums).  Initiating the indie crowd in the mysteries of jazz and improv, the most striking lesson was that this music is not just something you hear, jazz is something you feel.  Discussing the elusive "Swing Eighths," Shmueli asked Yogev to play an even rock beat, then switch to jazz eighths. As soon as he shuffled into swing, I could see it happen all around me: everyone was swinging, music entering the mind through the body.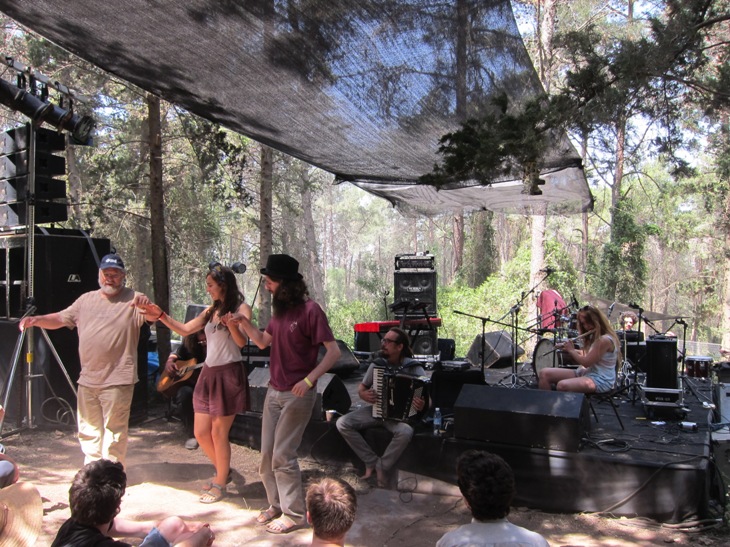 Shabbat at Yearot Menashe brought Assaf Talmudi, teaching a master class in Jewish music, with the classical flautist Marta Mc'Cave and blues guitarist Yaron Ben Ami. It was a magical morning, a live tour of the inner workings of Jewish music, but the best part was so entirely unexpected, and so Yearot Menashe! To my delight, Amos Nevo, a member of Kibbutz Ein Hashofet and extremely well-versed in Balkan Folk Dance (he's been dancing for forty years), was talked into standing up and showing the rest of us how to walk the walk. Nevo led the crowd in a dance (rows, not circles, we're talking Balkan), then mesmerized us all with his solo of deft footwork to the intricate and fast (oh so fast!) rhythms of the dance.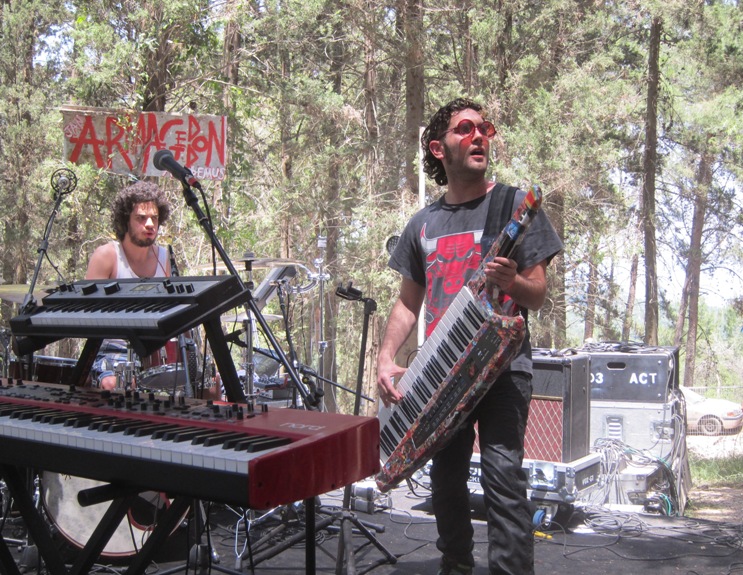 That's not all the Armageddon had to offer! Gilad Abro (bass), Amir Bresler (drums) and Ofer Ganor (guitar) performed some of the most psychedelic jazz I have ever heard! In the best mind-blowing festival tradition, the most memorable moments are those I didn't even know I was seeking. Stumbling towards the Armageddon Stage in deep musical delirium after Shmemel's dazzling performance, I plunged into an overwhelming sound experience: BEMET, who are Amir Bresler (drums) and Hod Moshonov (keytar). Live improvisation with a compelling beat and transgalactic groove. To hear Bemet is to dance.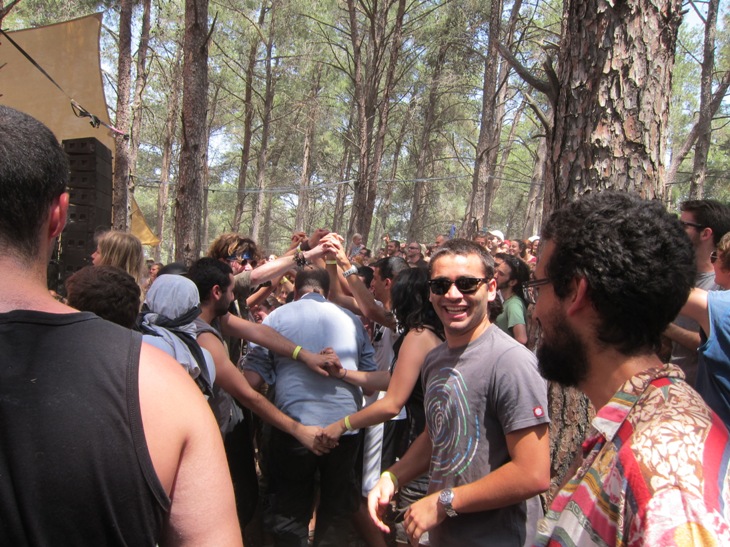 Shmemel just might mean 'dance' in Hebrew, whenever I hear this band my feet don't seem to touch the ground until the music stops. New songs were just as exhilarating as the familiar ones, with their literate lyrics suffused with self-mocking social critique, extraordinary nonsense, and terrific musicians merging genres with theatrical flair. Maybe the dictionary definition of Shmemel should read: fun.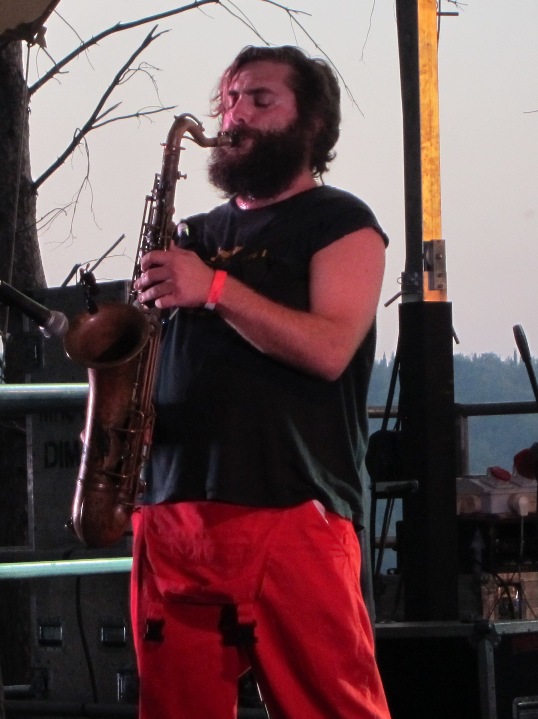 Eyal Talmudi. If you know your music, that's all that really needs to be said. For all the sad, sorry folk who haven't a glimmer of what I'm talking about, Talmudi is the Pied Piper of the indie scene, making music that mesmerizes the spirit. On saxophone or bagpipes, you want to follow him.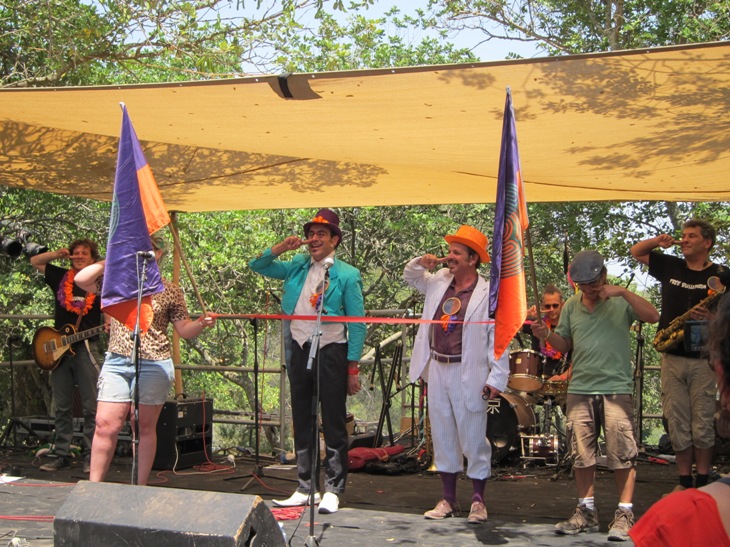 Andra La Moussia led a colorful and delightful campaign to free Bulvaria, a "small country with big dreams" where they drink "not to forget, but to remember." Beautiful melodies and rainbow mayhem moved the crowd and elicited a round of hugs, as well as happy laughter.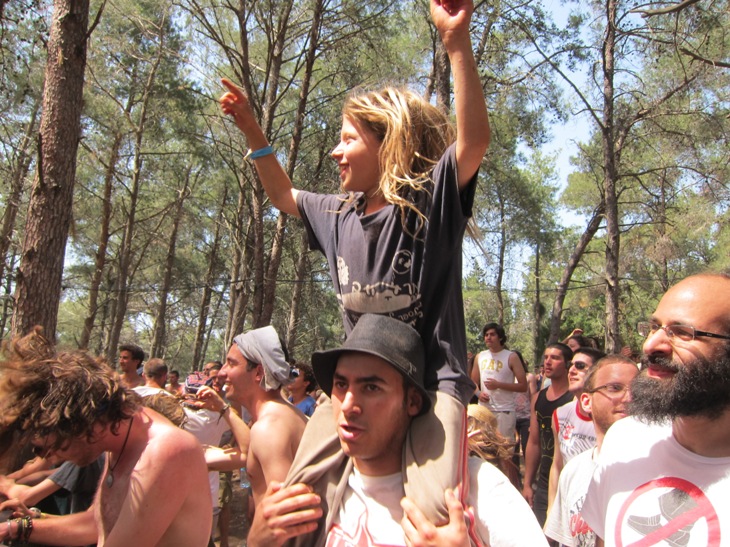 Ramzailech (if you write it out in Hebrew, you'll see that it's Klezmer spelled backwards) rocked it out with some hardcore Neshama Saturday afternoon. Eyal Talmudi joined them onstage for some outrageous Klezmer bliss. I think the trees were dancing. There's no way to put it in words – you really just had to be there.
Geva Alon gave a wonderful performance, it was all about giving, and it was all about the music, the connection to the place and the people, all so deeply felt: "There's a corner in my heart for the folks back home." He chose the best closing song, a thundering cover of Neil Young's Rockin' in the Free World; it felt like the whole world was singing together. Then, of course, we didn't want to let him go; and Geva Alon came back on with more music to give, tender and clear as the river that flows, full of energy and force.
My path through the festival  led from Habiluim, Eatliz, Maya Johanna Menachem and Sun Tailor, Ronen Shmueli on jazz, Gilad Abro Trio, Tiny Fingers, 1, 2 Many, Malox, The Ramirez Brothers, Hadag Nachash, Assaf Talmudi on Jewish music, Shmemel, Bemet, Andra La Moussia, Ramzailech, and Fast Food Orchestra all the way to Geva Alon; maybe your path through the woods took you somewhere else. See you next year at the 6th Yearot Menashe Music Festival.