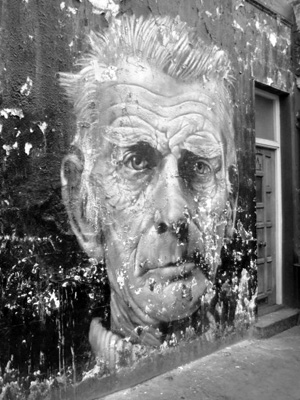 Dr. Nicholas Johnson, of Trinity College Dublin, will deliver the Annual Samuel Beckett Lecture at Tel Aviv University on Wednesday, May 22, 2013 at 18:15, in the presence of  H.E. Breifne O'Reilly, Ambassador of Ireland.
The annual event is sponsored by the Embassy of Ireland, Culture Division, Irish Department of Foreign Affairs, and Tel Aviv University Department of Theatre Arts and is free and open to the public. H.E. Breifne O'Reilly, Ambassador of Ireland to Israel;  Prof. Raanan Rein, Vice-President, Tel Aviv University; Prof. Hannah Naveh, Dean of the Faculty of the Arts; Prof. Gad Kaynar, Chair, Department of Theatre Arts; and Prof. Linda Ben-Zvi, Beckett Society of Israel will open the evening with greetings.
Dr. Johnson will present: "A Samuel Beckett Laboratory: Praxis, Pedagogy, and Performance." Dr. Johnson's lecture will explore a number of practical and philosophical issues surrounding the living legacy of Samuel Beckett in performance, based on work at the new Samuel Beckett Laboratory at Trinity College, which offers practice-based research using performance as a methodology to research Beckett's texts. The lecture will point toward the future of Beckett's theatre-ideas through emerging digital, interdisciplinary, intercultural, and experimental practices.
The lecture will take place in Room 206A, Mexico Building. Pedestrian entrance to the University is through Gate 8 on Haim Levanon Street.