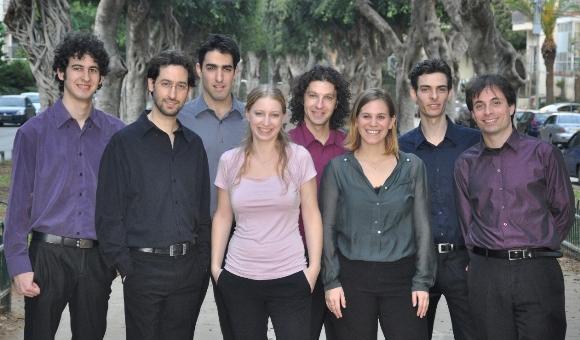 The Israeli Chamber Project will commence its third and final concert tour in Israel for this season, with concerts from June 6 – 15, 2013.
The program will include:
R. Strauss Till Eulenspiegel (Chamber version for Clarinet, Bassoon, Horn, Violin, and Double bass)
Tzvi Avni Credo for String Trio
Hindemith Scherzo for Viola and Cello
Beethoven Septet, Op. 20
Performers: Tibi Cziger, (Clarinet); Alon Reuven (Horn); Mauricio Paez (Bassoon); David McCarroll (Violin); Jonathan Keren (Viola); Michal Korman (Cello); Eran Borovich (Double Bass).
Performance dates and venues:
June 6th – Zichron Ya'akov, Beit Nir,20:30. Tickets are 75 NIS, call 04-6291837 to order.
June 8th – Chamber Music Center, Tel Aviv Conservatory, 21:00. Tickets are 35/150 NIS, under 21 free admission, call 03-5466228 to order.
June 9th – Brigham Young University, Jerusalem, 20:00. FREE admission, advance registration required, call 02-6265666.
June 10th – Henry Crown Auditorium, 17:00. FREE admission, the concert will be broadcast live on Kol Hamusika.
June 13th  – Ma'alot Tarshicha, Cultural Center, 20:30. Tickets are 90 NIS, call 04-9573050 to order.
June 15th – Kibbutz Ein Hashofet, 10:30. Tickets are 50/60 NIS.