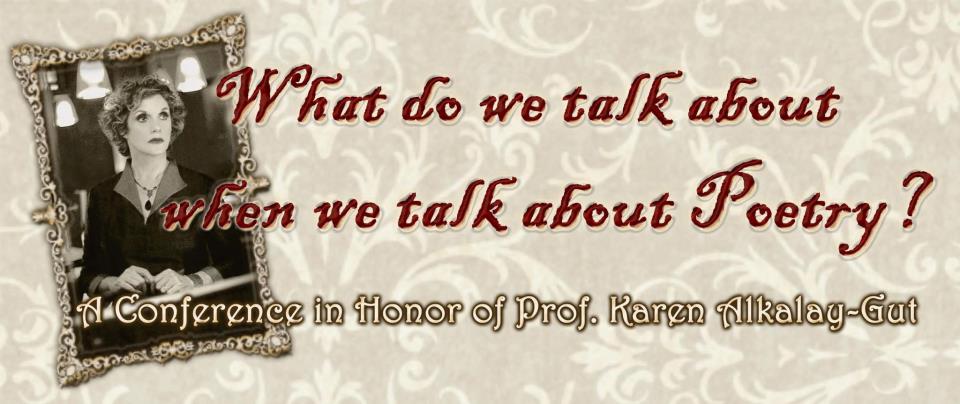 Poet/professor Karen Alkalay Gut will be honored at Tel Aviv University with a day-long conference: What do we talk about when we talk about poetry? The conference will take place in Gilman 496, on the Tel Aviv University campus, from 9:00 – 16:00, and will be open to the public.
The conference program:
9:00 – 9:15 Gathering
9:15 – 9:30 Opening Words: Prof. Shirley Sharon-Zisser
9:30 – 10:20 First Panel. Chair: Dr. Hedda Ben-Bassat
* Dr. Noam Reisner – "The Autumn of the Body: Yeats and the art of Growing Older"
* Ron Ben-Tovim – "War Taught Me Irony: Online Soldier Poetry as Lingual Prosthesis"
* Maya Alon – "The Collective and the Solitary: Elements of Unity and of Fragmentation in Jim Morrison's and Syd Barrett's Psychedelic Poetry"
10:30 – 11:20 Second Panel. Chair: Dr. Milette Shamir
* Avshalom Guissin – "Hybrid Hibernia: To find and define the Irish-American poetic voice"
* Nadja Rumjanceva – "Roots in the Air: Construction of Identity in Anglophone – Israeli Writing"
* Dr. Dara Barnat – "Poetry, Influence, and the Mentorship of Karen Alkalay-Gut"
11:30 – 12:20 Third Panel. Chair: Prof. Jerome Mandel
* Prof. Chanita Goodblatt – "Miracles and Darkness: Poetry and Sickness, on the poetry of Karen Alkalay-Gut and L.E. Sissman"
* Dr. Roi Tartakovsky – "The Poet Who Escaped from the Plot: Karen Alkalay-Gut's Research and Poetry"
12:20 – 13:30 Lunch Break
13:30 – 14:20 Poetry reading by Elaine Feinstein. Chair: Prof. Hana Wirth-Nesher
14:30 – 16:00 "חיה בשיר" Living in Poetry
Poetry readings of Karen Alkalay-Gut's poems by Prof. Sasson Somekh, Dr. Dara Barnat, Rafi Weichert, Rachel Halfi, Motti Goldman, Amir Or, Yael Gloverman, Shlomit Halevi.
Closing words: Prof. Karen Alkalay-Gut.
Links: Prof. Karen Alkalay-Gut website, facebook event page.