Does anyone really know their neighbors? Does anyone really know who they are, what kind of people they are, or what kind of lives they lead behind the closed doors, hedges, and walls that surround our houses and apartment buildings? Do the residents of a quiet street in an unremarkable neighborhood in Herzliya know that a world-class, world-renowned performer of classical Spanish dance lives in their midst?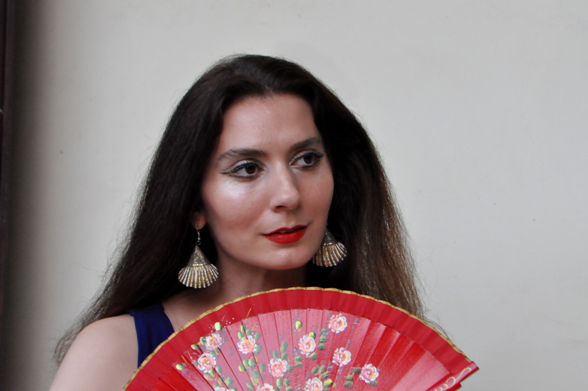 Born in Ramat Gan and raised in Herziliya, Ornili Azulay had a 102-minute moment of epiphany when she was 12 years old, as she watched the movie Carmen by Spanish filmmaker Carlos Saura. "That movie changed my whole life," says Azulay. "From that moment on, I knew that I wanted to find teachers and learn flamenco and classical Spanish dance." And learn she did, studying first in Israel under Sylvia Duran, and then in Spain with such eminent figures as Tomas de Madrid; Victoria Eugenia and Maria Magdalena, respectively director and ballet mistress of Spain's Ballet Nacional.
Azulay believes that Spanish dance in general and flamenco in particular are driven, she says, by a distinct sense of anger, "an unending anger in the female flamenco dancer at the male sex, an unending anger and pain." To learn how to express this anger on stage, Azulay also studied acting, first at the Royal Academy of Dramatic Arts in London, and later at the Lee Strasberg Institute in Los Angeles. Along the way, she also studied literature at Tel Aviv University and, in addition to dancing, is a prolific writer of poetry. A book of her poems, To Worship God, to Worship Man, was published in 1994.
As a dancer, Azulay established her reputation by performing before full symphony orchestras, as in 1997 when she created and danced The Flame and The Frost: A Dialogue For a Dancer and an Orchestra, portraying several female characters from Henrik Ibsen's Peer Gynt, set to the music of Edvard Grieg's Peer Gynt Suite. She has since performed with such orchestras as the Israel Symphony Orchestra, the Brazil Philharmonic in Rio de Janeiro, and the National Symphonic Orchestra of Ecuador, as well as the Los Angeles Opera and the Los Angeles Master Chorale, among others. During a brief sojourn in Hollywood, Azulay acted and danced in an independent film, The Brothel.
We first met Azulay about a year ago, as she was gearing up to perform Dance and Desire, a "personal voyage in Spanish dance," at the Suzanne Dellal Center in Tel Aviv. Combining dance technique with texts, and using sound recordings and screen projections to accompany her dance, Azulay performed Ballade No. 1 by Chopin; The Bride, from Lorca's Blood Wedding; Ariel Ramirez's Misa Criolla; and excerpts from Carmen; along with her poem, To Have a Few Words with You, a dance dialogue between her and an empty chair.
We caught up with her again a couple of days ago as she was preparing to fly to Cordoba, Spain to perform at the International Festival of Sephardic Music on June 20. She will dance her choreography of The Israel Suite by noted Israeli composer and conductor Noam Sheriff. Azulay says, "I created this choreography almost 10 years ago when I was invited to perform with the Los Angeles Jewish Symphony. I have wanted to perform it here in Israel with the IPO, but each time they tell me that it is too galuti, too much for the Diaspora. Well, the Diaspora finds it very interesting, and I am invited now to perform it in Cordoba. Spain."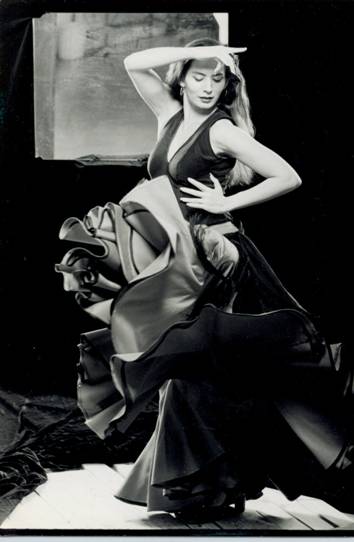 And she is very eager to do so. "I relate deeply to this work. I love it and have strong feelings for it. The Israel Suite is a microcosm of Israeli life. It's five movements, and each movement is based on a song or tune that evokes the experience and spirit of a sector of Israeli society. These are Israeli pioneers—kibbutzniks and moshavniks, Sephardic Jews, Hasidic Jews, secular Israelis, and the Israeli working class. It not only points out different groups of Israeli society, but it also portrays several very Israeli states of mind.
Azulay is particularly enthusiastic about performing in Cordoba. "It is a tremendously important town in the history of Jewish religion," she says. "It was the birthplace of Maimonides, and it was an example of co-existence, the golden age of tolerance between Jews and Muslims. This is, I think, the 12th edition of the Sephardic music festival there. It's part of a huge movement in Spain to try to recreate Spanish Jewish culture, to ask for pardon, to reexamine and celebrate the Jewish influences on Spanish culture before the expulsion of the Jews in 1492."
And those influences were evidently quite strong, especially on Spanish music and dance. Azulay says, "It will be wonderful to perform The Israel Suite for a Spanish audience. They can understand the Sephardic element in the production. Flamenco has so much in common with it. Even the great Spanish flamenco guitarist and composer Paco de Lucía acknowledged several years ago that although he used to attribute the major influence on flamenco to the pre-15th century Arabic tradition of music in Spain, he looked at Sephardic musical scores and decided that the Jewish influence had been greater. So a Spanish audience has a very deep way to relate to the Sephardic music in the program."
Azulay will have little opportunity to rest when she returns here from Spain. She is slated to give a guest performance at the Carmiel Dance Festival in July and will perform Dance and Desire in several venues both in Israel and abroad. In addition, she will continue to develop her planned one-woman production centered on the life of Mata Hari, the famous femme fatal courtesan-turned World War I spy. "I am really hoping to get things going quite soon with Mata Hari, because we are now approaching the 100-year anniversary of the start of World War I. She was the great myth of World War I," Azulay says.
"Besides that, I'm developing another project that I'm planning to perform in Israel in another ten months. It is about the women prophets of the Bible. The title of the piece will be Neviot. I'm very excited to get into this. I've been told in the past that I should explore the idea of performing Biblical characters. I have danced a work that involved Miriam. Now I'm really hoping to put a work together about Miriam, Deborah, Hannah and the fortune teller that Saul went to see on the night before battle. It will be a series of dances that emphasize the female power of the prophetess."
So…how well do you know your neighbors?