Malenki Theatre will stage a revival of Hazkena veOseh HaNissim (the old lady and the miracle worker), a play adapted from the works of Daniil Kharms by Boris Yentin and Igor Berezin, translated into Hebrew by Roy Chen and directed by Igor Berezin.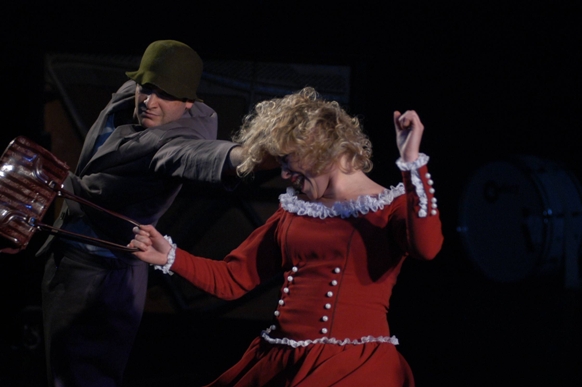 Malenki Theatre first produced the play to critical acclaim in 2003. This month, in celebration of the theatre's 10th anniversary, the play will be revived for one week only, with the original cast. Two of the cast members, Michael Gluzman and Tania Aya Stolnitz, will be coming to Israel from their current residence in the US and Canada, to participate in this performance.
Daniil Kharms is the pen name of poet and dramatist Daniil Ivanovich Yuvachev (1905 – 1942). The avant garde writer was persecuted by the Soviet Regime and arrested several times, dying in his prison cell in 1942. The play as produced by Malenki Theatre, consists of dis-continuous vignettes, real and surreal, in the life of a writer torn between the desire to write and the need to sleep. His tranquility is disrupted by an old lady with a saw, a bizarre neighbor and a sexy young woman.
Performances will take place at the Malenki Theatre in the Gan Meir Cultural Center, on: June 24 – 30, 2013 at 20:30. To order tickets, call: 054-2488104.
Links: Malenki Theatre website
Hazkena veOseh HaNissim
Directed by Igor Berezin; translation: Roy Chen; adapted from the works of Daniil Kharms by Boris Yentin and Igor Berezin; musical direction: Michael Gluzman; Cast: Dima Ross; Michael Gluzman; Tania Aya Stolnitz; Michael (Misha) Tepelitzky.