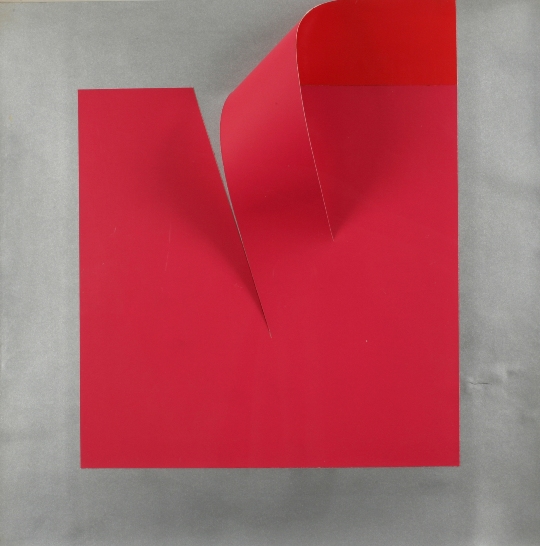 Certainly not American-Israeli Professor Michael Adler whose 50 piece art collection covering a period between the 1960 and 1990s, donated to the Herzliya Museum of Contemporary Art six years ago, is currently on display. In focus is an underrated but truly significant period in Israeli art when some dozen young Israelis, despite resistance from the local art establishment, turned to conceptual (ideas) art, sometimes with a socio-political slant. Or else they took Minimalism – an art that eliminated all non-essential features – as their starting point. Many of them found inspiration in the New York art scene. In fact the majority of artists featured in this collection – among them Buky Schwartz, Benni Efrat, Joshua Neustein, Michael Gitlin, Nahum Tevet and Pinchas Cohen Gan – lived for longer or shorter periods in that city. Some of them still do.
At the heart of this exhibition, and providing crucial background material, is a new video The Object, The Precious Object, (52 min., director and creator: Wendy Berlin Shafir.) For this film, Shafir interviewed some of the artists whose work is in the Adler collection, as well as art historian Gideon Ofrat. Their memories of those times is interspersed with photo documentation of the events or happenings that they organized, in an effort to move art on and away from its traditional path.
During the 1970 interest in the displacement of Nature, or a rethinking of its qualities, led to the creation of many original installations, most of them requiring the spectator to exercise his/her imagination. Thus, Neustein's Road Piece, an indoor landscape shown at the Tel Aviv Museum, which was contrived from bales of straw and the sounds of passing traffic. Or else his Jerusalem River Project constructed (in conjunction with Georgette Battle and Gerard Marx,) along a dry wadi in the Kidron Valley where loudspeakers reproduced the swish of rushing water, inviting passersby to conjure up the presence of a mythical river.
Clearly nothing tangible remains of these temporary works. But in the Adler Collection there are a number of exhibits that relate to some other memorable activities. Like the softly tinted colored paper from Efrat's Fading series (1974) that was gradually exposed to the sun over a 24- hour period. This method captured the special bleaching quality of Israeli light in an even truer way than that achieved by the lyrical abstract painters who dominated Israeli art at mid 20th century Israeli art. (One or two works by Yosef Zaritsky and Avigdor Stematsky, leaders of this movement, are included in the Adler collection).
Efrat's works on paper and mixed media feature prominently in the Adler Collection Like many of his colleagues, he was aiming to extend the parameters of drawing, producing lines and shapes by ripping, cutting and folding his materials. The questions this group posed related to the function of a particular surface or material, the meaning of a mark or a line. In every case, the process of making art, not the end-point, assumed the utmost importance.  The belief was that every stage in the production of an art object should be revealed, not hidden or disguised.
One of the more intriguing paper works in this collection, and a late addition to it, is a piece from Neustein's Magnetic Field series (1996) that comprises magnetic strips affixed to one side of a paper by means of iron fillings attached to the other side. This is in fact a work in progress: as the filings rust and fall away, so do the strips that they held in place.  The result: an image in a constant state of flux.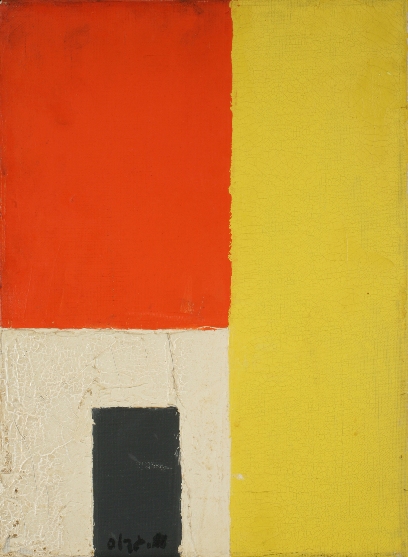 In some ways the painters Larry Abramson and Michael Gross, are odd men out here. Neither looked to New York for inspiration. Michael Gross, born in Tiberias (d. 2004) came from a family that had lived for six generations in the Galilee; Abramson (b. South Africa) has lived, worked and taught in Jerusalem since 1961. In both instances it is true that the objects that appear in their paintings appear to be bared down to the minimum. But through the use of broad and luminous color fields, they both, each in different ways, project a sense of space and light and a spiritual dimension that goes far beyond what is meant, or expected, from strict Minimalism.
The question remains why Michael Adler opted to collect Conceptual and Post-Minimalist works by these Israeli artists. In conversation with Dalia Levin, Herzliya Museum's director, at the time of his donation, he  admitted that he was  drawn particular to the 'echoes of logical thought and philosophical issues' in their work, similar to those that occupied him as a Professor of Economics.
In conclusion, it is good to see this collection displayed once again in the Museum. Last time, in 2008, it was shown together with works of young Israeli artists. Now, it stands alone and can be appreciated more fully. Understanding the aims of this group has also been made far easier with the addition of Shafir's video which, one hopes, will find a permanent place in the Adler Collection.
Herzliya Museum of Contemporary art, 4 Ha'banim St., Herzliya