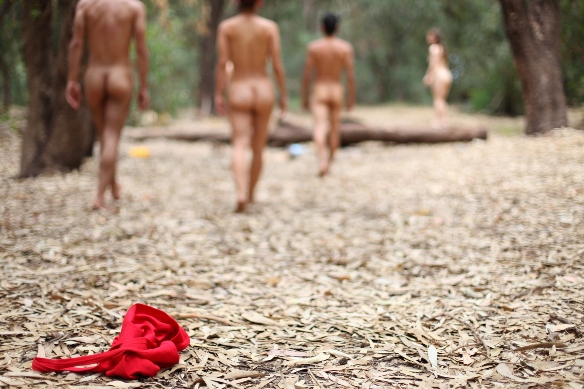 Maya Levy and Anando Hanan Mars will be premiering a new work in July 2013: Renaissance. Performed by six dancers, the work explores nudity, in theory and practice.
It's ambitious, yet this is a pair of choreographers whose previous works reflect serious introspection and exploration:
Net Work (2010) – an imaginative exploration of terrain that is at once treacherous and joyous, a space where flying and falling are forever linked. Read more here.
Trans.parent (2012) – elements of performance, dance, improv and theatre combine with elements of the kind of happening that one might tend to associate with New York in the 70s; woven together to create a colorful, intricately textured fabric. Read more here.

Renaissance choreographed by Maya Levi and Anando Hanan Mars; Dancers and co-creators: Stav Marin, Shani Ben Hayim, Asher Lev, Iris Nais, Tankuri Kwaharda, David Marks; Sound design: Uri Bankhalter; Space design: Lee Levi; Costume design: Adam Kalderon; Lighting design: Uri Rubinstein; Photography: Ascaf; Production: Tali Emmanuel.
Performance dates and venues:
July 2 at 21:00 – Beit Mazya, Jerusalem. To reserve tickets, call 02-6230002.
July 4 – 6 at 21:00 – Warehouse 2, Jaffa. To reserve tickets, call 03-9021563.
July 8 at 21:00 – Suzanne Dellal Center, as part of the Summerdance Festival. To reserve tickets, call 03-5105656.