"It's OK to have fun in the theatre," said Tzipi Pines, Director of the Beit Lessin Theatre, this morning at a press preview showing of their new production of One Man, Two Guvnors, by Richard Bean, directed by Moshe Kepten and starring celebrity comedian Eli Yatzpan. Beit Lessin is slated to move from their current Dizengof Street venue, but they will be going out in style. One Man, Two Guvnors, the last production in their current home, "will be huge," promises the Beit Lessin Director.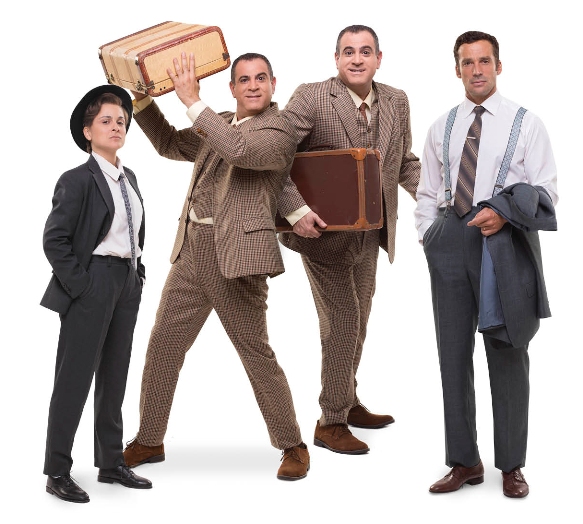 Bean's comedy transposes Carlo Goldoni's 1743 Commedia dell'arte play Servant of Two Masters to 1960s Brighton. Failed street musician Francis Henshall (Eli Yatzpan) finds himself employed by both the elegant criminal Stanley Stubbers , and the rather rougher Roscoe Crabbe. Henshall will do just about anything to keep these two "bosses" from realizing that he is moonlighting, and never gives up hope of finally feeding his hungry belly.
"I get to do everything I love," said Yatzpan, "act, improvise, sing and slapstick. It's fun!" Within its comic structure, the play has room for Yatzpan to improvise, address the audience directly, and even involve them in the action. The action is lively, to say the least, and Yatzpan reports, "My whole body aches."
Watching Yatzpan onstage it's clear that he is having a lot of fun with this role. Where does the script end and improvisation begin? It's not always easy to tell, but Yatzpan did provide one clue this morning, saying that his interludes of improvisation will open up a third time-layer within the play, as they relate to the present-day reality of Israel.
No comedy would be complete without love and its complications, and this one is no exception. The basic plot structure resembles Goldoni's original, with its twists and turns of love, intrigue and hilarity, but the tone and setting are true to the sixties – complete with a live band whose clean-cut suits bear a non-coincidental resemblance to those nice boys from Liverpool in the early days of their career. The band is a lot of fun, performing songs that recall the era and make the play feel like a party.
One Man, Two Guvnors, written by Richard Bean, translated by Shlomo Moskovitz, directed by Moshe Kepten. First performances: August 29th at 20:30; August 30th at 12:00; August 31st at 21:00; September 1 at 20:30; September 2 at 20:30; September 3 at 20:30. Tickets may be ordered online via the Beit Lessin website.
To see more photos from the preview click here.