Looking forward to a the new harvest of Israeli films in Haifa! The 29th Haifa International Film Festival will take place from September 19 – 28, 2013. Here is the festival's description of this year's Israeli features:
Israeli Feature Films in Competition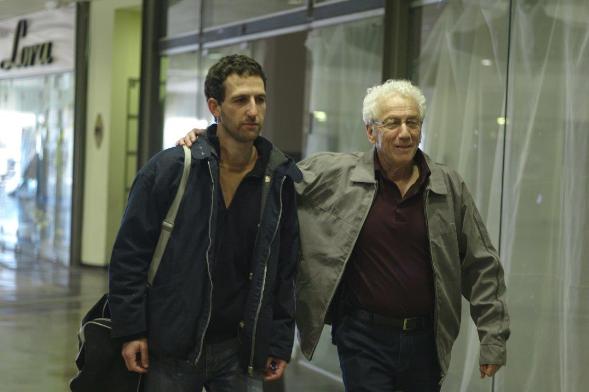 A Strange Course of Events (Israel, 2013, 98 min, Hebrew with English subtitles)
Director: Raphael Nadjari
After a five-year absence, the divorced Saul decides return to Haifa to visit his father Shimon, whom he holds responsible for all of his troubles. Shimon and his new partner Betty decide to cure him of his woes with art therapy and precious stones. And although Saul feels as though he is entering hell, he is actually taking his first steps towards heaven.
Raphaël Nadjari was born in France and studied visual arts. In 1999 Nadjari moved to New York, where he made his feature debut, The Shade. The film was screened in the Un Certain Regard section of the Cannes Festival. His subsequent films enjoyed similar success. I Am Josh Polonski's Brother was screened in Berlin and Apartment #5C again in Cannes, in the Directors' Fortnight section. Since 2003 Nadjari made three Israeli films: that same year he filmed Avanim, winner of a special award at Cannes; in 2007 he returned to Cannes with Tehilim, which competed for the Palm d'Or; and A Strange Course of Events had its world premiere in the Directors' Fortnight section of the 2013 Cannes Festival.
Filmography: A History of Israeli Cinema (2009), Tehilim (2007), Avanim (2004), Apartment #5C (2002), I Am Josh Polonski's Brother (2001), The Shade (1999).
A Strange Course of Events – director: Raphael Nadjari; screenplay: Raphael Nadjari, Geoffroy Grison; producers: Marek Rozenbaum, Itai Tamir, Caroline Bonmarchand; dp: Laurent Brunet; editor: Simon Birman; music: Jocelyn Soubiran; sound design: Chen Harpaz; cast: Ori Pfeffer, Moni Moshonov, Michaela Eshet, source: Transfax Films, Tel Aviv; Laila Films, Tel Aviv. Festivals: Cannes 2013.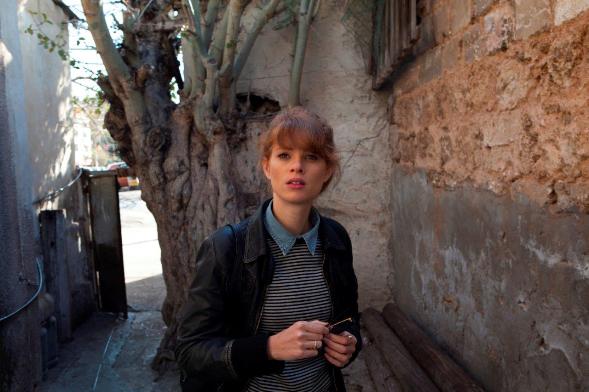 Ana Arabia (Israel, 2013, 81 min, Hebrew, Hebrew and English subtitles)
Directed by Amos Gitai
Filmed in one sequence-shot of 81 minutes, Ana Arabia is a moment in the life of a small community of outcasts, Jews and Arabs, who live together in a forgotten enclave at the "border" between Jaffa and Bat Yam.
One day, Yael, a young journalist, visits them. In these dilapidated shacks, in the orchard filled with lemon trees and surrounded by mass public houses, she discovers a range of characters. Yael has the feeling of having discovered a human goldmine. She no longer thinks of her job. Faces and words of Youssef and Miriam, Sarah and Walid, of their neighbors, their friends tell her about life, its dreams and its hopes, its love affairs, desires and disillusions. In this tinkered and fragile place, there is a possibility of coexistence.
The work of Amos Gitai spans 41 years and includes over 80 films. While his output and longevity are striking, most impressive is the diversity of his body of work.
Filmography: Roses à credit (2010), Carmel (2009), Plus tard tu comprendras (2008),
Désengagement (2007), Free Zone (2005), Promised Land (2004), Kedma (2002), Eden (2001), Kippur (2000), Kadosh (1999), Yom Yom (1998), Zichron Dvarim (1996), Berlin-Jerusalem (1989), Esther (1985).
Ana Arabia – director: Amos Gitai; screenplay: Amos Gitai, Marie Jose Sanselme; producers: Michael Tapuach, Moshe Edery, Leon Edery, Amos Gitai, Laurent Truchot; dp: Giora Bejach; editor: Isabelle Ingold; music: Gustav Mahler, Ana Aref; sound design: Alex Claude, Tuli Chen; starring: Yussef Abu Varda, Yuval Scharf, Sarah Adler, Assi Levy, Uri Gavriel, Norman Issa, Shady Srur; source: Hamon Hafakot Ltd., Tel Aviv. Festivals: Venice Film Festival 2013.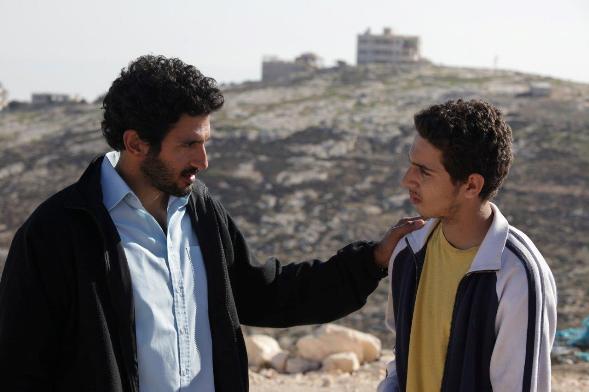 Bethlehem (Israel/Belgium/Germany, 2013, 99 min, Hebrew, Arabic)
Director: Yuval Adler
Bethlehem tells the story of the complex relationship between Razi, an Israeli Secret Service officer, and his teenage Palestinian informant Sanfur. Sanfur is the younger brother of Ibrahim, a wanted Palestinian militant. Razi, determined to capture or assassinate Ibrahim, recruited Sanfur when he was just 15, investing all his energy in the kid and developing a very intimate, almost fatherly relationship with him. Sanfur, who always lived in his brother's shadow, thrives on Razi's attention. Now 17, he struggles to navigate between Razi's demands and his loyalty to his brother, living a double life and lying to both.
Co-written by Israeli filmmaker Yuval Adler and Ali Waked, an Arab journalist who has spent years in the West Bank, and based on extensive research, Bethlehem transcends perspectives, revealing the impossible situations and moral dilemmas associated with the dark and fascinating world of human intelligence.
Writer/Director Yuval Adler studied Mathematics at Tel Aviv University and earned a Ph.D. in Philosophy from Columbia University. Adler also studied sculpture and photography at Columbia and participated in various high profile art shows in New York City before switching full time to filmmaking.
Bethlehem is his first feature film.
Bethlehem – director: Yuval Adler; screenplay: Yuval Adler, Ali Waked; producers: Talia Kleinhendler, Osnat Handelsman-Keren, Diana Elbaum, Sebastian Delloye, Steve Hudson; dp: Yaron Scharf; editor: Ron Omer; music: Ishai Adar; sound design: Francois Dumont, Philippe Bauduhin; starring: Shadi Mar'i, Tsahi Halevy, Hitham Omari. Festivals: Venice 2013, Toronto 2013, Telluride 2013.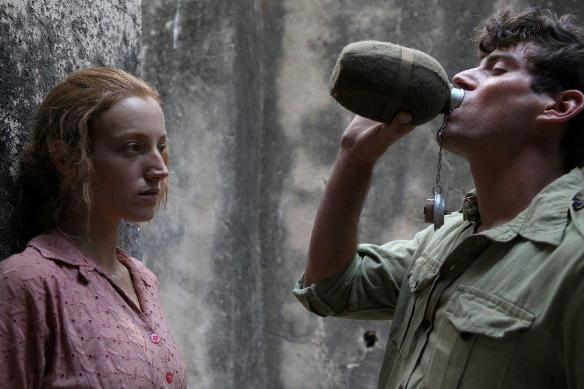 Funeral at Noon (Israel, 2013, 82 min, Hebrew)
Director: Adam Sanderson
Hagar Erlich does not fit easily into the village where she lives, unable to find her place within the community or to make her marriage work. When she is forced to watch over Yiftach, the ten-year-old son of her next-door neighbor, Hagar finds a friend in the sensitive boy and decides to invite him to her secret hideaway. There, among the ruins of an enchanted, abandoned village, she points to a soldier she has been following for some time. Yiftach is caught up in the magic of Hagar's game, and helps her connect with the soldier. Through this shared secret, Hagar comes closer to knowing herself but also to the shadow of a great tragedy.
Adam Sanderson began making films at the age of nine, using a video camera bought by his father. The success of a music video he directed for a Hip Hop group led to a career directing music videos, promos and ads. He established The Baboon Project, a group of five independent filmmakers, where he directed several shorts and he co-directed the feature film This is Sodom, a huge box-office hit in Israel.
Filmogrpahy: This is Sodom (2010).
Funeral at Noon – director: Adam Sanderson; screenplay: Adam Sanderson; producers: Eilon Ratzkovsky, Yossi Uzrad, Guy Jacoel, Yochanan Kredo; dp: Nadav Hekselman; editor: Zohar Sela; music: Wisam Gibran; sound design: Itzik Cohen, Tomer Koren; starring: Hilla Vidor, Yuval Yanai, Matan Aberbach, Meirav Gruber, Adriano Jauvel; source: July August Productions, Tel Aviv.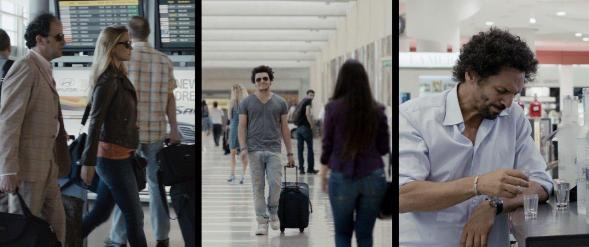 Kidon (Israel/France, 2013, 97 min, Hebrew, French, English, Arabic)
Director: Emmanuel Naccache
Kidon is an heist comedy based on true events. It begins on the 19th of January 2010, when Mahmoud al Mabhouh is found dead in his hotel room in Dubai. The local police immediately accuses the Mossad and releases security tapes showing supposedly Israeli agents caught on camera in the preparation and execution of the murder. The shocking story makes headlines all over the world, but no one is as shocked as the Mossad, where no-one has heard of these agents or their mission! The Mossad will soon come to understand that they are just one piece in a puzzle that includes French diplomats, Russian and Iranian spies and French-speaking con-men.
Who is playing who and who is being played? In a world where nothing is what it seems, the best player is never the one we think.
Emmanuel Naccache made his feature debut in 2008 with The Jerusalem Syndrome, which enjoyed success in festivals around the world. Naccache has since written Spider in the Web for Eran Riklis and "Silent Victory" for Stijn Coninx. Kidon is his second feature film.
Filmography: The Jerusalem Syndrome (2008).
Kidon – director: Emmanuel Naccache; screenplay: Emmanuel Naccache; producers: Michael Sharfshtein, Moshe Edery, Leon Edery, Manuel Munz; dp: Amnon Zalait; editor: Tova Ascher; music: Tom Sharfshtein; sound design: Gil Toren; starring: Tomer Sisley, Sasson Gabay, Raymonde Amsellem, Shai Avivi, Bar Refaeli, Amos Tamam,  Haim Znati, Menashe Noy, Elodie Hesme, Kev Adams, Hippolyte Girardot, Lionel Abelanski; source: Topia Communications Ltd., Tel Aviv/Les Films Manuel Munz, Paris/Courtesy of United King Films, Ramat Hasharon.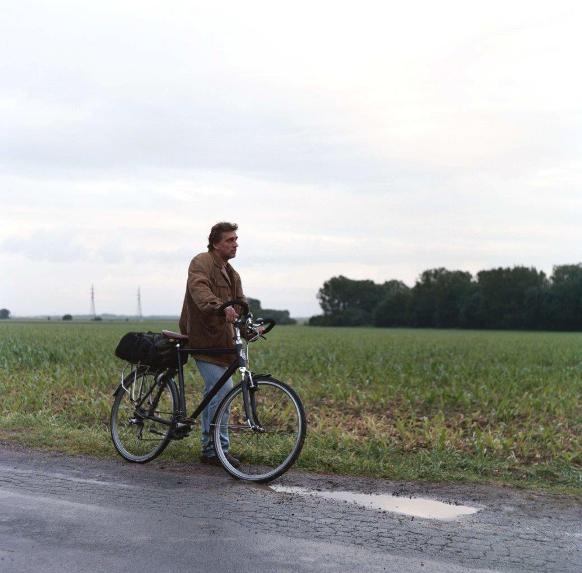 La Dune (Israel/France, 2013, 89 min, Hebrew and French)
Director: Yossi Aviram
On a deserted beach in the West of France lies an unconscious man. His identity is unknown, no one seeks him and he does not speak. Reuven Vardi, a former Israeli retired police investigator will arrive from Paris to try and solve this mystery.
Yossi Aviram, filmmaker and cinematographer, is a graduate of the Sam Spiegel Film and Television School. His credits as a director include three short films and the full-length documentary Kol Erev (2009), which was screened on Arte and Yes Docu, and won First Prize at the St. Petersburg Film Festival.
La Dune is his feature debut.
La Dune – director: Yossi Aviram; screenplay: Yossi Aviram; producers: Ayelet Kait, Amir Harel, Yael Fogiel, Laetitia Gonzales; dp: Antoine Heberle; editor: Anne Weil, Francois Gedigier; music: Avi Belleli; sound design: Gil Toren; starring: Niels Arestrup, Lior Ashkenazi, Guy Marchand, Emma de Caunes, Mathieu Amalric; source: Lama Films, Tel Aviv/Les Films du Poisson, Paris/Courtesy of United King Films, Ramat Hasharon.
Festivals: San Sebastian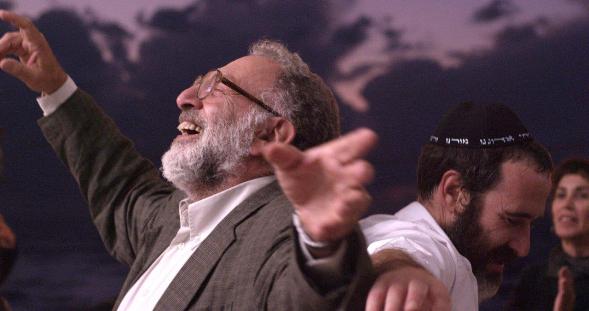 Magic Men (Israel, 2013, 100 min, Hebrew, English and Greek)
Director: Guy Nattiv, Erez Tadmor
A 78-year-old Greek Holocaust survivor and his Hasidic rapper son, estranged for many years, embark on a road trip from Israel to Greece searching for an old magician who saved the father's life in WWII. The journey leads them to absurd encounters, and ultimately brings them to a final confrontation of father and son. Inspired by the common threads of their grandfathers' life stories.
Erez Tadmor and Guy Nattiv are graduates of the Film and Television Department at The Camera Obscura School of Arts. Their short films Strangers (2007) and Offside (2006) have won awards at international festivals, including the Best Short Film Award at Sundance for Strangers, as well as being short listed for the Oscars. Their feature debut Strangers was screened at the Sundance and Tribeca Festivals. Separately, Nattiv wrote and directed Mabul (The Flood) in 2010, which won the Generations Award at the Berlin Film Festival & Thessaloniki Audience Award and Tadmor directed A Matter of Size in 2009 (with Sharon Maymon) which was at Tribeca, won the audience award at the Karlovy Vary Film Festival and was the opening film at the Jerusalem Festival.
Filmography (Tadmor): Strangers (2007), A Matter of Size (2009)
Filmography (Nattiv): Strangers (2007), Mabul (2010).
Magic Men – director: Guy Nattiv, Erez Tadmor; screenplay: Erez Tadmor, Guy Nattiv, Sharon Mayman; producers: Shemi Shoenfeld, Amitan Menelzon; dp: Benji Cohen; editor: Einat Glazer Zarhin; music: Ophir Liebovitch; sound designer: Ronen Nagel; starring: Makram J. Khury, Zohar Strauss, Ariane Labed; source: Comeback Films Ltd., Tel Aviv.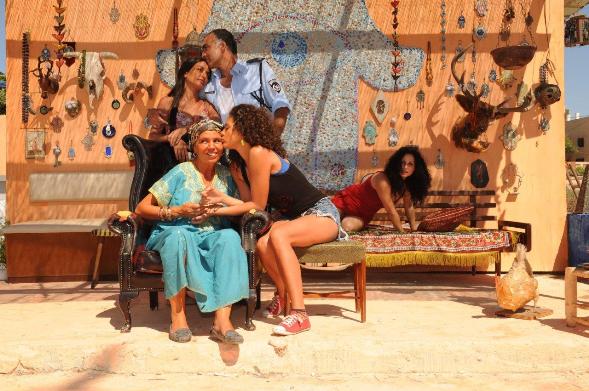 Orange People (Israel/Morocco, 2013, 94 min, Hebrew, Moroccan)
Director: Hanna Azoulay Hasfari
For many years, Grandma Zohara has occupied a special role within the Moroccan community in Israel. By cradling an object brought to her by her clients, Grandma Zohara gains access to the family's past through her dreams. The observations she makes on these dreaming journeys, allow her to advise families on future decisions.
Lately, however, Grandma Zohara has become worn out. In her search for someone to take over this role, she discovers that the only other person endowed with the power of dreaming is her daughter, Simone. However, Simone has different ideas about her future and resists her mother's demands that she take up this role. With the support of Simone's sister, Fanny, who arrives unexpectedly from Paris, Simone gathers the strength to pursue her own dreams and together they wage a battle for Simone's independence and creativity.
Hanna Azoulay Hasfari is an actress, playwright, script-writer, social activist and artist, twice honored as Best Actress by the Israeli Film Academy, winner of the Best Actress Award at the 2008 Jerusalem Festival. Azoulay Hasfari wrote and acted in the award-winning Sh'chur and created two documentary series, The Workers and My Little Empire.
Orange People is her directing debut.
Orange People – director: Hanna Azoulay Hasfari; screenplay: Hanna Azoulay Hasfari; producers: Gal Greenspan, Roi Kurland, Moshe Edery, Leon Edery, Hanna Azoulay Hasfari; co-producer: Aviv Abuksis; dp: Asaf Sudry, Itay Marom; editor: Neta Dvorkis; music: Guy Ben Shetrit, Omer Hershman; sound design: Michael Emet; starring: Rita Shukrun, Esti Yerushalmi, Hanna Azoulay Hasfari, Yoram Toledano, Meytal Gal Suisa; source: Green productions, Ramat Gan*/Courtesy of United King, Ramat Hasharon.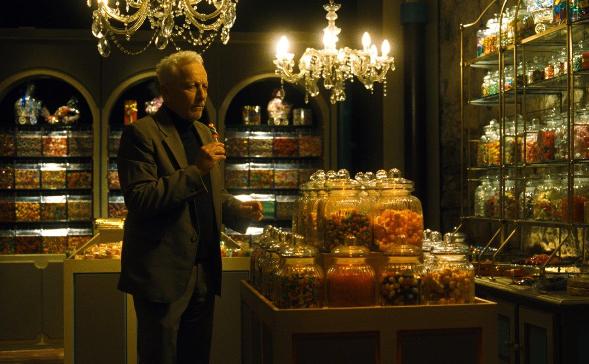 Sweets (Israel, 2013, 132 min, Arabic, English, Russian, French and German)
Director: Joseph Pitchhadze
Salah, an Israeli-Arab entrepreneur, hopes to sweeten the lives of the children in the Arab sector by opening a new chain of candy stores. The Firm, an Israeli corporation headed by Klausner, controls the Israeli candy market and resents Salah for another business move – cornering the market on Turkish coffee. Klausner sees this new initiative as a real threat, not only in a business sense but also culturally and politically, an attack on Zionism itself.
Under the guise of a business struggle the story reveals moral dilemmas and cultural differences. Salah's Russian wife, his French brother-in-law, his German partner and the French lover of the German partner manifest the fact that the struggle does not take place in a vacuum but in a complex multinational reality.
Joseph Pitchhadze, filmmaker, screenwriter and producer, is also a senior lecturer in the Department of Film and Television at Tel-Aviv University. His credits include Under Western Eyes, winner of both the Prize of the Ecumenical Jury at the Berlin Festival and the Wolgin Award at the Jerusalem Festival, and Besame Mucho, another Wolgin Award winner.
Filmography: Year Zero (2004), Besame Mucho (2000), Under Western Eyes (1996).
Sweets – director: Joseph Pitchhadze; screenplay: Joseph Pitchhadze, Dov Steuer; producers: Dov Steuer, Joseph Pitchhadze, Ran Fridberg, Perry Kafri, Moshe Edery, Leon Edery; dp: Fred Kelemen; editor: Dov Steuer; music: Boris Martzinovsky; sound design: Gil Toren, Yossi Appelbaum; starring: Makram J Khoury, Shmuel Vilozny, Moni Moshonov, Ezra Kafri, Sarah Adler, Menashe Noy, Michael Sarne; source: Candy the Film Limited Partnership, Tel Aviv.