Utopia – the International Festival of Science, Imagination and the Future – what does that mean? Serious fun for Sci-Fi, Fantasy & Genre fans with films, video game extravaganza, Sci-fi fringe theatre, and Geek Stand-Up Comedy – YES! But it's just as much about the connection between science and the imagination, examining science, technology, social and moral issues, exploring the myriad utopias and dystopias, fostering lively discussion, and encouraging all to take an active role in imagining and determining the future.
The Utopia Festival will take place from September 21 – 30, 2013 at the Tel Aviv Cinematheque. Utopia General Director and founder Uri Aviv has curated ten days of films, conferences, exhibitions and activities. The full program may be found on the festival website (in Hebrew, with film titles in Hebrew & English). Read more about Utopia films here.
Midnight East recommends: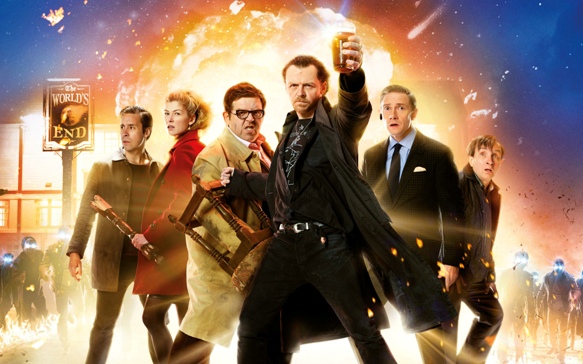 Utopia will open this year with a festive screening of Edgar Wright's The World's End, completing the Cornetto trilogy with the ultimate pub crawl. A film that is very much about obsession, glory days, high school memories and other scary stuff, it will be happily joined at the festival by Shaun of the Dead and Hot Fuzz. Don't just sit at home idly awaiting your doom, make your way to The World's End on Saturday, September 21st, starting at 16:30. What is it about these films that has me screaming (usually inwardly) with delight? Insanely horrible things happen to rather ordinary people (played by really funny actors Simon Pegg and Nick Frost) who take on outrageously quixotic quests, buoyed by beer and an excellent script, where nothing is off bounds.
Before you begin your Edgar Wright orgy, start the day right with the Crazy Film Club screening of The Princess Bride at 13:00.
The 3rd Singularity Un-Conference will take place on Sunday, September 22nd from 9:30 – 16:00 at Hemda, 7 HaPardes Street, Tel Aviv. More info here (scroll down for English).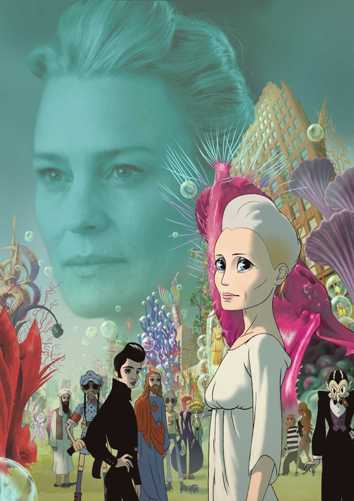 Ari Folman's new film The Congress, creatively adapted from Stanislaw Lem's novel The Futurological Congress, will be screened on Sunday, September 22nd at 21:00 in the presence of the director. Midnight East will be writing more about The Congress eventually, in the meantime, let's just say: definitely worth seeing.
Hippopotam will entertain with special guests Y Sofit on Monday, September 23rd at 21:30 at the Tel Aviv Cinematheque. Classic & new sketches will be followed by a screening of the cult film Israeli Intelligence.
Avi Nesher's latest film, The Wonders, a mystery set in Jerusalem, combining live action with lively animation, will be screened at the festival on September 25, 26, & 27th.
Don't miss the opportunity to see classic films like Blade Runner and 2001: A Space Odyssey on the big screen, the full program with dates and times can be seen here.
Midnight East is curious about:
The Israeli zombie film Cannon Fodder will premiere on Tuesday, September 24th at 21:00, for those who prefer lighter fare, LOLZ, an evening of geek stand-up comedy will take place at 23:30.
Earlier the same day, the third round of Israeli short films will be screened at 16:00: Heroes and Anti-Heroes. The Pitch (Israel, 2011, 6 min, English subtitles), directed by Mysh Rozonov, starring: Debi Levin and Moni Moshonov, tells of Yael, a film director trying to fund her new project – a Samurai movie. The Indestructibles (Israel, 2013, 41 min, English subtitles), directed by Guy Hasson, starring: Tamara Pearlman, Nathalie klein Selle, Tomer Shechori. For over 200 years, superhero battles have destroyed the Earth. One day, they were defeated, and Earth is littered with hundreds of thousands of superhero bodies. They are living, indestructible vegetables that cannot die and do not grow old. One day, superheroes come back. It's up to Rachel Gardner, a high school teacher, to stop all of them and save the Earth. The screening will be followed by a Q & A with Guy Hasson and the actors.
Robot Planet, a fringe play based on a story by Stanislaw Lem, written and directed by Shmuel Shohat, will be performed at 20:00 and 22:00 on Wednesday, September 25th.
For Kids (and everyone): Robosapien Rebooted (2013), directed by Sean McNamara, is a live action/animation film inspired by the toy Robosapien. 12 year old Henry Keller (Bobby Coleman) befriends an escaped robot for a tale of adventure, ethics and a bit of romance. Screening on September 27th at 10:00 and 12:00. Labyrinth (1986), directed by Jim Henson, produced by George Lucas and based on designs by Brian Froud, is a classic, and it stars David Bowie, Jennifer Connelly and lots of puppets!!! See it on Saturday, September 28th at 11:00.
Not for kids – Jim Mickle's We Are What We Are (2013), is a very alternative take on family values. Screening on September 28th at 16:00 and 19:00. The full program for Dystopia – films of suspense, horror, action and revenge, may be seen here.
Endgame: Digital Utopias is an exhibition of video games from around the world, curated by Shalev Moran and sponsored by the Israeli Animation College in collaboration with GameIS.  A world unto itself, in which every detail is conceptually and visually determined by the game creator, games are a fascinating entity – come to contemplate and play!
and there's more, lots more… so check out the Utopia website and facebook page.