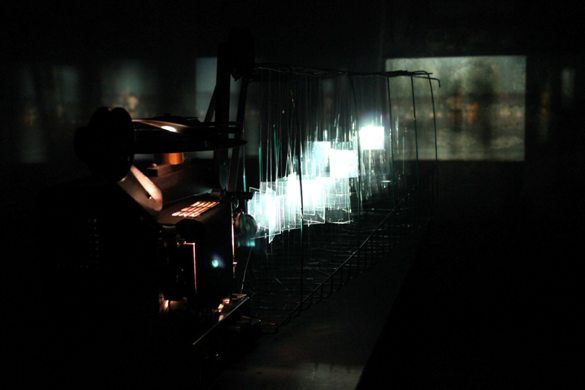 Splash! The film installation, a collaboration between artist-filmmakers Vivian Ostrovsky and Silvi Simon will open at Jaffa Port, Hangar 2 on Thursday, October 10, 2013 at 20:00. The exhibition, jointly presented by CCA (Center for Contemporary Art) and Jet Lag Productions, will remain open through October 28th.
The personal is juxtaposed with the anonymous, home movies on disappearing technologies such as Super 8 and 16mm, with found internet footage, projections screened on or through Simon's optical sculptures and other objects that affect and manipulate the images – creating an environment within the space of the hangar.

About the artists:
Vivian Ostrovsky, (b.1945, New York) studied film and psychology in Brazil and Paris. Her career has focused on using analog formats (especially Super8) for  experimental cinema. Her signature collage shorts and avant-garde documentaries have won awards at venues ranging from Curtas Vila do Conde (Work And Progress 2000, co-directed with Yann Beauvais) to  international competition prizes for Nikita Kino (2002) and Ice/Sea (2005), and for  The Title Was Shot (2009) she won the Prix d'Argent in the Bilbao International Film Festival. Retrospectives to date include Centre Pompidou and Museum of Modern Art, Rio. Screenings include MoMA, NYC, Kunsthalle Basel, the Biennale of São Paulo and festivals including Toronto, London, Berlin, Rotterdam, Clermont-Ferrand, Rio de Janeiro and the Viennale. Her work is included in the collections of the Centre Georges Pompidou, Paris.
Silvi Simon, (b.1972 Livry-Gargan, France) lives and works in Strasbourg where she studied fines arts and audio visual production. A founding member of  Burstscratch collective, initially she worked with super8 formats. She studied animation technique at the ENSAV La Cambre, Brussels and her practice encompasses film, video and digital work as well as performance and installation. Simon also organizes workshops focused on the pre-history of cinema and on techniques of experimental film. She is noted for her innovative optical sculptures through which her images are projected. Her work has been shown at the Rotterdam Film Festival and at venues in Paris, Geneva, Brussels.
Exhibition opening hours: Monday – Saturday from 11:00 – 21:00.