Playing it safe is not an option for Sivan Gabrielovich-Gal. The Gaza Strip Show is flamboyantly political, erotic, chaotic, and very entertaining!
Underground theatre in the ultimate sense of the word, this political cabaret is set in the dark heart of the controversy, a tunnel in Gaza. If you think you know what to expect when you hear the word "Gaza," think again. Gaza – the word, the place, the situation – has become common coinage in the hands of politicians, media, activists, and fanatics of every persuasion from 'divinely inspired' to 'bleeding heart'; all looking to gain something from its use. But we are not here to talk politics, we're here to talk theatre.
I tend to be wary of political theatre. As an audience member, and perhaps more acutely as a writer, I often find myself in that painful place between Scylla – a polemic rather than a work of theatre, a tedious didactic tract in the service of an agenda, so dull it does its cause a disservice, and Charybdis – an artistic sleight of hand that works on the emotions with skillful suppression and/or distortion of the facts, propaganda in the guise of theatre. I approach political theatre with caution, fortified with caffeine to fend off boredom, abstaining from alcohol to remain alert, steadfastly determined to suss out the agenda, wherever it may hide.
The Gaza Strip Show pursues an elusive course, avoiding both Scylla and Charybdis, exploring that space between politics and theatre. What do we find there?
A bordello ambiance filled the candle-lit hall this past Friday night, at the end of the cabaret's short run in Tel Aviv: October 2 – 12, 2013. As I walked toward the entrance, arousing expectations soon to be fulfilled by the cabaret setting of the theatre: round tables covered with red cloth and set with chocolate coins, a candle and glasses of red wine. At the back of the floor level stage area the band, in shimmering evening attire (Noa Segal – drums/percussion, Maya-Lee Roman – viola, Leah Godive – viola, Yael Reiss – piano/accordion) and formal black (composer Dror Waidman – keyboard/baritone sax/kazoo/melodica), was ready and waiting. On the wall – flags of different countries, at the side, cardboard boxes of supplies neatly labeled – medicine, cabbages, computers; and on the stage, a bit right of center, a pile of rubble. The stage was set for contradiction.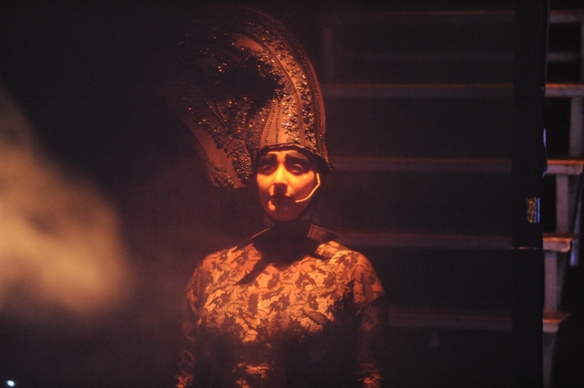 Enter Diamond Big (Uri Shafir), decadence incarnate and larger than life, an impudent imp in ragged chic with fluid limbs and a seductive song: "Give me your sweaty hand… and we'll dance a waltz." Diamond Big and the oh-so-appropriately named Diamond Yummy (Gur Piepskovitz) are the MCs and assistants of Madame (Bat-el Papura), cabaret owner, weapons dealer and all-around war profiteer. Into this dark world tumbles Lilly (Mikki Reguer), a sweet young girl, prophet of doom, who has come to tell the inhabitants of this tunnel in Gaza that the war has ended, news that they do not receive with equanimity. Completing the picture of chaos are a Scottish pirate, contortionist and demonically-possessed do-gooder (or possibly a UN official), all performed with vim and verve by the versatile Miranda Borman.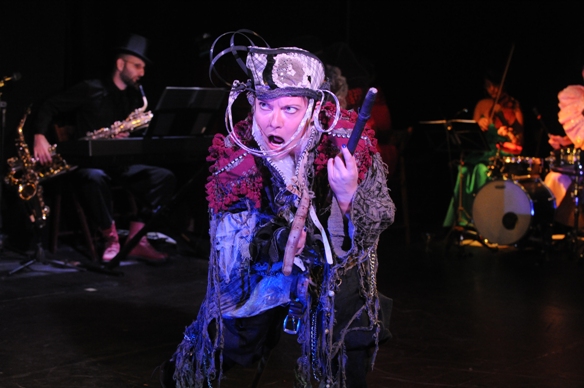 Gabrielovich-Gal has created a hallucinatory realm of sybaritic decadence amid suffering, a vision of the hell that is everyday life accustomed to conflict, where each person sees what they choose to see, and the different voices sing out to the music of the cabaret. Calling up associations as diverse as Alice in Wonderland, Cabaret's Berlin of the 1930s, the Old Testament flood and the Four Horsemen of the Apocalypse, The Gaza Strip Show gives voice to different perspectives and opinions, creating a shifting kaleidoscope of impressions. It is hard to imagine having fun while contemplating horror, yet that is somehow the effect that The Gaza Strip Show achieves.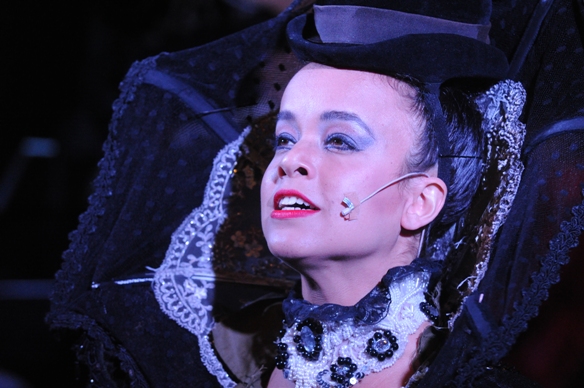 Much of this is due to the integrity of the vision, with all elements of the production working together: set, make-up!!! (Tal Kalai), costumes, lights, music, and a strong cast. Bat-el Papura (memorable in Avi Nesher's The Matchmaker, 2010) is a smart and sexy Madame, a powerful woman I would never want to meet in a dark alley, but I would very much like to see more of Papura onscreen and in the theatre. A stellar performance by Uri Shafir as Diamond Big is one of the great pleasures of this production. Director Gabrielovich-Gal has given the dancer/actor/singer/musician a great deal of room for expression in this show, and he uses it well. A former member of the Batsheva Ensemble, Shafir is a creative artist as well as an immensely talented performer, who imbues his role with astounding bendiness, sinuous intelligence and the depraved allure of dark magic.
The witty text and provocative lyrics, floating on Dror Waidman's captivating compositions, linger just long enough on the ear to swim around in the mind, raising questions rather than providing answers. As for questions, who knows better than Madame? She says of her life in the underground tunnel (my rough translation from Hebrew): "We are not sad here… Why should we question anything when we can live without asking questions?"
Agenda? I didn't see one here. What I did see in The Gaza Strip Show is a complicated and sometimes confusing portrait of people who cannot envision an existence without war. And a really fun show.
The Gaza Strip Show
Written, directed and Set design by Sivan Gabrielovich-Gal; Musical direction and original music by Dror Waidman; Costumes: Shira Wise; Lighting design: Amir Castro; Make-up: Tal Kalai; cast: Bat-el Papura, Uri Shafir, Gur Piepskovitz; Miranda Borman, Mikki Reguer; Musicians: Dror Waidman, Noa Segal, Maya-Lee Roman, Lea Godive, Yael Reiss.