The 15th Piano Festival will take place from November 5 – 8, 2013 at the Suzanne Dellal Centre in Tel Aviv. There is a dizzying array of 40 performances, all centered on the piano, with several productions unique to the festival.
A few select numbers were performed at the recent press conference, and they blew me away… I've included here some video clips by Yuval Erel (check out his music blog in Hebrew) so you can hear what I mean. It's going to be hard to choose which performances to attend, but here are some highlights:
Opening night will be very special with the best of Ariel Zilber. Now 70, the veteran rocker may look a bit different from his album covers, more rabbi than rocker – but the familiar playful rhythmic bounce on the piano, and that strong, rough and tender voice singing out one of his most popular songs "HaBrosh" send out a clear message: he's still got it. Big time.

Zilber will be singing his greatest hits – Betty Bam, Rutzi Shmulik, and more… and will host Matti Caspi and Shlomi Shaban. Tuesday, November 5, 2013 at 21:00, Noga Theatre.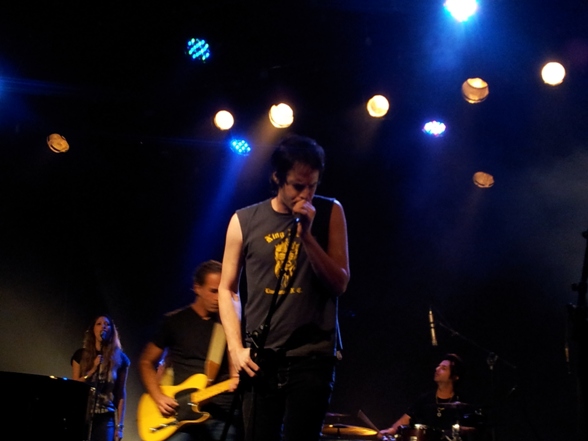 Rockfour, one of Israel's classic rock bands that never fail to excite me, will pay tribute to The Voice of Peace. Founded by Abie Natan, the offshore radio station was a voice of hope with 24 hours of great music from May 1973 to November 1993. Rockfour, together with their guests – Emily Karpel, Yermi Kaplan, Iggy Waxman, Nitzan Horesh, and Hemi Rodner, will perform the songs of those times: The Eagles, Gilbert O'Sullivan, The Alan Parsons Project, The Monkeys, Al Stewart, Kansas, Steve Miller Band, Supertramp, Duran Duran and more…
DJ Leon Feldman will turn back the hands of the clock with the familiar words – This is the Voice of Peace, and good advice – Shtu Mayim (drink water). At the press conference, Rockfour and Nitzan Horesh (lead singer of Electra) performed the sexiest rendition of Twilight Time that I have ever heard, dark and enticing. Friday, November 8, 2013 at 13:00. Don't just take my word for it – listen:

Habiluim – a contemporary band with a reputation for activism, musical and otherwise, will present: "Things that you can do with a piano, and things that you can do against the piano." I will never forget the first time I saw and heard Habiliuim member Maya Duneitz play the piano, years ago, in a performance with clarinetist/artist Harold Rubin: it felt as though she was reinventing the instrument. For this performance, they will all be testing the boundaries of the keyboards and more: Noam Inbar – vocals, accordion, piano; Maya Duneitz – piano, electric saw and piano; Yammi Wisler – electric guitar, banjo, piano; Oded Goldshmidt – double bass, piano. Thursday, November 7, 2013 at 22:30.
The Piano Festival has been reaching out to the indie crowd and young musicians in the past few years, this aspect of the festival is growing and going strong. Featured this year will be: Roy Dahan hosting Amir Dadon, Asaf Shatil hosting Efrat Ben Tzur, Albert Sofer and Shirly Kunes, Talia Eliav launching her new album, David Lavie hosting Danny Bassan, Shy Nobleman, Adam Gorlitzky hosting Mira Awad, Sherry Givati and Tzvika Force hosting Adi Ulmansky.
Voice, heart and piano – Tzvika and Adi joined forces at the press meeting for the piano man's signature song (from the album Petit Nature) "Thank You For Breaking My Heart." The performance will take place on Thursday, November 7, 2013 at 22:30.

Yehu Yaron will be hosting Ruth Dolores Weiss, Hila Ruach, Adi Rennert, and Uzi Ramirez performing new arrangements with soul and in the spirit of Gospel, to songs from Yaron's two albums. Friday, November 8, 2013 at 23:00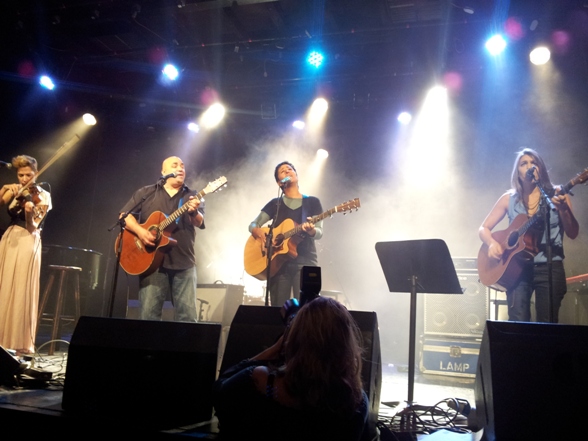 It's never easy for a musician just starting out, and a helping hand along the way is a gift to remember. Four  musicians – Danny Robas, Ronit Shahar, Mika Karni and Yael Deckelbaum , will come together onstage for a special tribute performance to Shlomo Artzi.  They all performed and toured with him early in their careers, before branching out on their own independent paths. Hearing them together singing Shlomo Artzi's "Shinuyei Mezeg HaAvir" (Climate Changes) was simply wonderful. Saturday, November 9, 2013 at 20:00
New to the festival this year is a focus on faith and Jewish music, in collaboration with Beit Avi Chai. These concerts will be performed both at Beit Avi Chai in Jerusalem, and at the Brodet Center on 22 Zeitlin Street in Tel Aviv. Featured will be: Etti Ankri singing the poetry of Yehuda HaLevi; Ensemble Yaman hosting Shlomo Bar; Liron Danino singing the songs of Meir Ariel; Alma performing new songs and favorites; Avi Banyon will launch his new album "Hashalom BaPetach."
The full program is available online in Hebrew, www.pianofestival.co.il, and tickets may be ordered via Zappa, online www.zappa-club.co.il or call: *9080. Piano Festival on facebook.
The Piano Festival is produced by the Performance Department of the Tel Aviv Municipality. Festival Director: Shabi Mizrahi, Deputy Director of the Arts and Culture Dept and Director of the Performance Dept. Tel Aviv Municipality; Artistic Director: Etti Aneta-Segev.