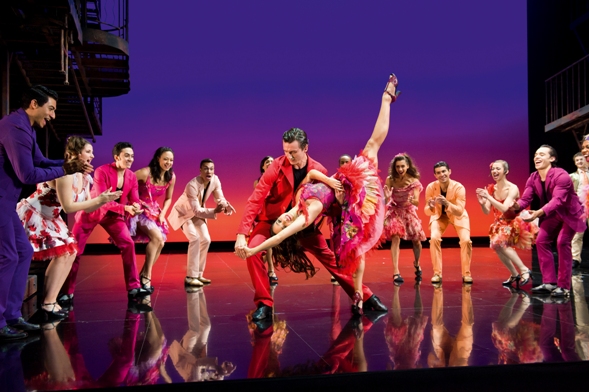 One of my favorite artistic collaborations – West Side Story (Jerome Robbins, Leonard Bernstein, Stephen Sondheim and Arthur Laurents), is coming back to the Israeli Opera this week, with performances from October 31 – November 9, 2013.
It's been over 50 years since Maria and Tony first sang and danced their way into our hearts, but West Side Story remains as moving, entertaining and as socially relevant as the day it premiered.
Joey McKneely brings an exciting spark to this revival production, remaining faithful to the original choreography, yet imbuing it with a more contemporary, grittier feel. This production was first performed at the Israeli Opera in 2009. Talking to director/choreographer McKneely at that time about his approach to the musical, he said that the look had evolved over the years into a "Fifties museum that looked like "Grease" with poodle skirts and slicked back hair," whereas for McKneely, the emphasis is not on reviving West Side Story as a period piece, but rather looking at its timeless qualities: "This is a story with so much heart, emotion and drama."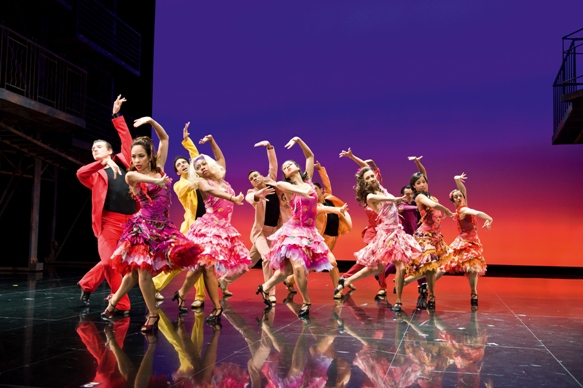 McKneely's directing heightens the social issues within the musical: gang wars, racial tension, gender issues and the contrast between the dream and reality of immigration; in a production that is both entertaining and thought provoking. Beautiful, exciting, funny and romantic, the songs, dance sequences, and the youthful energy of the cast capture the heart and imagination.
The performance is in English with a Hebrew translation by Ehud Manor project in surtitles. An hour before each performance there will be an introductory lecture on West Side Story, entrance to the lecture is free for ticket holders. Tickets are 175/237/378/428 NIS; and may be ordered online www.israel-opera.co.il, or call: 03-692777.
Performances: October 31st at 20:00; November 1st at 13:00 & 21:00; November 2nd at 16:00 & 20:30; November 4th at 20:00; November 5th at 20:00; November 6th at 20:00; November 7th at 20:00; November 8th at 13:00 & 21:00; November 9th at 16:00.
West Side Story
Book by    Arthur Laurents
Lyrics    Stephen Sondheim
Original production directed by            Jerome Robbins
Conductor    Donald Chan
Director and Choreographer                        Joey McKneely
Set Designer    Paul Gallis
Costume Designer    Renate Schmitzer
Lighting Designer    Peter Halbsgut
Soloists:
Maria                                                           Rachel Zatcoff
Jessica Soza
Tony    Thaddeus Pearson
Anthony Festa
Anita    Penelope Armstead-Williams
Bernardo    Pepe Munoz
Riff     Mark MacKillop
Doc    Doug Rees
Officer Krupke                         Mel Shrawder
Chino    Nick Nerio
Lt. Schrank    John Wojda
Glad Hand    Eric Rolland
Action    Luke Hawkins
A-Rab     Matthew Couvillon
Diesel    Andrew Purcell
Baby John    Michael Bullard
Snow Baby    Beau Middlebrook
Geetar    Nicholas Sipes
Big Deal    Brandon Patrick Stonestreet
Pepe    Charles South
Indio    Christian Elan Ortiz
Luis    Adam Soniak
Anxious    Michael Bishop
Nibbles    Travante Semale Baker
Moose    Armando Yearwood Jr.
Graziella    Christie Portera
Velma    Dominique DeNinis
Minnie    Alexa de Barr
Clarice    Blue Cervini
Anybodys    Hannah Balagot
Pauline    Melanie Wildman
Rosalia    Leslie Jackson
Consuela    Na Tonia Monet
Teresita    Natalie M. Williams
Francisca    Tiffany Mellard
Estella    Sheridan Mouawad
Margarita    Naomie C. Walley
Dance Captain     Mitchell Woodcock
The Opera Orchestra – The Israel Symphony Orchestra Rishon LeZion
Surtitles in Hebrew
Translation: Ehud Manor