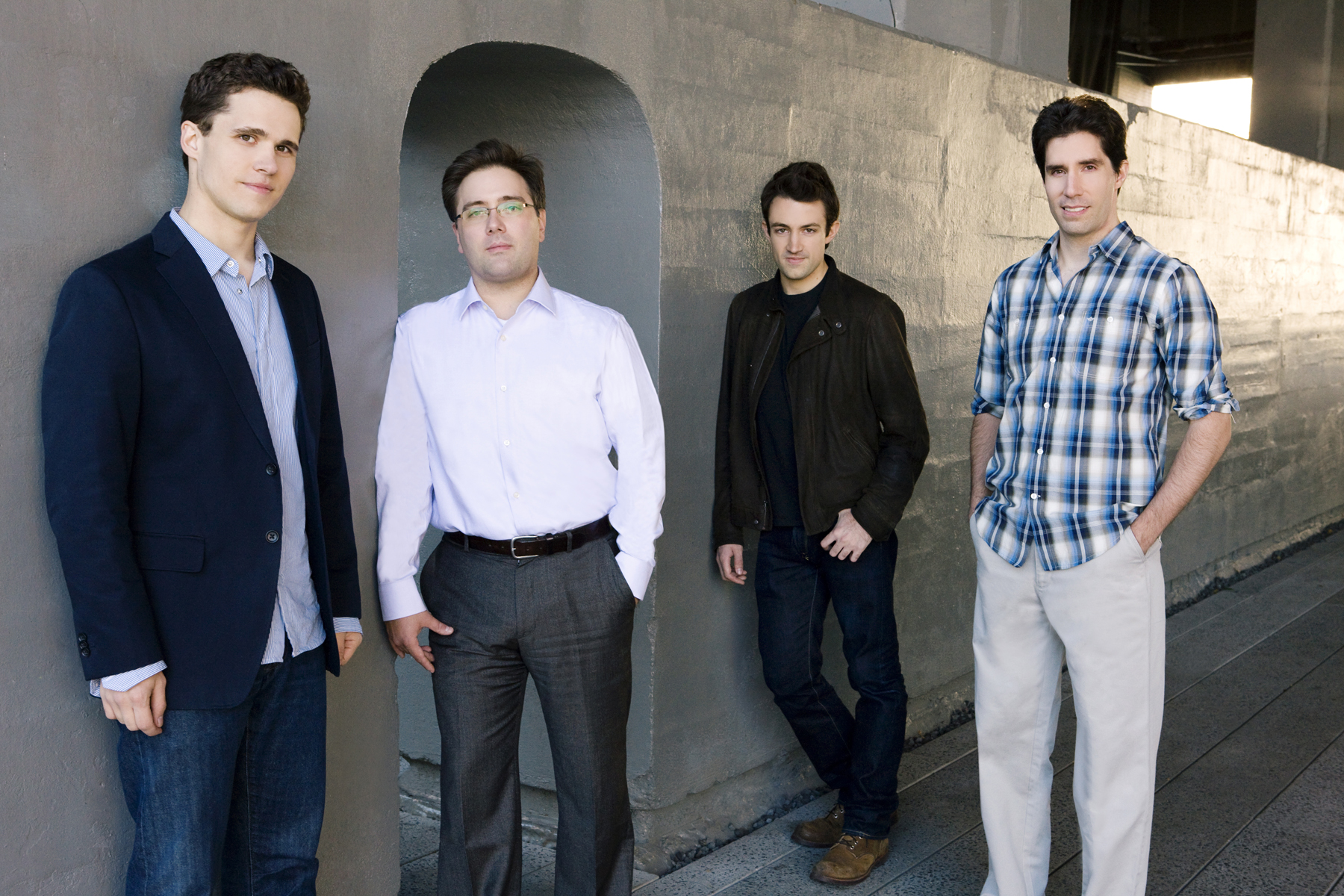 From a busy schedule abroad, the Escher Quartet is making a special visit to Israel and giving a concert of Schubert and Dvořák, Friday November 8 at the Tel Aviv Museum of Art. For those who can arrive a bit early, a pre-concert introductory lecture by musicologist Anat Sharon will be held in the auditorium.
Since its foundation in 2005, the Escher Quartet has established itself as one of the best young chamber ensembles in the music world. Comprised of violinists Adam Barnett-Hart and Aaron Boyd, violist Pierre Lapointe and cellist Dane Johansen, the quartet has been praised for its virtuosity and richness of sound. The quartet is named for the Dutch painter M.C. Escher, who achieved in art the same harmony required in chamber music.
Friday's concert will join the Escher Quartet with some of Israel's own best and brightest. Yevgeny Yehudin (clarinet), Michael Slatkin (horn), Daniel Mazaki (bassoon) Nir Comforti, bass are all members of the Israel Philharmonic. They will be joined by Dorel Golan on the piano.
Antonin Dvořák's Piano Quintet No. 2 in A major (op. 81) was supposed to be a rewriting of a much earlier piano quintet (op. 5). The composer was unhappy with this earlier work, even destroying the manuscript after it premiered – he had to borrow a copy of the score when he decided to revise the piece. Dvořák ended up completely rewriting the quintet. In the new version, he worked elements of Czech folk music into the piece, but instead of incorporating actual melodies, he created his own tunes according to the folk tradition.
The Octet in F major (D. 803) is the largest-scale chamber work Schubert wrote. It was inspired chiefly by Beethoven's Septet in E-flat major (in turn inspired by a string trio by Mozart). Ferdinand Troyer, a celebrated clarinetist of that time, commissioned a piece from Schubert that would be in the style of the Septet, and he was among the musicians who performed at the première of both works. Other compositions by Schubert also echo in the Octet: you may, for example, recognize snippets of the song "Der Wanderer" in the first movement.
The concert will begin at 13:00, Friday November 8 at the Tel Aviv Museum of Art. The lecture will be held at 12:20. More information is available via the museum's music department, 03-6077009.