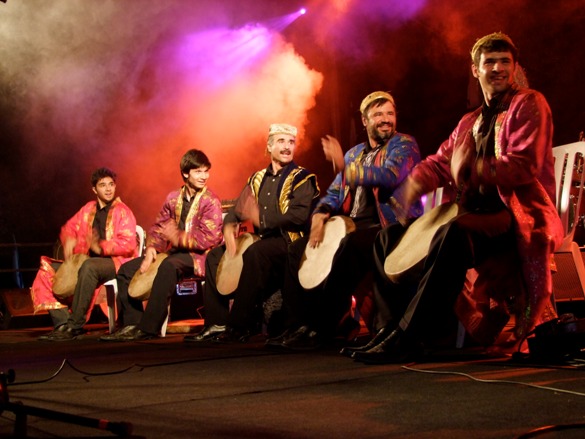 "From here joy rises/blessing will come/warmth will come/until the end of day/stay with me in this rhythm" Tajiki poem
The Bukharian Groove of the Alaev Family is an exuberant blast of energy, beautiful and wild, ancient and new. "From here joy rises" – I can think of no better way to describe the Alaev family than with the words of this Tajiki poem from the first time I heard them in concert. Their fusion of traditional Bukharan songs and world beats is a high voltage, joyous experience that has made audiences everywhere get up on their feet and dance. Once you hear them, you will want to "stay with them in this rhythm!"
The Alaev Family will be featured in the upcoming International Exposure for Israeli Music, performing on opening night, November 13, 2013 at the Yellow Submarine in Jerusalem.  The 8 member family ensemble is led by patriarch and Doyra master Allo Alaev, with sons Ariel Alaev (accordion and vocals), Amin Alaev (percussion), and the third generation of this musical family, Allo's grandchildren: Alan Alaev (drums & doyra), Zvi (Sivi) Alaev (clarinet), Aviva Alaev (violin), Amir Alaev (qanon) and the most recent addition to the ensemble, nine year old Amanda on violin and vocals.
Meeting with Zvi Alaev at a cafe in Jaffa, I soon discovered that he has the same electricity and energy offstage as in performance. Perhaps that is the secret to the success of this exceptionally talented musical family: life and art are one.
"My grandfather had a dream," Zvi told me, "to have a family ensemble, and his dream came true." It's not that unusual to see family ensembles, especially in folk and traditional music, but the Alaev Family is a fascinating phenomenon, with the unique ability to bring authentic ethnic music to wide and diverse audiences, connecting to the contemporary music scene. Zvi plays the clarinet in the family ensemble, yet says, with a mix of modesty and mischief: "Mostly, I just dance."

The Alaev family came to Israel from Bukhara, with two year old Zvi and his mother as the pioneers. Zvi said, "My mother and I came to Israel half a year before the Gulf War. We made aliya just the two of us, all alone. I may come from a chauvinist family, but my mother is the first feminist of the Bukharians. She dealt with all the shipping and moving arrangements for the entire family who came after. My uncle tells that they arrived 48 hours before the war. They got off the plane and were given gas masks – that was their welcome to Israel!"
"Grandfather was a superstar in Bukhara, and he is well remembered there to this day. He believes that the way to find happiness and success is to follow your father's profession," Zvi told me "and his father was a great singer. His mother was a doyra drummer, although she was also very religious and would only play for her friends. She died when my grandfather was only nine years old and he was very attached to his father, who was also a very learned man. They say he even knew Hebrew."
"Grandfather's home was always full of friends, it was the center of activity in the community and everyone gathered there for marriages, divorces, birthdays, any event – happy or sad. His home was like an events hall, with a huge living room. Here in Israel he also made sure to have a large living room so that he can invite lots of people over, that is what he loves."
Perhaps that is one of the secrets of the Alaev Family, whether there are one hundred or several thousands in the audience, they make you feel like you are with them in their family living room, hanging out, listening to music, singing, and of course, dancing.
When his sons Amin and Ariel were in their early twenties, they began performing concerts with Allo, and enjoyed a successful career in Bukhara. "Then," Zvi said, "they came to Israel and wonderful things happened."
Happily for the Alaev family, they arrived in Israel during the early 90s, when, as Zvi reminds me, "there was talk of peace" and a growing interest in world music. They collaborated with Yisrael Borochov (East West House), "who is a good friend of the family to this day," Zvi recalled, worked in the theatre of Misha Asherov z"l, and performed on Chaim Zinovitz's debut album Gibbrish (1993). The family even made it to the stage of Habima National Theatre, performing in the production of Brecht's Caucasian Chalk Circle in 1999. Zvi did not participate because he was already of school age and the late nights would have interfered with his studies, but his then four year old cousin Amir took part. If there were times when Amir couldn't perform, younger sister Aviva was at the ready to take his place.
Performing since the age of three, Zvi first began playing the drums at the age of four. Immersed in music at home, he never had a formal lesson. As he describes it, "Amin, grandfather, Allan and I would play and practice. I'd watch them, hear them, and learn." He began formal instruction on the clarinet when he turned eleven, all part of working towards the fulfillment of grandfather Allo's dream.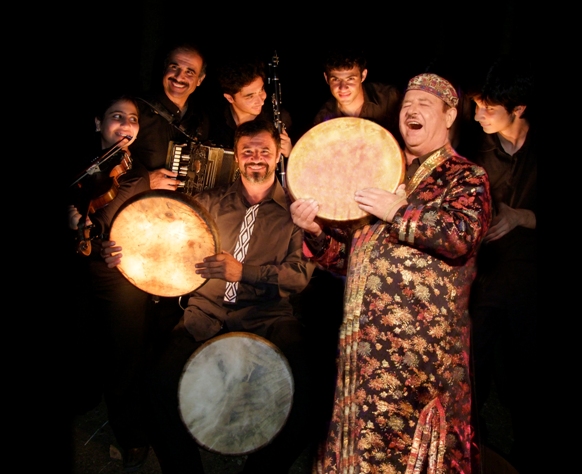 Merging family with music makes for a very intense experience, on and off stage. History has shown us time and again that growing up as a performer is not an easy path to follow.
"I have two worlds," Zvi said, "the authentic culture from home and the contemporary culture from school, friends, and life here in Israel. It's sometimes complicated not easy, because there are many distractions, wanting to do different things and the timing sometimes conflicts. Coping with this difficulty between home and rest of the world has made me who I am, it has forged my identity."
That identity is complex, and not so easily defined. When I asked him what he considers to be his mother tongue, Zvi replied, "I still don't know what it is… sometimes I think and speak in Russian and sometimes I think in Hebrew. The second generation in my family felt that it was very important to preserve the language. They said language is power, it will be useful to you when you travel… and to my surprise – they were right!"
The diversity and complexity of belonging at once to different cultures and different musical genres adds richness to the dynamic whole that is the Alaev Family. Their musical talents are enhanced by a captivating stage presence, performing really is in their blood. Taking his natural gifts a step further, Zvi studied acting at Nissan Nativ for three years. Commenting on this experience, he said, "What I loved most was learning to use my body to change character and change myself all the time." Each family member brings something unique to the mix, many also perform with other ensembles. Amir performs regularly with Dudu Tassa, Zvi and Ariel with Rita, and now Zvi is starting to perform in a new ensemble with his mother (a doyra drummer) that he describes as: fresh and sexy.
Being open to change is one of the Alaev Family's strengths, and has helped them bring the traditional music of Bukhara to many more people. Their album, The Alaev Family & Tamir Muskat (Balkan Beat Box), is an artistic collaboration that takes the ethnic music into a different realm and the rhythms of groove, while retaining its essence. Listen to the album here.
Talking to Zvi his love for music stands out. "Just the other day I spontaneously decided to go to Jerusalem to the Oud Festival to hear Haya Samir," he said, "she also merges different cultural influences, she can really hold a stage! At home I always like to listen to authentic music… I studied music and many of my friends are musicians so outside I hear everything else and at home I like to hear Asian music, Bukharan, Tajik, Indian, even Chinese – it's all very similar. But  I listen to a lot of things, YouTube is always open on my computer.  Yesterday I listened to Sting performing in Berlin with 40 musicians."
In concert, the Alaev Family likes to collaborate with other artists, hosting musicians such as Dudu Tassa, Rif Cohen and Uri Kinrot. Sometimes they add songs from other cultures to their repertoire, as in this performance of a Hebrew version of Khaled's popular song Didi with Marsh Donurma:

Links: The Alaev Family website, facebook page, bandcamp