Music, fun & firgun (a Yiddish word that expresses an altruistic pleasure and the good will to foster and encourage the joy and success of others) are the building blocks of TAU Music, a joint project of the TAU student's association  and BPM College,  now in its second edition and soon to go on stage at the Ozen Bar on Friday, November 22, 2013!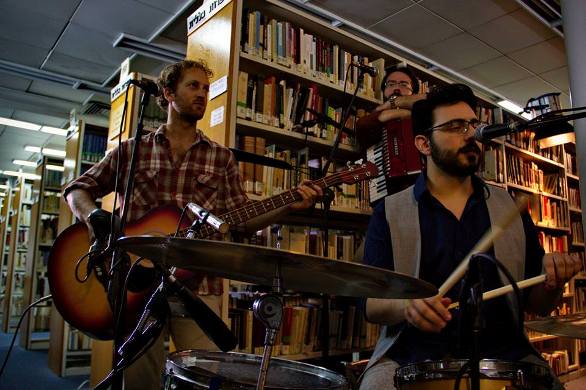 Launched last summer, the project gives a platform to bands and filmmakers, creating music video clips – great experience and exposure for the students, and fun for everyone! Of the many bands that responded to the call out (the requirement is that at least one band member must be a Tel Aviv University student), 8 have been selected to participate in this year's project, which included: making a video clip (original music only, no covers), performing live at the Smallbama festival this past fall at Tel Aviv University, and on "Helem Tarbut" (Culture Shock) the TAU student association radio program on FM106. The project is also supported by the Tel Aviv Municipality. Hear the project online here.
This week, you can hear some of the bands at the Ozen Bar on Friday, November 22nd, in a music marathon that starts at 13:00. Get your tickets from the Ozen Bar online.
Onstage at the Ozen Bar will be:
Shiri Ladelsky – rapper and spoken word artist on her way to a debut solo album produced by Raz Extra Levy.

 The Electric Rosenbergs – an acoustic folk quartet, with an emphasis on vocals, guitar and cello.
Mountainears – folk/rock/Americana band working on their debut album produced by Amit Erez. Their sound: acoustic guitar with mandolin, accordion, harmonica.

Shai Rosenfeld – singer/songwriter on acoustic guitar, performing original songs in Hebrew and English.
Rosh Groove – Funk & Brazilian Groove 8 member band recently released an EP Live@the Zone produced by Shai Hamani (Funk'NStein) and Avraham Tal. https://www.facebook.com/RoshGroove
Stellar Lane  – Alternative Rock/Post Grunge band founded in 2006, bringing the Seattle grunge sound of the 90s to TLV. "Embryo", the band's EP, was recorded in 2011.
The Jahgglers Israeli roots reggae band founded in 2009, performing in reggae festivals all around the country.
Bands featured in TAU Music 1 include: I Got the Hotties (read more about them here), Phototaxis, Wake Up Suzzys (see them this week at the International Exposure for Israeli Music) , and more.