Textured layers of instrumentals that send the mind to the outer reaches of consciousness and make the body MOVE!!! I've been intrigued by Tiny Fingers for a while now, and sat down with guitarist Oren Ben David learn more about this intense group that has released four albums in the past two years: Massive Fingers Space-trip(2011), Foreign Telegrams(2011), Megafauna(2012) and We Are Being Held By The Dispatcher (2012).
"Tiny Fingers is something that evolved organically," said Oren, "the music is very complex and branches out in many directions."
Oren, drummer Tal Cohen and bassist Boaz Bentur come from the Pardes Hannah – Karkur area, and began hanging out and play music together about seven years ago. No one ever said "let's start a band," yet over time, what had begun as friendly, non-committal jamming took the young musicians further.
"We'd jam a lot, and we'd get to a place where the music grabbed us, we'd end a jam and realize that something had happened," said Oren, "we made this journey together in a very naive way, without a lot of equipment, jamming at my parent's house."
"We're not into a certain genre of music and trying to emulate that style," said Oren, "playing together we found a language that developed between us very organically. Sometimes I'd bring something I wrote and Tal and Boaz – they're both really good musicians – they'd connect to it and take the music to other places, opening up an alternate universe."
By 2009, Oren recalls, "We decided to take our selves seriously as a band. We recorded an album and then decided not to release it because we felt that what we had recorded was already not representative of our material. Then we recorded another and held that one back too."
Listening to Tiny Fingers, there is a complex texture to the music, the band's work process is the key to understanding where this intensity comes from.
"We have the materials we're working on," Oren explained, "and then there is always another channel – the material we play during our jams, material that does not get written down. Even now, when we rehearse we start by jamming together for an hour or two. Sometimes nothing happens, someone makes a sound… then an hour can go by in this alternate world of the jam. We have lots of recorded material. I built a studio in my parent's house because we didn't have a place to play and we'd play outdoors, in the fields, different places. We built the studio with our own hands."
"We have lots of hours recorded, lots of improvisation and each time it feels different…we're in the studio jamming together and it's as if we share the same pulse. No one knows what we play when we're alone, that's who we really are – the private recordings."
Tiny Fingers had a breakthrough performance at InDNegev 2011, playing for a crowd of thousands. By that time Nimrod Bar (keyboards) had joined the band as well as vocalist Daniella Tourgeman who was with the group for about two years. At that performance they also brought in material from their jams, recalled Oren, "it was crazy, the audience responded with so much energy, it really opened the way for us."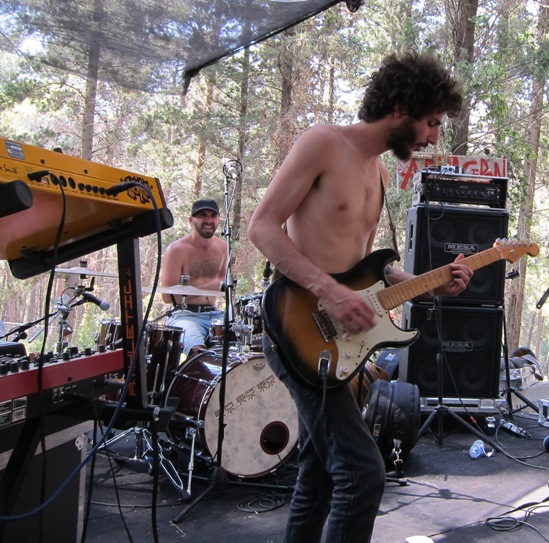 Their first album Massive Fingers was recorded at the Anova studio in Tel Aviv, their successive albums have all been recorded live. Their second album Foreign Telegrams was recorded in one day at the Kol HaKampus studio. While recording, Oren received a phone call from the Meggido Regional Council and spontaneously decided to add the phone message to the mix, connecting his phone to the computer.
"You lose something of the truth, the energy of playing live," said Oren of the band's decision to record live, "live, you capture the moment, in the studio you fix, change, and lose things. Recording live also improves your performance you have to commit to making your performance good enough, you can't hide."
Yet, Oren went on to say, "We may do a studio recording again, nothing is final, everything is open."
In performance, Tiny Fingers feels very open, immediate and spontaneous, but Oren assured me, "It's completely locked down," everything that is performed in concert has been written and rehearsed intensively, although, he added that "more experimentation happens in smaller performances."
"I want to make music that is intellectual, something that is written but not academic, something that has the energy of rock with the depth of classical music," said Oren, "something that has many layers and thought, but doesn't feel heavy…sometimes when we jam, something happens, there can be 20 seconds of music that stays with us, and a year later there may be something else… a bank of feelings. Right now we have a part that we call "The Persian Piece," we have lots of pieces waiting that we are playing around with."
The band has also had some interesting collaborations. They performed with the Maria Kong Dancers Company on the opening night of the Yaarot Menashe Festival 2013, adapting the soundtrack of an existing dance production, Open Source, to a live stage concert performance. They have already toured abroad, performing in the Czech Republic, Germany, Poland and New York. Their album We Are Being Held By The Dispatcher was recorded in New York, where it caught the attention of filmmakers IIya Marcus & Dmitry Khmelnitsky who are making a video based on the music.
When asked what music he likes to listen to, Oren replied that for the past few years he has been listening almost exclusively to classical music. What does he like?
"I like everything, from Bach to the most extreme 20th century composers… Allan Pettersson, Stravinsky, and also Debussy, Tchaikovsky, Mozart. I have always loved Bach, something about the structure in his compositions … it's not personal. You're  not listening to someone crying about his troubles like Beethoven, it's not so dramatic. There is a kind of distance from the listener in Bach, the music tells you about what's happening out there, not about what is going on with the composer."
Tiny Fingers will perform on the closing night of the International Exposure for Israeli Music.
Tiny Fingers: Oren Ben David – Guitar, Boaz Bentur -Bass, Tal Cohen – Drums, Nimrod Bar – Keyboards