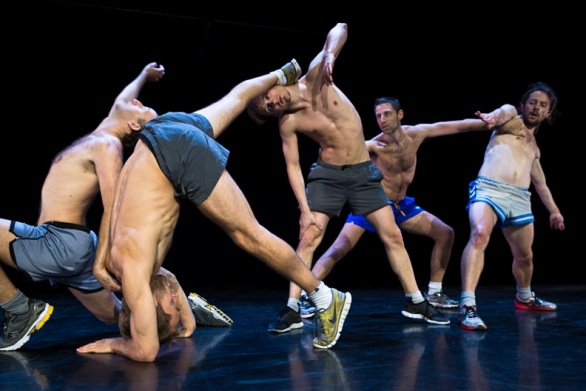 Bodyland – the name alone makes me really want to go there! I am there, we all are – as this new work by Yossi Berg and Oded Graf dives into the one undeniable fact of human existence: the body. Two of the most exciting choreographers around, my best summary of their body of work is: high voltage symbolism and physicality, visceral, visual, intellectual, sensual and sheer fun. International collaborations have been at the core of their work for many years now, and this new dance – which will premiere in Israel on December 5, 2013, as part of International Exposure in Israeli Dance – was created abroad, and the dancers will be flying in to Israel for the performance. Curious (very curious) to know more about BODYLAND,  I went to the source and asked Yossi & Oded a few questions…
Ayelet Dekel: How did Bodyland originate and evolve?
Yossi Berg & Oded Graf: The piece started with us mapping the body. We asked questions concerning the memory of the body. How different experience is printed in one's body, and how does the culture, country, society you are from, shape the way the body look, behave and act. What is the body memory of a certain country or culture?
The sentence "The body is nature" was some kind of a starting point, for us to remind ourselves where did we come from and how much did we get away from it. We also researched "the voice" we have inside our head that constantly goes on and has a major impact and critique on our body.
There is a political yet very playful aspect to the piece's investigation. We were asking where is the place in our body that emotions or memories are placed and in that sense the piece also deals with the connection between the body and the place of belonging.

AD: In the very alluring clip there are only male dancers – is that representative of the work as a whole? How does it relate to the concept?
OG & YB: The piece is for 5 male dancers, the decision to work only with male dancers started from technical reasons, we had the ability to hire only five dancers and we had people we really wanted to continue and collaborate with, and so it became. Very fast we fell in love with the idea of only male dancers and it made it easier and natural for us to speak about the male body, being male ourselves. We like working with performers that are artists and who are committed to self investigation, and willing to bring their personality on stage. The entire group is composed from dancers we already collaborated with in the past, and the fact that one is from Germany, one from France, one from Denmark and us from Israel, made it relevant to the idea of the cultural body and how does the place you are coming from affect or does not affect your body.
AD: And the soundtrack for Bodyland?
YB & OG: The music was composed by Julia Giertz, a Swedish musician\dancer, we worked with her in the past as a dancer and when she suggested us to try and collaborate again this time with her as a musician we thought it can be interesting, especially as she knows our works from "the inside". The soundtrack combines pieces she composed but also from music that we brought and we thought we wish to integrate…
Text is an integral part of our last works, in general writing and speaking became a big part in the creative process and so it is very natural for us to insert it in the creation itself. Some of the text came from us and some of it came from the dancers or from textual improvisations. Some of the text is very concrete and some of it is floating in a more abstract zones.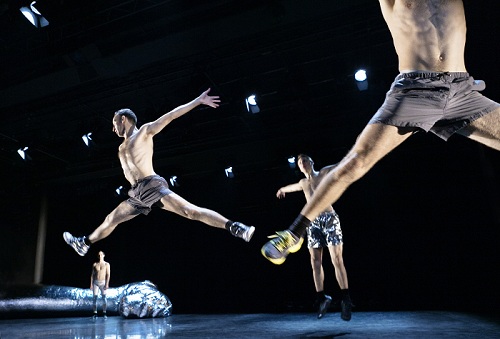 AD: Anything else you'd like to tell me?
OG & YB: There is definitely a cinematic feeling to some scenes and a generous mixture of physical, textual, and imagery exploration. There are some poetic moments, humour and familiar symbols that we like to raise questions about. We also use set in this piece and passed through a very interesting process with our set designer.
Overall this piece (like our past works) is about people and human expression. We like to check limits, bled and explore different ways of being. The show was performed 9 times in Copenhagen to a full house with great responds. We had few artists talks with young audiences and they had inspiring observations about the work.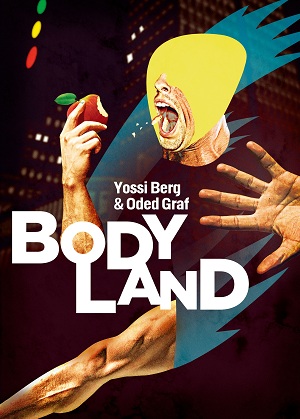 Bodyland performances:
December 5, Thursday at 19:00, Ware House 2 Jaffa port, Tickets: +972 3 9021563
December 6-7, Friday-Saturday at 21:00, Ware House 2 Jaffa port, Tickets: +972 3 9021563
See Bodyland in Europe:
December 11-12, Bora Bora, Aarhus, Denmark, Tickets: +45 86 19 00 79
Dancers/choreographers Yossi Berg and Oded Graf began their creative collaboration in 2005, following successful individual careers. Their joint work includes: Heroes, 4 Men, Animal Lost and Black Fairytale.