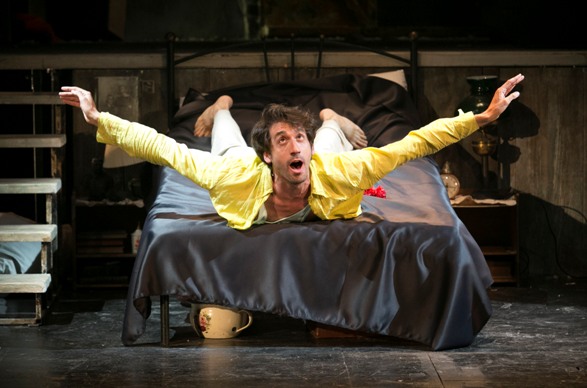 Finita La Comedia is theatre: bizarre, colorful, larger than life, full of laughter and small unpredictable moments that surprise the heart into feeling.
Gesher's production of Nikolay Erdman's play The Suicide, adapted to the stage and directed by Alexander Morfov,  who was also the music editor, is a happy meeting of medium and message, thought and entertainment. Finita La Comedia reminds me why I love theatre.
The experience begins as one enters the Noga Theatre, with no curtain to hide the stage set as a too-close-for comfort apartment building in Russia. Laundry hangs abundantly everywhere, large sheets hanging across the stage and at its sides, while undergarments of exotic size and humble design are draped here and there on the backs of seats in the audience. The theatre ushers are in on the game, glancing at the tickets and directing people: your seat is over there, near the gigantic bra. As the audience came in and settled down, the action began and the stage filled with people going about their daily lives, some coming down into the audience to check if the laundry is dry.
The stage set is a small hymn to urban crowding, cluttered with exquisite detail – a round of applause for Nicola Rormanov the designer. There is, as well, a wonderful precision to the costumes, designed by Nika Velegzhaninova, suggesting poverty, fun to see without being gaudy, yet retaining the mystique of the theatre and its ability to express character through clothing. The many inhabitants of this place seem to share one toilet amongst them, set off by a curtain, and a single TV set. They all gathered round to watch a program, reception somewhat improved by an improvised antenna, graciously held aloft by a member of the audience. The set, look, and action of the pre-show conveying a sense of the play's physical and emotional environment: chaos, poverty and literally bumping into one's neighbors at every turn, hearing the lives of others through the thin wall, there is an inevitable tendency to be overly involved in one another's lives.
This very international play – written by a Russian, directed by a Bulgarian director, with international creative team and Israeli actors – feels so close to home.
Times are tough, and Semyon Podsekalnikov (Alon Friedman), has been out of work for two years. He's understandably rattled, and there's quite a bit of friction at home with wife Maria/Masha (Neta Shpigelman) and her mother – oh yes, she lives with them – Serafima (Natasha Manor).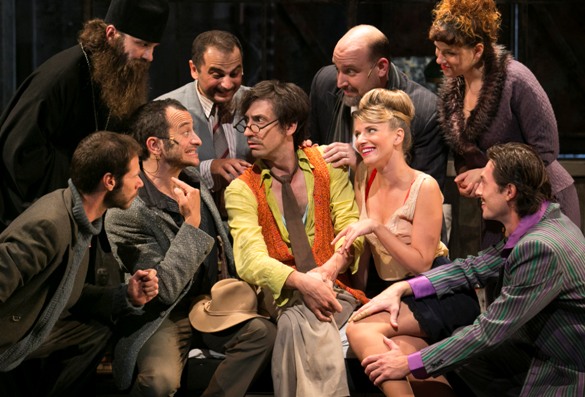 Semyon has been fired from just about every job you can imagine, but he has dreams of grandeur, or at the very least, self-fulfillment. Masha loves him, and is endearingly supportive in a very awkward, bumbling way.  Semyon can't sleep and can't let Masha sleep, the verbal and physical repartee between the two is charming and funny, as the choreography reflects the back and forth, push and pull of a relationship under stress. He's hungry, wondering if there any leftover sausage and asks Masha to fix him a sandwich.
That is where this bizarre and contorted plot begins, with this hankering, this hunger. There is a pervasive hunger throughout the play, a hunger for more that begins with the comic craving for a midnight snack. Everyone in this place is consumed by hunger, a natural urge unfulfilled that grows to unnatural dimensions. When the rumour spreads that Semyon intends to kill himself, the neighbors are eager to feast on his despair, petitioning him to dedicate his suicide to their personal cause, their cannibalistic desire recognizing no boundaries of decency, morality, or compassion.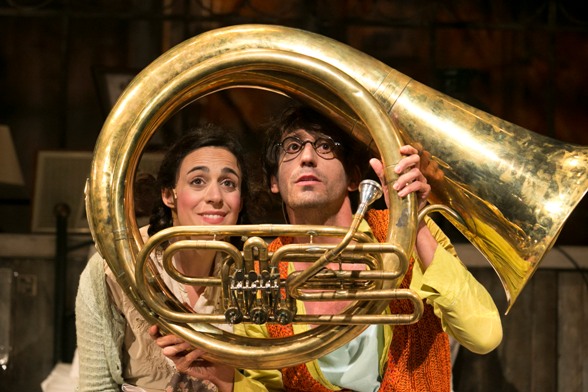 Alon Friedman is wonderful as the tortured Semyon. Obsessively self-absorbed characters are difficult to pull off, as they tend to put one off, yet Friedman's Semyon is very sweetly flawed and sincere, with a talent for making one laugh simultaneously at him and with him. His suffering and desire become real to the viewer, and one can't help but root for him and wish for him as he would wish for himself: something better, some breathing room, or at least a tuba. Neta Shpigelman is a bright beam of sunshine in this dark comedy, an accomplished practitioner of the art of awkward, her performance delicate, intelligent, nuanced – she shines.
Natasha Manor's Serafima takes motherly devotion to new and hilarious vistas, Semyon's neighbors are deliciously immoral and vile, comic in their efforts to take every advantage. Translated with wit and humor into Hebrew by Roee Chen, the entertaining dialogue is well matched with the vivacious pace, comic precision and utter delight of the physical and visual aspects of the play. The choreography by Moria Zrachia is excellent!
Finita La Comedia reveals the moral depravity of people in dire circumstances in one of the most comic, intelligent, and entertaining plays I've seen in a long time, with the wisdom to know the sustenance that might be found in a sandwich.
Finita La Comedia
Based on the play by Nikolay Erdman – The Suicide, translated by Roee Chen
Stage adaptation, Director & Music Editor: Alexander Morfov (Bulgaria); Set Design: Nicola Rormanov (Bulgaria); Costume Design: Nika Velegzhaninova (Russia); Lighting Design: Igor Kapustin (Estonia); Music Arrangement: Avi Benjamin; Sound Design: Michael Vaisburd; Choreography: Moria Zrachia; Literary Editor: Katya Sassonsky; Assistant Director for voice and speech: Yoni Lucas; Assistant Director: Sasha Kreindlin.
Cast: Alon Friedman, Neta Shpigelman, Natasha Manor, Vitaly Fux, Noa Koler, Yuval Yanai, Ruth Rasiuk, Nikolay Tubrovsky, Ori Yaniv, Shir Shenar, Karin Seruya, Bar Sade, Svetlana Demidov, Henry David, David Ziselson, Luci Dubinchik, Maxim Rozenberg, The Shake Ya Ass Band – Boris Portnoy, Henry David, Iliya Miagkikh, Yuval Yanai, Pavel Davidovich.