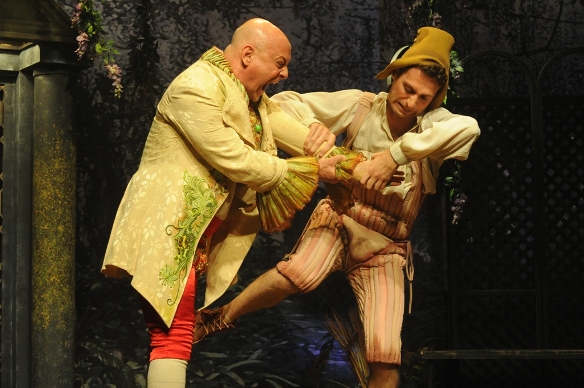 Just because you are a thinking person with discerning taste doesn't mean you can't have fun. The Khan Theatre production of La Calandria is not only great fun, but a sumptuous feast for the eyes and dazzling performance by an exceptional ensemble cast.
Now, just because you are having fun doesn't mean you need to leave your brain at home. There is much to contemplate in this comedy penned by Bernardo Dovizi da Bibbiena (1470 – 1520), adapted and directed by Michael Gurevitch, and translated from Italian by Omry Smith. The art of the Renaissance derived much energy and inspiration from looking  back to Greek and Roman times. Bibbiena's comedy of mistaken identities, first performed in 1513,  was perhaps inspired by Plautus' Menaechmi, a tale of identical twins separated at birth who find themselves in the same place, with amusing repercussions. Bibbiena's departure from the Greek and Roman comedies was in the depiction of twins who are not identical, but rather sister and brother. One can see this theme played out in different ways in Shakespeare's Comedy of Errors (twin sons) and Twelfth Night (sister and brother) , as well as a different take on the situation – one man, two identities – in the much later work, Goldoni's Servant of Two Masters (1750s).
With a plot that relies on familiar themes and characters, the question here is not so much what, but how and why. Gurevitch has made the choice here to have a single actor, Ariel Wolf, portray both twins, with both philosophical and practical ramifications.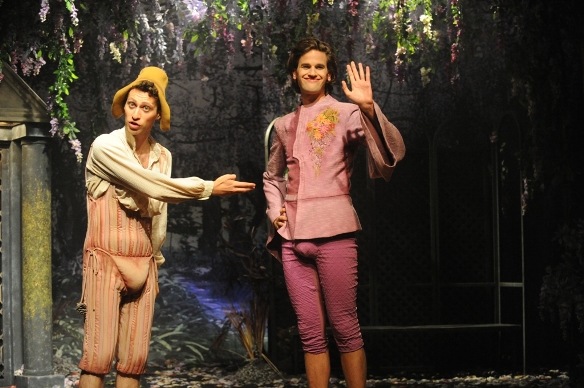 The story is convoluted and quite simple: Lidio and Santilla (Ariel Wolf) are twins who have been separated, each believing that the other is dead. Santilla, at the urging of her faithful servant Fannio (Yehoyachin Friedlander) took on the identity of her brother Lidio, sold into slavery (long story) the two were ransomed by a Florentine merchant Perillo and lived in his home for many years, moving with him to Rome. Perillo has taken a shine to Lidio/Santilla, and wishes to have him for a son-in-law. Meanwhile, Lidio, aided and abetted by wily servant Fessenio (Vitali Friedland), occasionally disguises himself as a woman to visit his lover Fulvia (Meital Avni), who is married to Calandro (Erez Shafrir), a wealthy Roman. Got it? Obviously, there is trouble and a lot of silliness ahead.
The theme of mistaken identity evokes questions of appearance and perception, when gender differences come into play, these questions rattle the foundations of our beliefs about  sexuality and identity, as well as a sense of social order. To this day, despite the apparent 'everything goes' attitude of contemporary urban culture (speaking from my experiences in Western cities), society still seems to want people to declare as either one gender or the other, and transgender individuals seem to have a rough time of it everywhere. But all this is in the subtext, along with musings on the role of repression in shaping sexuality and identity; read into the play what you will.
On the surface, this play that is so concerned with appearances is a delight for the eyes. Maor Zabar's costumes are a work of art. A master of his craft, Zabar creates exquisite works with rich color and intricate detail, lush sensuality, brazen sexuality, and bawdy humor. Maor Zabar's costumes are a parade of pleasure. There is a delicate economy in the artistic choices made that balance the libidinous excesses in the play and focus one's attention. Just as having one actor play both leads emphasizes questions of identity and difference, the entire play takes place on a single set. A beautiful garden with hanging wisteria designed by Frida Klapholz-Avraham, transports the viewer into a romantic mood and time, and provides a serene background for the often chaotic action of the play.
There is a necessary and satisfying distance between public and private, maintaining the safety, decorum and efficiency of the public sphere, where individual whims are subject to the rule of the general good. I can listen to any music I like, even at a painful volume (with headphones) in the comfort of my home, if I want to blast it over loudspeakers in the city square –  I need to obtain a permit. Yet when the demands of society and propriety force us into a public persona that denies those feelings, dreams and beliefs that make up our essential self, that facade is both false and weak, the outcome at once ludicrous and painful. In the case of Bibbiena, a Catholic cardinal who in accordance with his religion had taken a vow of celibacy, it was amusing to read in Wikipedia (can't confirm this) that he had commissioned the artist Raphael to paint an erotic fresco in his bathroom in the Vatican.
As comic as the situations in which the characters find themselves in La Calandria, one cannot help but wonder – why is it that Calandrio and his wife Fulvia are married to one another yet avidly connive to deceive one another with other partners? The characters in the play are subject to the conventions of another era, but the questions raised in the play are all too relevant, such as the expendability of the prostitute, and the allure of easy solutions provided by false healers and soothsayers. Onstage the deceptions and fabrications are hilarious, in life, less so. The exaggerated characters and wild humor, where no joke is too low or bawdy, provides a safe and pleasurable place from which to contemplate these issues.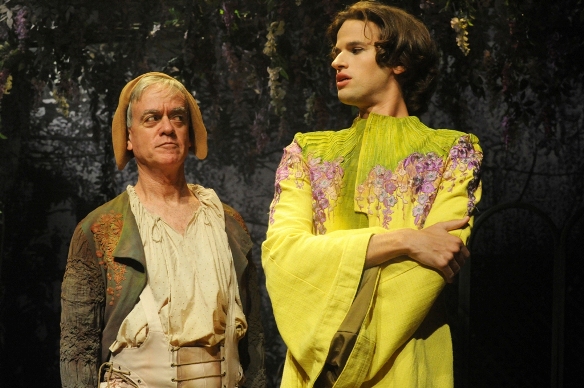 Speaking of pleasure – the performances in this play are excellent, the actors fill the cartoon outline of these characters with vivid life and nuanced color. The physicality and comic timing is impeccable. Ariel Wolf displays a wonderful depth to the portrayal of Santilla and Lidio, doubly difficult as each cross-dresses within the play, not to mention the faster-than-the-speed-of-light changes, exits and entrances. When he is Santilla, his body language is that of a woman, even his face somehow relaxes into more feminine features, while as Lidio – all is sharper, less graceful, more forceful and decisive. It's something to think about – what is it about his performance that makes one think: now he is a woman, now he is a man. What does this reveal about one's own psychological templates and attitudes?
Vitaly Friedlander is the man of a thousand expressions, his face and gestures are powered by unlimited creativity, he is the ultimate lowly servant who wields the true power in this game of words and appearances. Yehoyachin Friedlander provides a different take on the faithful servant, just as ripe for schemes and debauchery, yet imbuing his character with warmth and empathy. Erez Shafrir somehow managing to make this loathsome fool Calandrio rather endearing in addition to being very funny.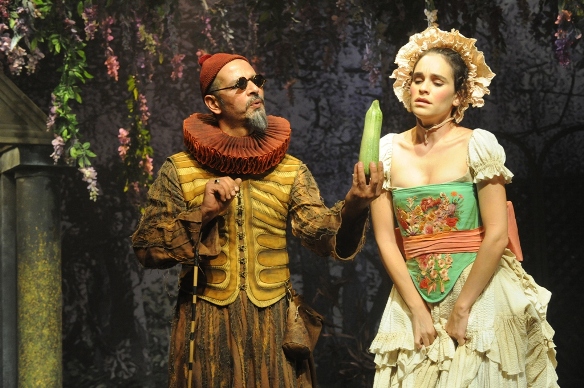 It's a wonderful production, yet there was one element to mar my perfect pleasure. The character of Ruffo, the necromancer, was needlessly referenced as a Mizrahi by accent and his mannerism of cracking sunflower seeds. The role of the necromancer, as one who manipulates others through the appearance of holiness, wisdom and the possession of superior or divine knowledge for the sake of financial gain, is fascinating and illuminates the themes of appearances and the elusive quality of truth. Moreover, Yossi Eini played it to the hilt and was quite enjoyably mercenary and duplicitous. Yet there was no reason to take this character from a Renaissance Italian play and endow him with traits that are all too easily tagged as "Mizrahi." Sadly, there are false leaders and healers in all cultural, religious and ethnic groups. Targeting one group in this way felt wrong and prejudicial to me, especially as the rest of the characters remained in line with a sense of timelessness, retaining the names and place names of the original, while deftly avoiding becoming either a period piece or a modernization.
Framing this almost-perfect piece is Nir Ron, a consummate performer who, in a few brief moments (divided among three roles), brings it all together and elucidates thoughts on theatre, identity, role-playing and other self-referential stuff, as well as huge smiles and gales of laughter.
La Calandria by Bernardo Dovizi da Bibbiena; adaptation and directing: Michael Gurevitch; translation from Italian: Omry Smith; set design: Frida Klapholz-Avraham; costume design: Maor Zabar; Music: Josef Bardanashvili; lighting design: Rami Cohen; Cast: Nir Ron, Vitali Friedland, Ariel Wolf, Erez Shafrir, Tamar Alkan, Yossi Eini, Yehoyachin Friedlander, Meital Avni, Jonathan Miller.