It's Verdi's birthday, but we are the ones enjoying the bounty of gifts. Polish director, designer and playwright Michał Znaniecki returns to the Israeli Opera to direct a new production of Guiseppe Verdi's Un Ballo In Maschera, and he is already working on the grand production of La Traviata at Masada in June 2014.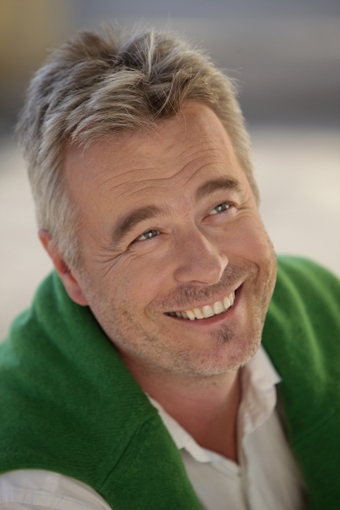 Znaniecki generously took time out from rehearsals on Un Ballo to talk about his plans for La Traviata this summer, the current production, and what is important for Verdi.
La Traviata tells the story of Violetta, a Paris courtesan who leaves everything behind for her true love Alfredo. Michał Znaniecki on setting an intimate love story at Masada:
In this special place you discover that with the new huge space you arrive at the metaphor of the opera, you are not concentrated on realistic relations and small psychological things between the characters. You do not concentrate on how to make psychological truth on the stage, because it's not so important for Verdi. It's not Puccini, it's not verismo, it's before Freud.
In the desert you have to trust the convention of the opera, you have to trust that it's spectacular and it's a performance, it's a show. It's not only about a woman and a man, like in television. So you have to find something stronger, bigger, and in this moment it's about our life. It's a metaphor of death and being in Paris, like in a desert because she is singing this (Violetta in Act I), so this is very important, the key of interpretation. It's the metaphor on everything, on our life: looking for love, looking for change in your life, your life with mistakes maybe, and finding the solution – to be alive, to be happy and losing this.
The idea was to put Paris covered by sand so it's like a real desert. so we are not pretending to be in Paris, we are in a future Paris destroyed by desert. Now with this climatic problems, it's like the end of the war of the apes in the movie (Stanley Kubrick's 2001: A Space Odyssey) they discovered the future –  they were in the planet, the planet was earth, but in the future. So like New York covered by sand now we are in Paris. They are trying to survive, so it will be a very metaphoric opera and performance because we are near the mountain, a very important mountain.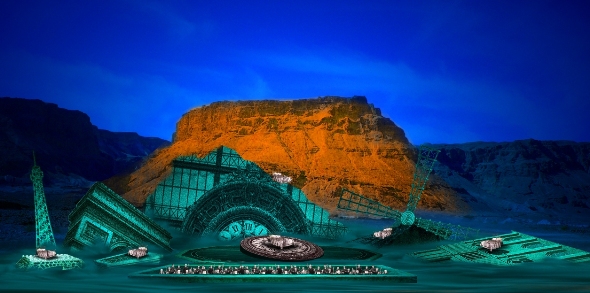 Telling the Story of a Courtesan in a Monumental Place
I was asking myself: how to present the story of the prostitute in Masada? It was a real problem. Talking to Maestro Oren I understood how important this place is for the Israeli people, because we are doing this performance not only for tourists. For tourists Masada is the place and for Israeli people it is the soul.
I had to think how to tell the story, a modern story, a very vulgar story about a courtesan, a prostitute, having the Masada in the background. Oh my god! So let's talk about something more important than the story – so the mountain will become the huge clock of life projected on the mountain with lights. It will be like the time of Violetta is coming to an end. Using the mountain as the huge clock of death, I think it will respect the place of Masada.
It's like the metaphor of our life: she has no more time and we have no more time. Every day you are thinking: I'm losing my time. So she decided to be free, to leave Paris, to love somebody – against everybody. Against money, social situation… and she chose to be not losing time.
Discovering What was Important to Verdi
I'm working in different ways, analyzing the libretto and music. I discovered, counting the words, a very interesting analysis of Traviata. Who is speaking about money? Who is speaking about love? Who is speaking about God?
The word money – soldi – the character singing this word is papa Germond, he is talking about money, so this is a value for him, not the courtesan prostitute, Violetta. Violetta, more times than anybody in the score is telling about God. She is using the word God more than Papa Germond, more than Alfredo, and others. The beautiful thing if you make the analysis of words [looking at] love in active and passive. Violetta is singing more the word love – amo – 'I love you' in active. She is always loving somebody, it means Alfredo. Alfredo is always passive, singing 'I am beloved', 'I am loved by her.' So this is really an argument to make about the relationship between them. This is beautiful for the character, to work with the singer, it's really important.
The most important thing when I am working is to discover in the letters, in the documents, why Verdi wanted to do this opera. This is the key for me, because you have the operas that are made for money, like Rossini did. So looking inside the important things – why? Because they did it for money. In Verdi's case, like Puccini's La Boheme, talking about subjects never made in the opera house (like poor people) it was shocking. So I have to shock today the people with different ways.
Verdi wanted one thing: he wanted to make a mirror. He wanted to show the problems of the contemporary audience on the stage. His failure on the opening night in La Fenice [1853] was because it was so modern. La Traviata – we're talking about people in the audience, la Barone,  Violetta, Alfredo – everyone was in the theatre watching themselves and it was a provocation. After this Verdi changed the epoch, because he was afraid, because it was not nice and no one wanted to see the modern opera Traviata. For me the most important thing is: he wanted to talk about us, about the audience. To talk about our problems, this metaphor of life – being there and not losing time and risking a lot – it's about the audience that would come to Masada so I think this is how Verdi would want it.
La Traviata – Set and Costumes
Every act will be different. You have the problem of the breaks – dramaturgically it's not good for the tension, emotion, so I hate to make the breaks. But we have the transformation of the set during the action, between the first and second, the choir just taking away the elements and transform the place.  After the big break – Moulin Rouge in the desert – huge structure, huge set, very strong. Full of lights, colors, the party of Flora. Dancers will finish with multiplication of Violetta, we will [work with] metaphor so we can have more Violettas on the stage. In the final act we will have projections of the x-ray of Traviata's body, so it will be very strong.
I'm working with costumes like the dramaturgy of the character, so the costume is very important to Violetta to show that she is free. We want to  work with the crinolines. The structure helps to show how Traviata was in the society. It is the symbol of the epoch, and being closed by fashion. When she is free she is modern. In every period you have the same being free, just something very simple. And after this you have the huge crinolines, 2 meters, 3,  4 meters crinoline, so it will be very spectacular. I want to say that she is leaving this world, she doesn't want to wear it. So we have the crinoline for everybody there on the onstage and one scene with empty crinolines onstage with lights inside. I think it will be very strong for the audience. The symbol of the costume is very important for me so I don't want to make it modern because I think I'm losing this possibility – What! have the dress and put on the jeans? No. It's not so strong. I prefer it huge.
Un Ballo In Maschera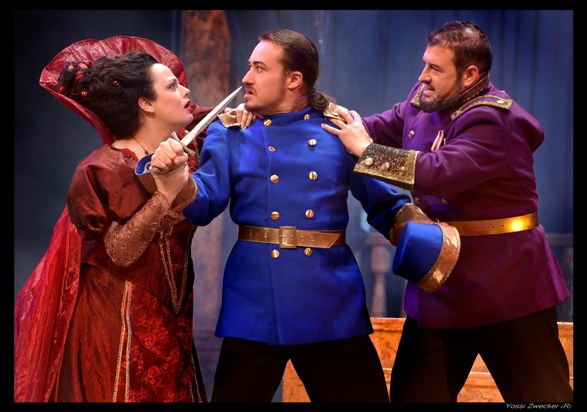 Ballo – I made a lot of Ballos [directed Un Ballo In Maschera 8 times], and it's not important if it's modern or historical, it's important what you want to tell with the story. So every time Oscar is a different character. Why is he there? Once Oscar was a symbol of death, once he was a spy, once he was a metaphoric narrator of all the story. So every time you have a way to see the character, and this is very present in my work.
In Ballo you can choose a lot of subjects to talk about. You can talk about love, you can talk about loyalty, you can talk about politics, you can talk about relationships between people, you can talk about the dictator – like we are doing now in Tel Aviv. Why does everybody want to kill him [Ricardo]? Everybody loves him, so why kill him?
Ballo is really a very sad story, very intimate. It's in contrast with the title. Everybody's thinking: Wow! It's about dancing and it's about parties and it's not true. Working on this contrast is very nice, because you have a very difficult moment in the opera and Ricardo he's just making it like laughing and making his joke. You have death very present and it's contrasted with Oscar and he's singing aria di coloratura, very operetta style [Saper vorreste, Act III, scene 3].
I'm trying to not make it so funny and working all the time with one direction: talking about the very powerful man Ricardo, like an important dictator. You are asking yourself all the time, analyzing the libretto: Why do they want to kill him? He's nice, he's making nice things, so why? For this reason I arrived at the dictator, to show a man who has good reviews and good marketing. He's making photos with ladies and children and he's so nice, but really he's killing people in the same moment.
It was very interesting to discover this with the singers. We have this leitmotif with this statue of the dictator. It's a bit like the end of communism in the Soviet Union that you have these monuments of Stalin and Lenin everywhere, even under the water. So we have this leitmotif, we start with the building of the statue of Ricardo and we finish with the statue falling down, like the moment of revolution. Oscar is a spy, he's very dangerous. he's been observing everything  and writing everything, like KGB spies. We are just trying to discover what is artificial – like they are singing it because they have to – you know, the chorus is singing: Oh yes, we love you! We love you! But later Renato discovers this is not love, because they are forced to do it, to sing like this, and it works very well.
Even Ulrica, we make Ulrica not like an ugly, animal woman magician that tells fairy tales but she is the magician, like TV magician, now people trust them. We have this scene of people coming to her to discover where the lost people are, like the desaparecidos in Argentina so they come to her with pictures of their husbands, asking her if she knows where the people are.
In Argentina it was very popular that people were going to people reading the future to look for their sons and brothers. You know there was a lot of money there…those people were just looking for solutions, how to find the lost people. It was very popular to go to these places, so these places became the revolution places, because a lot of people were there and it became a little bit against the dictatorship. They do it in the beginning for money, but after they became the front men for the revolution of the opposition. It was very popular and it was so absurd, a beautiful story. Like in Communism, the church was the place to make opposition. It was not about religion, it was the place that was protected, that you could say everything in freedom. So this future teller, it was something like this they people together…out of the city, without protection of the soldiers, without control, and they could speak there.
Like Verdi wanted it, it's the Boston version in epoch costumes, it's like the Independence War in America – everything fits very well. We are talking about every dictator. In the ball, in the end, we have historical dictators coming with masks, so we have Julius Caesar, we have Cleopatra, we have Catherine the II of Russia, I think we have Stalin – so we have everybody, they are coming for the carnival ball. The dancers in Maschera they are  the different dictators from the story, it's nice to find that you can help the story with this, and our Ricardo is trying to dance with them he wants to be like them.
There is a nice moment in his aria – the falling down of the dictator, the loneliness of Macbeth waiting for the crisis, the tragedy, and Oscar is now destroying all the things he wrote because he knows the end is coming…and you don't change anything. I am not telling my story. Inside the story, inside the music, I'm trying to put the accent on things we have in the libretto.
Love in Un Ballo In Maschera
I see Amelia as a very strong woman but lost. Love: we are losing it because the politics is more important – this is the tragedy. You have to choose love or the law, you have to choose if you want to be queen or you want to love. Ricardo is choosing the politics, the power, because he is sending Amelia to Europe. This is strange, because normally love wins.
He sends his beloved woman away because he wants to be a powerful man. Normally we are following the love story – for love, he sacrifices everything. In Aida, everywhere… but no, he doesn't do it.  So I don't understand why he's so positive… but normally no, we choose love. It's very clear here that he prefers to be a powerful man and governor, so this is not so nice. He sacrifices Amelia, and for me she's so beautiful, she's so strong. In Ballo in [a production directed in] Sicily ten years ago, it was absolutely about love and loyalty, and the mechanism of story was so strong that it was destroying the choices. Now I see in the libretto, it's not about this…so this is nice that you can read it in different ways.
Directing Opera – A Different Experience Every Time
It's very easy because I am a different man every performance. I have new experiences to tell the audience. The time is different, I have different audiences in different countries and different experiences of what happened now, last month, last year, talking to different people… I'm thinking about it always, every time. I am talking to different cultures so I can't think: OK I have my ideas and my ideas are eternal so if I made good Traviata once, I will repeat the same, because it's impossible.
It's not about my ambition that I want to make it different, I'm not able to make it the same. I'm changed and the audience is changing and the time is different so you can't speak about the same problems. If you really want to talk about something and it should be always to share with the audience today, every day is different.
For this reason I am not making movies. I don't like to make cinema because there is something that you have to fix forever. The movie is forever, the performance – no. Every production is different and every production is a different moment of my life and the audience's life. Sometimes I think: Oh, it was so great let's repeat it! And I'm repeating it [directing the same opera] in two months and I change it. I'm not able to do the same and I want to talk about different things.
I directed Carmen in 2001 and it was about wanting to be free, to say I'm a free man, because it was after my divorce and I wanted to talk about this: how I feel to be a free man like Carmen. So there was the symbol of freedom. Now I'm making a new Carmen in Norway and we are talking about the borders: two worlds that can't meet because she is too free, and she is meeting society and society is not free.
I directed Onegin six times in one year: the same production, same set, but I decided every time to talk about different character. We made it with baritone Mariusz Kwiecień – it was about Onegin, and every free music [without text] was to tell his story. The other place was with Ainhoa Arteta in Spain and we worked on Tatiana. Absolutely everything was focused on Tatiana. In the other production we talked about young and old people, old people that lost their fantasy and dreams, so it was focused [on the characters of] Larina and Filipievna. It's nice to focus on different characters.
It's very easy: you have the interlude of the second act, only music before the country party in Onegin will start. In one production I show how Tatiana is preparing for the party, and she doesn't want to do it, and she's crying because she's in love with other people. In the other production I put Onegin preparing for the party – this is the space that you can use as a director.
My work is to choose, I have to choose the interpretation of the opera. It's so full of nice things, the opera. So if you want to tell everything, you are lost. If you want to communicate something to the audience, you have to choose.
Un Ballo In Maschera will be performed at the Israeli Opera from January 17, 2014 – February 1, 2014. Tickets may be ordered online or call: 03-6927777.
La Traviata will be performed at Masada on June 12, 14, 16 & 17, 2014. Tickets may be ordered online.