Whether you are in Rome circa 200 BC or Tel Aviv 2014: people apparently tend to laugh at the same things, more or less. The Cameri Theatre production of A Funny Thing Happened on the Way to the Forum, directed by Omri Nitzan in a Hebrew version by Eli Bijaoui, is very funny, quite clever, and great entertainment.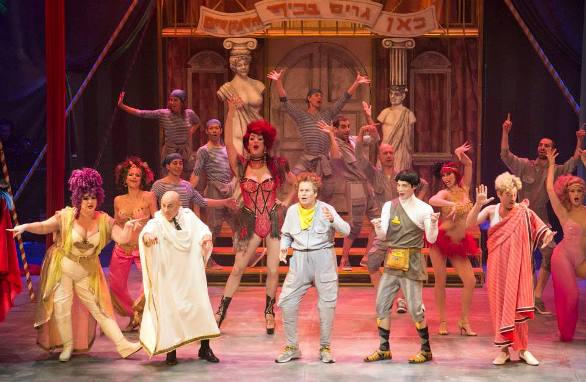 Mayhem, nonsense and Shlomo Bar Aba rule from the start, as the fourth wall between the actors and audience is not so much broken as made into a plaything, and the Cameri Theatre is the playground.  A bit of self-referential humor makes a merry prologue here, with Itay Tiran and "a fellow of infinite jest" to complete the insider joke.
Master of ceremonies and maker of mischief, Bar Aba plays Pseudolus, a Roman slave belonging to Hero (Ido Rosenberg), son of Senex (Rami Baruch) and Domina (Irit Kaplan). The original musical is based on Roman playwright Plautus (251 – 183 BC), with music and lyrics by Stephen Sondheim; book by Burt Shevelove and Larry Gelbart.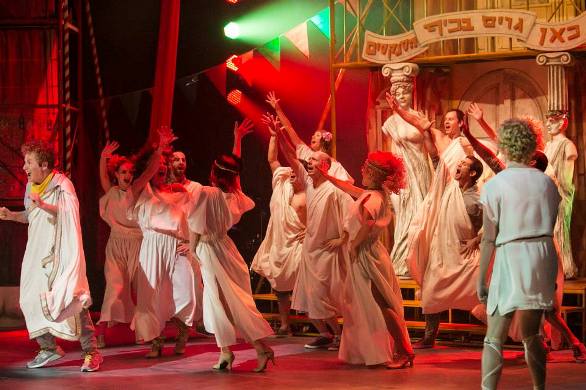 Pseudolus wants his freedom, Hero wants Philia (Rona Lee Shimon), the virgin courtesan with a price tag several digits higher than her IQ, Senex wants to fool around, Domina wants to live up to her name, General Gloriousus (Asaf Parienta) has already made a hefty down payment on Philia, purveyor of courtesans Marcus Lycus (Gadi Yagil) is trying to earn an indecent living, old Erronius (Ezra Dagan) hopes to find his son and daughter who were stolen by pirates, and Hysterium (Itay Tiran), head slave in the house of Senex, just wants quiet and calm. Guess who won't get his wish?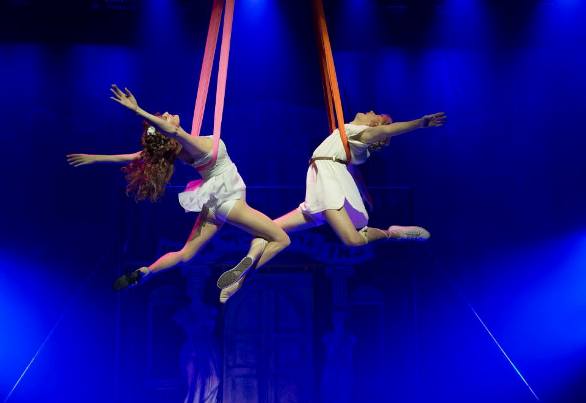 It's all very over the top and convoluted, with a big top ambiance, acrobatics and clown wigs – this is my kind of Roman circus! Eli Bijaoui seems to have had a lot of fun here with the translation, and the audience benefits all the way. Silly rhymes – erotic with idiotic, an abundance of innuendo and double entendres, messing around with formal ornate language, and freely jumping in with references from the Jewish/Hebrew tradition – all to great comic effect.
The music is lively, and the many delectable details of staging and choreography contribute to a delightfully amusing, light-hearted show, and the entire cast is wonderful! Bar Aba possesses the ability to shift smoothly from spontaneous riffs of stand-up (I don't actually care if they are spontaneous or rehearsed, it's the way it feels) to the fast-talking crazy schemes and roller coaster moods of Pseudolus, and magical moments of heartfelt emotion. Itay Tiran enters chameleon-like into every character, and the nerdy Hysterium is no exception. His precious agitation as he becomes reluctantly entangled in the many plots of Pseudolus is a joy to behold, and not to give away any spoilers, but when he really gets into the game it's a showstopper.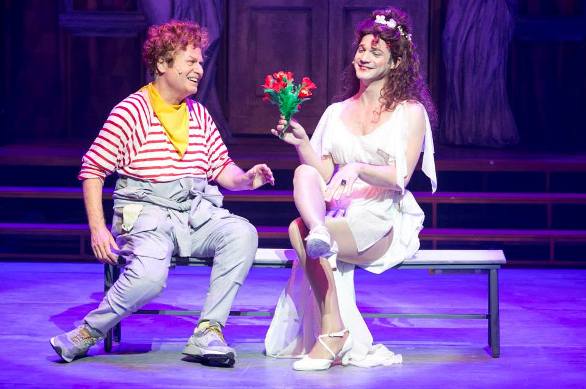 The Cameri's A Funny Thing Happened on the Way to the Forum is fun, fun, fun! I like to fancy that even Plautus would be pleased.
A Funny Thing Happened on the Way to the Forum
Based on Plautus, Music and Lyrics by Stephen Sondheim; Book by Burt Shevelove and Larry Gelbart; Director: Omri Nitzan; Translation: Eli Bijaoui; Musical direction and Conductor: Yossi Ben Nun/Tal Blecharovich; Choreography: Chet Walker; Set and Costumes: Orna Smorgonsky; Acrobatics: Keren El Nakwa; Producer: Haim Sela.
Cast: Pseudolus – Shlomo Bar Aba; Senex – Rami Baruch; Domina – Irit Kaplan; Hero – Ido Rosenberg; Hysterium – Itay Tiran; Erronius – Ezra Dagan; Lycus – Gadi Yagil; General Gloriousus – Asaf Parienta; Philia – Rona Lee Shimon.