Ohad Naharin will lead a huge Gaga class to benefit the Association for Civil Rights in Israel on Tuesday, January 21, 2014 at 20:00 in Hangar 11 at the Port of Tel Aviv. Tickets are 50 NIS and all proceeds from the event will be donated to the organization.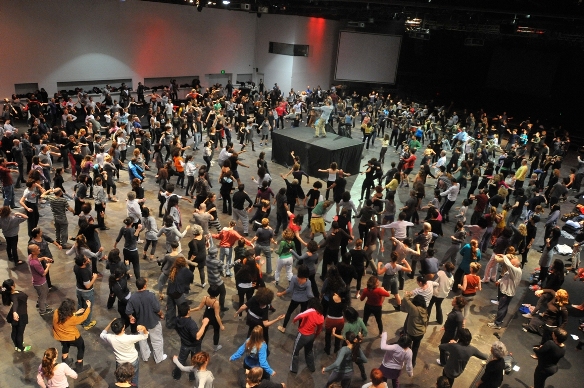 Gaga is the movement language originally developed by Ohad Naharin to work with the dancers in Batsheva. Over time, he realized that this way of moving and its use of imagery, could work for everyone, not only dancers, and today there are Gaga people classes as well as Gaga classes for dancers. It really is suitable for people of all ages and different physical abilities – and it's fun!
If this is your first Gaga experience, here's some useful info:
Gaga people is intended for everyone, there is no need to have ANY previous dance experience. Gaga connects people to pleasure, groove and exertion, strengthens the body, makes it more flexible and wakes it up! Wear anything that feels comfortable to move in, no special clothing necessary. The class lasts for one hour of constant movement, following the teacher's instructions. Ohad Naharin will direct the class with the assistance of additional Gaga teachers – dancers from the Batsheva Dance Company. Please come wearing comfortable clothes, without any extra bags or other stuff that might get in the way.
Gaga class at Hangar 11, Port of Tel Aviv – January 21st at 20:00. Doors open at 19:00. Tickets are 50 NIS and may be purchased in advance on the Batsheva website or call: 03-5104037. On the day, ticket sales will be cash only.