Art meets mass media in Christian Jankowski's first solo show in Israel: Heavy Weight History, opening at the CCA (Center for Contemporary Art) on Thursday, February 13, at 20:00.
It is an encounter not to be taken too lightly, as evidenced by the heroic efforts of this team of weight-lifters trying to raise historical monuments in Warsaw to even loftier heights in this clip from the witty title piece of the exhibition: Heavy Weight History (2013).

Jankowski employs the tools and jargon of mass media to explore both media and the art world, as well as the relationship between the two.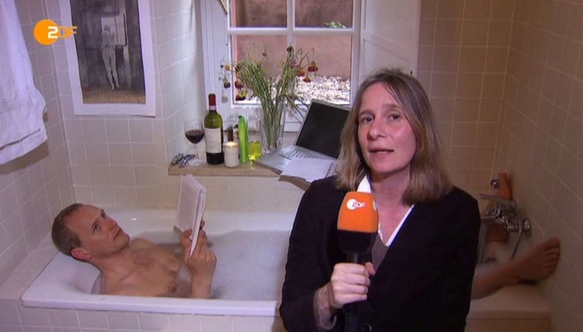 In addition to the video installation Heavy Weight History, the exhibition will include: Tableau Vivant TV (2010) which takes the form of a news broadcast, with 'live' reports on the making of the video itself; to make the installation Review (2012) Jankowski invited art critics to write brief notes on his work, put them in an empty bottle and mail back to his studio – come see what became of this venture!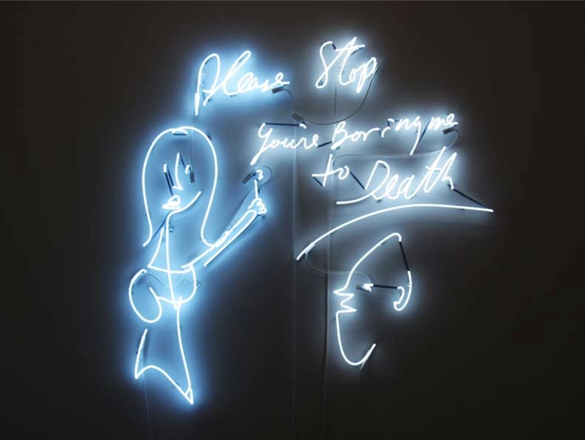 Visitors (2010) is made of selected comments from an art gallery guest book, reproduced as neon sculptures.
The exhibition will also feature several public events. On Friday, February 14th at 14:30, the Tel Aviv Cinematheque will screen Jankowski's film The Eye of Dubai. Following the screening, Jankowski will give a short talk and will be available for Q & A. Further details and additional information are available on the CCA website.
About the artist:
Christian Jankowski (born in 1968 in Göttingen, Germany) lives and works in Berlin. He serves as the Chair of Sculpture at the Stuttgart State Academy of Art and Design. Alongside numerous exhibitions and film screenings worldwide, he is currently working on the scenery of a play about Martin Kippenberger to be premiered at the Schauspiel Köln in Cologne. Looking further ahead, the Santa Monica Museum of Art, California, is planning a major survey exhibition of the artist's work in 2014.
Heavy Weight History is a collaboration between the CCA Tel Aviv; the Center for Contemporary Art Ujazdowski Castle, Warsaw; and the Kusntmuseum in Bonn.