Nissim Aloni's Gypsies of Jaffa comes to the Khan Theatre under the direction of Yossi Pollak. Aloni stands out as one of the Israeli playwrights who depart from the mainstream, eschewing realistic drama in favor of the poetic and metaphoric.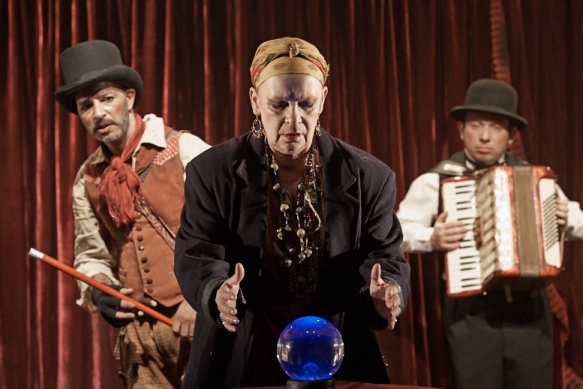 Yet within this dark and vivid mythic cabaret, there is truth, of the emotions and of history. One might be surprised to learn that there is a Roma community in Israel, a small community resides today in Jerusalem, and in Gaza. Yet deeper than history is the emotional truth of human existence, refugees, immigrants, outcasts, outsiders, brought together by circumstance, united by one imperative: the show must go on and each one has a part to play.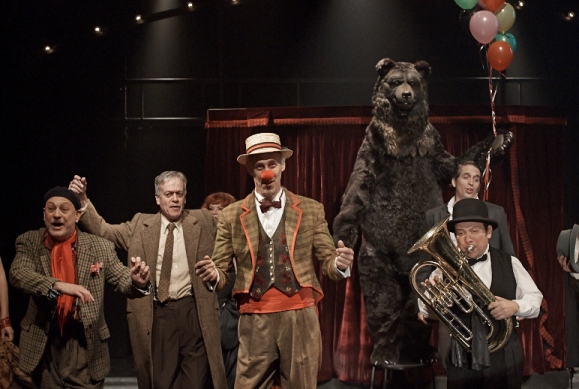 And what a show! Song, dance, and outsider-chic colorful costumes by the ever-creative Maor Zabar entertain throughout the evening, and the ultimately tragic drama plays out to the accompaniment of live music by the talented Gershon Waiserfirer. If fate must be grim, at least let it be to music!
The story is a simple one, with a plot that harks back to folk, legend and myth: In the anguish of World War II, the Jew Tomas and the Gypsy Zara vow that if they survive, and one should have a son and the other a daughter, the two children will marry. The play opens many years later, Tomas Valigura (Arie Tcherner) runs a nightclub in Jaffa, where the glamorous Zara (Gita Munte) casts her enigmatic oracular spell as a fortune teller. Her daughter, the sultry and severe Marioula (Nili Rogel) dances for the entertainment of the populace, yet refuses to marry Smool (Ariel Wolf), the son of Tomas. Smool is not one to treat destiny lightly, and has already killed two of Marioula's prospective bridegrooms.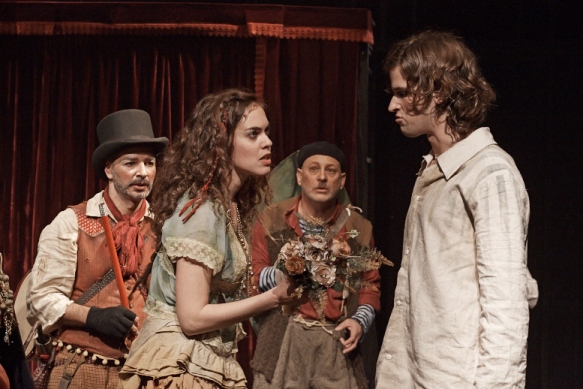 On the eve of Marioula's wedding, breaking news is broadcast by Danny Kobza (Yoav Hyman), Smool is on the loose, the cabaret community is thrown into a frenzy. Enter Inspector Lazar (Yehoyachin Friedlander), laconic and somehow touching, and mystery man Bogo (Yossi Eini) accompanied by a performing bear, while the innocent fishmonger Scarasella (Erez Shafrir) evokes a Shakespearean fool, Leon Musicant (Nir Ron) bravely entertains, his wife Regina (Odelya Moreh-Matalon) worries, and Miss Bell (Yael Tocker) gets her gun.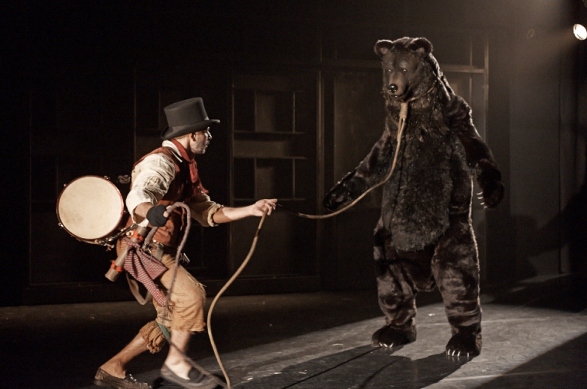 There is something quintessentially Israeli about Aloni's play, an elusive quality that defies definition. I find it in the pervasive sense of nostalgia for a past that perhaps never was, the repeated phrase from François Villon – Mais où sont les neiges d'antan? (Where are the snows of yesteryear?), the overwhelming sense of fate and destiny as played out in Madame Zara's cards, or Smool's insane persistence, the rag-tag community of people thrown together willy-nilly, bound together by chance and lack of choice, and above all, in the feeling that "there is no choice other than to sing."
Although the story is in some ways tragic, it has us laughing all the way, due to Aloni's witty and incisive text, Pollak's light and zany touch and an excellent cast. It is also worth noting that alongside his works for the theatre, Aloni wrote and directed two shows of the popular comedy troupe Hagashash Hahiver (Cinema Gashash 1967 and Cantata for Shwarma 1969).
This play that is so much about fathers and sons was first produced at Habima National Theatre in 1971, with playwright Nissim Aloni directing and Yossi Pollak in the role of Smool, the escaped convict son. Now Pollak returns to Gypsies of Jaffa to take the "father's" role as director, apt and poetic.
Gypsies of Jaffa by Nissim Aloni
Director: Yossi Pollak
Music: Gershon Waiserfirer
Set Design: Neta Haker
Costume Design: Maor Zabar
Lighting Design: Roni Cohen
Choreography: Ella Rothschild
Editing: Dori Parnes
Cast: Nir Ron, Yoav Hyman, Gita Munte, Nili Rogel, Erez Shafrir, Arie Tcherner, Odelya Moreh-Matalon, Yael Tocker, Yehoyachin Friedlandler, Yossi Eini, Ariel Wolf.