Want to talk about dance? Diablogue invites choreographers to share their work in progress with the public. The first meeting, hosted by guest artist Lior Grady, will take place on Friday, February 14, 2014.
Diablogue is a joint initiative of choreographer Ella Ben Aharon and Neta Pulvermacher, Dean of the Dance Faculty at the Jerusalem Academy of Music and Dance, based on the Dance Conversations program Pulvermacher created in New York, produced by FLEA theater in 2001. Pulvermacher invited Ben Aharon to be co-curator from 2004 – 2006, and in time the program evolved to become The A.W.A.R.D Show! with competitions taking place in New York, Chicago, Philadelphia, San Francisco, Los Angeles and Seattle.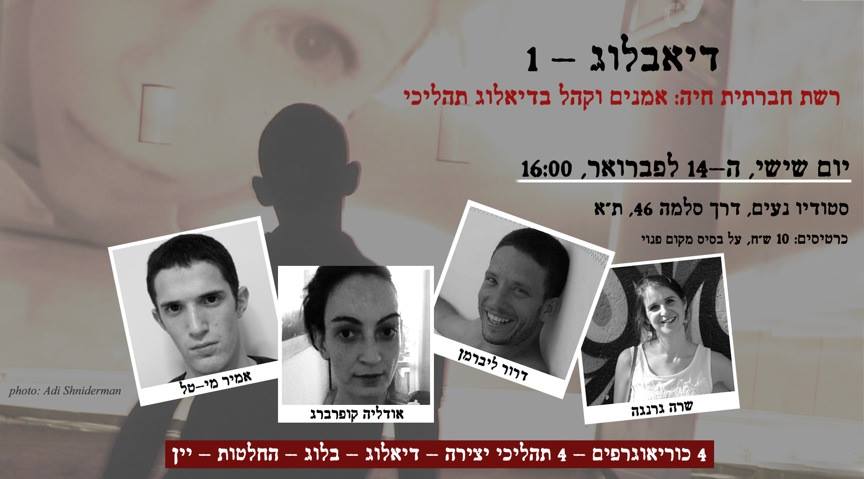 Meetings will take place once every two months, featuring works in progress by 3 – 4 choreographers. A conversation between the audience and choreographers will follow the presentation, moderated by a guest artist. Audiences will have the opportunity to provide (anonymous) feedback to the choreographers, and to choose one dance work that they found most striking. At the year's end, the selected works will be performed on a professional stage at the closing event.
As the name suggests, Diablogue will be accompanied by an internet site, click here to check it out.
Diablogue's first meeting will take place on Friday, February 14, 2014 at 16:00 at Naim Studio, 46 Salame Street, Tel Aviv. Moderator will be guest artist Lior Grady, and featured choreographers will be: Odelya Kuperberg, Amir May-Tal, Dror Liberman and Sara Grenga. Tickets are 10 NIS, based on available space.
Future events:
April 18th – Robin Kane, Anat Vaadia, Tom-Lev Dekel, Ayelet Yekutiel
June 20th – Omer Uziel, Sophie Krantz, Maya Mahlal, Noa Atar
August 15th – Sharon Vaisvaser, Shira Evyatar, Smadar Goshen, Avi Fari
October 17th – Idan Sharabi, Yasmin Rotkofef, Eyal Bromberg, Maayan Gur
November 13 – 14 – Closing event at Warehouse 2, Jaffa Port
Links: Diablogue website, Diablogue Feb 14th event page